Bench Racing Ammo: Points Leaders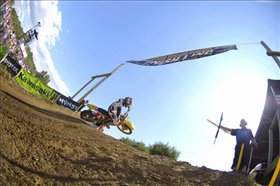 RC
photo by Trevor Hawk
The end is here: Round 6 of the 2007 AMA Toyota Motocross Championships presented by FMF at
Unadilla
will mark the first AMA Motocross race since August 1996 that
Ricky Carmichael
will not be on the starting gate. After 101 career outdoor wins—the exact same number of Grand Prix wins as Stefan Everts had in his own glorious career—Carmichael will not line up at
Unadilla
next weekend, even though he is the current points leader. Has that ever happened in the history of AMA Motocross—the points leader voluntarily parking his bike in the middle of the season? We can only remember it happening twice.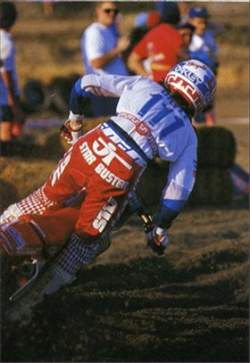 JMB
photo by jmb111.com

The first time was in 1989. That was the year French sensation Jean-Michel Bayle set the world upside down when he showed up in a box van at Gatorback Cycle Park in Gainesville, Florida for the opening round of the AMA 250cc National MX Championships. Wearing #111 and "Berm Buster" on the back of his JT Racing pants, Bayle won the first moto by a large margin over his Honda teammate Jeff Stanton, who barely got his bike started before the moto. JMB finished third the second time out, which was good enough for the overall and the points lead (45 to 44) over Stanton. But then Bayle had to return to Europe, as he was not due in America full-time until 1990. Jean-Michel wanted to be in America so badly that he wore U.S. flags on his bike and body throughout the '89 Grand Prix season and signed up under an AMA license, much to the chagrin of the French federation. And when the second round of the AMA Motocross tour went off at Hangtown, Bayle was not there. But he would be 250cc World Champion by the end of summer, then return to the states to win the last two 500cc Nationals of the year.

Nine years later, Jeremy McGrath showed up on the starting gate at the series-opening Glen Helen National fresh off of reclaiming his AMA Supercross title from Jeff Emig. McGrath was riding for Chaparral Yamaha, and he was anxious to get another national win after getting shut out all summer long in 1997 while he struggled with his Suzuki RM250. McGrath came out swinging, winning the first moto going away, but an ugly first lap the second time out left him with a 1-5, and he lost the tie-breaker to Suzuki-mounted Mickael Pichon's 5-1.
MC
photo by Chris Hultner
One week later at
Hangtown
, on May 17, MC was a solid 2-1, beating Suzuki's Greg Albertyn—a former three-time world champion—for his first outdoor overall win since August '96. No one would have guessed at that moment that it would be Showtime's last-ever overall win too.
Round 3 would be at High Point Raceway, and MC did not do so hot, finishing 4-6 for sixth overall at a track he never won a national on. He told Cycle News that day that maybe he was thinking about the short vacation that would follow Memorial Day Weekend a little too early. "I get all excited about the chance to finally take time off after racing almost continually since January. It just seems hard to concentrate here."
Southwick would host Round 4, and McGrath, still the points leader, did not show. He told Cycle News that he had been secretly racing with a wrist injury since the Pontiac SX on April 4, and that he needed to take a break to have it finally fixed, then he would be back. But history has shown that McGrath did not come back, and from then on would employ a supercross-only contract. He would win the SX title two more times in 1999 and 2000 while riding Yamahas, but he would never race a complete outdoor series again. The next round winner at Southwick? Doug Henry on the Pete Steinbrecher-tuned YZ400F Yamaha. By the end of summer, Henry and his thumper would be wearing the #1 plate.