Monday Conversation: Ricky Carmichael
Ricky Carmichael's farewell tour in outdoor championship motocross reached what is probably going to be its pinnacle at RedBud. RedBud is his favorite track, there was a record crowd that saw two awesome RC versus Stewart battles, and to make it interesting, his starts were not so good! Still, RC put together his 101st outdoor win, which brings his career tally to 149 with only Millville to go.
Red Bud saw RC at his best. He was in a better mood than two weeks ago at Budds Creek, even though his hectic life right now is taking its toll Even with everything thrown at him, RC seems to always find a way to bounce back, and to win the second moto. Here's what he had to say about his second to last national AMA motocross race.
Racer X: Ricky, how would you rate this weekend, the event, your performance, all that?

Ricky Carmichael
: My performance was pretty poor, man. I was expecting a lot better out of myself. That is all I had, it really is. I felt great Saturday, I felt great today in practice, Sunday. The race came around and I just didn't feel right. That's the way it goes.
I had a busy week. I had to travel to Vegas for the Suzuki convention, and do other things that you have to do. I would have liked to have come here on a normal weekly routine. The end result was okay; I got the overall.
As far as the track is concerned, it was phenomenal! It was a little wet in practice, but it has to be that way to have a great racetrack like it was. The sand whoops were fun, the jumps are just awesome and the fans loved it. It's nice to see some of the greenery on the side of the jumps. It was a great racetrack. These people do a great job. If they could all be like this it would be gravy.
What's the biggest difference for you; is it disking it or what?

Yeah disking it, preparation, track design, and communication. That is a big thing--communication. They put back into the track. They disk it up deep and water it. There wasn't dust on the track all day.
You don't say too much more that that about tracks usually, but you were pretty outspoken two weeks ago. Any fallout from that?

I think. I hope my intent on that was to have better racetracks for the racers and the fans. Hopefully it helped and people can enjoy the racing a little bit.
In moto 1, you wheelied off the line a bit, and then what happened?

Yeah, I did, and then I was third coming into the first turn, even with the wheelie. I was able to sweep around that second right hander there and go by James, and almost got by Alessi. He ended up pinching me off a little bit. I followed him and then went off the track and let James go by and hopped back on in the sand whoops. It took me a couple of laps to regroup after that. I got back going and everything and started making the passes. When I got by James, I was just going to put down some good laps, but I was on that edge and made a mistake. I didn't crash, but I had to go backwards and turn around and get going.
So the second moto, more troubles off the gate?

(
Just now, RC's mechanic Mike joins in and starts busting on RC for wiggling like a spaghetti noodle off the gate. Much laughing
)
On the start I kind of spun. There is dirt then concrete to hold the gate down. I spun and got sideways. I went backwards from there. All I know is when I came over the jump by the mechanic's area, I saw James up there and thought "I have a lot of work to do." I just put my head down and made a bunch of passes on the first lap, going inside and outside. That was what is so cool about the track; it wasn't just one-lined. I passed a ton of guys, and got by Mike pretty quick and set my sites on James. I could get right up on him, or drop back and pull right up, but it was just tough to get by him.
You have won all you second motos so endurance is good of course, but is there a point where after about a lap into the moto, you look at what you have to do and think "Oh crap, this is too much to make up!"

Absolutely! I was a little worried. Like I said, I could reel him in and sit there, but I could not get by him. He was just riding really well, as he does every weekend. It's been a pleasure racing with him. I wish he could have been around and we were racing like this in 2002 until now. It would have been awesome and really good for the sport.
So far no plans change, just Millville and out for the regular season, right?

Yeah,
Millville
and out. I talked a little bit on the podium about
Steel City
, but I have stuff I have to do. I have car races and obligations on that side that I really want to take care of and fulfill. I am happy. Like I said, I am beat. I am tired of the everyday routine at home. I enjoy racing but I don't enjoy the week of riding at home so much and I am ready for a break.
In the beginning of 2007, did you expect to win so many races?

No, I never expected to do this good. It's been hard. I am kind of excited. There are some places we can work on the bike to make
Millville
better. I really want to do it right at the des Nations, and I am going to spend some time on the 2008 Suzuki. I am looking forward to riding that thing. It has a bunch of new parts and a new five-speed transmission.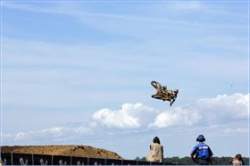 Chalk up win #149

How's the holding down two jobs and being a dad going?

It's tough. It's hard having twins. One has a problem, then the other has a problem. I have to give it up for my wife. She is doing a good job. Obviously she has bad days when the kids are having bad days, but we have two nannies that are there, and I have a lot of respect for them. When they are not there, it's tough. They kind of alternate. I would like to thank them as well.
Are you doing all cars now until Millville and MXdN?

Also I have X Games. I really want to do well there. I really want to do well with the cars. I have an obligation to do 15 races so if I want to get to that goal I have to get some seat time.
How do you practice with cars?

You rent a track, and the crew brings the car out and we go do what we can do. It's hard because the track temperature changes so much. When you are out during the day, you are kind of wasting your time because that is not the setup you are using for qualifying or nighttime races.