Monday Conversation 2: Mike Alessi
Red Bull KTM's Mike Alessi showed signs of his remarkable past in amateur days coming back at RedBud, but this time he was racing with RC and Stewart at the front , and that's as tough as it gets!
Mike's "laps of glory" mixing it up with the big two may have been short, but he also went away with two holeshots, more confidence, and at last, a solid 3-3 to put the bad weekends behind him. Mike got his second ever podium in the 450 class outdoors. (His first was the race at Steel City that was his second outdoor ever a couple years ago, which was one week after the "Believe the Hype" weekend.)
You can believe it now. Mike went 3-3 at Red Bud, even digging deep in the second moto to defend third from a hard-charging Tim Ferry. We made an extra trip back into the pits after the press conference to see what Mike was thinking after such a good day.

Racer X: Mike, your second podium in outdoors and first since Steel City that time; you earned this one, huh?

Mike Alessi
: I earned it as hard as I could in that last lap with Ferry. In moto 1, I got the holeshot and the second turn was really wet, and I just knifed the front end and almost went down. As I messed up,
Bubba
smashed me so hard, he pushed me into RC, and I didn't mean to but I happened to cut RC off. When
Bubba
hit me, he pushed me to the outside and RC was railing the outside.
I then led a lap and a half, almost two laps. I was pretty pumped on that. They (RC and Stewart) got around me, and I tried to stay with them but their pace was so fast, they were battling because neither wants to lose to the other. I was riding hard in third. I saw Langston coming up. He nearly crashed or bobbled or something and I got away. Ferry was coming but I didn't let him catch me and ended up third. It was a good moto.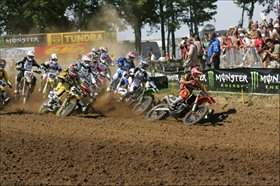 Mike pulled off two holeshots at RedBud

In the second moto you were in the lead again. How did that go?

In the second moto I got the holeshot and I knew James was going to try and do the same thing. If I let him get the start, he did what I did in the first turn, he messed up and hit that water – because you are coming into it so fast, I swooped underneath him and got him back. I was running first for over two laps again. I was pretty pumped on that as an accomplishment, to lead some laps over those guys.
Do you feel like you belong on the podium now? Are you there yet?

I feel like it, yeah. I feel like my speed is finally there. My endurance is getting better. I have been training a lot these past two weeks. It feels so good to get on that podium, especially with RC in his last ever national here at
RedBud
. It was really good to stand up there next to those guys.
You gave RC a bit of a tribute yourself in the press conference and shook his hand.

He deserves it. He really is the greatest of all time. I just felt like giving him some respect.
Do you see yourself becoming a training animal like RC and if you don't win, you come back the next week prepared to win no matter what, like RC does?

What he has done for the sport is amazing. He has changed the sport so much. Before him it was McGrath. The list goes on and on. I just felt like asking him heart to heart, how it really feels winning 149 races. I only won two and I was pumped. For 149….I would lose count after about 30.
What have you done in the last month or so to get your program together?

We got the bike going really good. The suspension is really good now. It was hard after Vegas because I got hurt in the whoops. It was hard to train and hard to lift weights. I came into the season a little out of shape. My bike wasn't the greatest but we were working on it and it was getting better. I went into
Hangtown
not 100 percent ready. Just in the last couple of weeks we got a new shock from Europe. The bike has been working awesome. I have a new mechanic (for the weekend, Zach Osborne's mechanic helped him).
When Osborne comes back, you then will have Ed Longacre (Budman's mechanic from Arenacross days) right, who just came over from Suzuki?

Yeah he will be working with me for the rest of the year.
Al did a great job this weekend. People don't understand what a good job he does. It feels really good. In the second moto, I was catching up with
Bubba
. I saw him right there. If there was one more lap I think I might have got him.
What was up with that, did he back off you think?

Yeah, because it was the last lap, and Ferry and I were going at it hard.
That was quite a battle at the end there, you knew you were digging deep to make that podium, didn't you?

I wasn't going to let him pass me! I said no way. I saw Kurt Nicoll, my team manager, on the side of the track jumping up and down yelling "Go! Go!" and I thought I can't let him pass me.
Were you getting tired?

Believe it or not, I wasn't tired. I have been training a lot these last two weeks, and went to Mammoth and did a lot of bicycle riding up there. My trainer Jay is doing an excellent job.
Did you see the pitboard that said "Mike A is back?"

I saw it! Did you get a picture of it?