Kawasaki/Racer X Race Report
4-Ever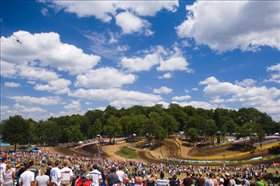 'Twas a perfect day for motocross
One of the biggest crowds in
Red Bud
's rich history stood witness to the latest chapter in what is quickly becoming a book of instant classics in the 2007 AMA Toyota Motocross Championships presented by FMF. Every element was in place for the perfect race weekend; an immaculately groomed racetrack, gorgeous weather, and heated rivalries set the tone for an afternoon of competition that the
Red Bud
faithful won't soon forget. This one had it all. The entire facility had been polished head to toe and no stone was left unturned. The opening ceremonies consisted of an impressive fireworks display and
Ricky Carmichael
circulating the track and roosting the crowd in a Monster-sponsored Baja 1000 truck. Hand-made banners and t-shirts that said "4-Ever" on the back could be seen throughout the massive sea of spectators, all with a simple theme: Goodbye Ricky. At the end of the day all of the competitors gave the fans a performance they won't soon forget.
There were four motos and 80 racers filling the card of the event prompting motocross fans to make the drive to the race. Be that as it may, 90 percent of them were there to watch Monster Energy Kawasaki's James Stewart and Makita Suzuki's Ricky Carmichael draw a line in the sand and fight. And fight they did, but first they had to go through Red Bull KTM's Mike Alessi, who banged two huge holeshots and led laps in both motos. Mike needed a breakout performance and his effort on Sunday reminded people what the original "Hype" was all about by charging hard to 3-3 moto finishes and landing on the box.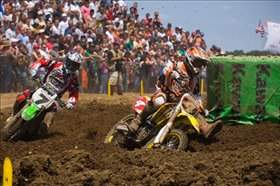 Ricky and James delivered the goods
Meanwhile James and Ricky delivered the goods. After James and Ricky got around Alessi they went at it hard. Ricky was able to get by Stewart just before the halfway mark but couldn't pull away. Then he made an uncharacteristic mistake with 10 minutes remaining and lost the lead. He dug deep but came up short. Moto two saw Alessi grab another holeshot and ride strong. After throwing a one hander over LaRocco's leap on lap one, he kept it pinned to lead a while longer before Stewart made his way around. Meanwhile, Carmichael suffered a 12th place start and was charging. He slowly crept up to James with each passing lap and the frenzied spectators began literally sprinting fence line to fence line. Ricky was trying everything in the book, but he couldn't find a way around. Just when it appeared that James might have him covered he laid it over with three laps to go. Could he have held off Ricky? It's hard to say. What is for certain is that he gave it everything he had and he should inherit the points lead when RC stays home from
Unadilla
.
While the Motocross class was the focal point, the Lites riders put on a hell of a show themselves. Missing from the starting gate would be Makita Suzuki's
Ryan Dungey
. The emerging talent suffered a nasty high-speed get off on the downhill ski jump and was rendered unconscious. While he was able to shake out the cobwebs he was unfit for competition. Sobe No Fear/Samsung Honda's
Josh Grant
brought the fans to the fence line by stealing a huge holeshot while the steaming Monster Pro Circuit Kawasaki freight train of
Ryan Villopoto
and Ben Townley followed in tow. Just behind them was the ever colorful and fast
Jason Lawrence
on his Boost Mobile Yamaha of Troy YZ250F. Lawrence had posted the fastest practice time in the second session on Saturday and after coming off a strong 3-3 performance at Budd's Creek, many were expecting him to vie for the point position and make it a four-way battle. It was not to be. By the time the field had sorted itself out for lap two,
Josh Grant
had gone down and
Ryan Villopoto
and Ben Townley gapped Lawrence by a considerable amount. Townley, who had been rushed to the hospital with suspected appendicitis on Saturday, said he was, "just feeling it out for the first couple laps to see where he was at." In the end, Ryan took the win with Ben about five seconds back and the two had gapped Lawrence by almost a minute, setting the tone for another head-to-head battle in moto two.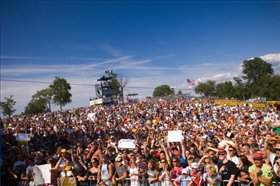 RedBud has some of the best fans in motocross
And a battle it was. This time Townley grabbed the holeshot and tried his best to gap his teammate, to no avail. Once again, the two quickly gapped the field and were in their own world. Townley held the point till the halfway mark and just when it seemed like Villopoto didn't have anything for the leader, he dropped the hammer (and about 1.5 seconds a lap) and went around his teammate and never shut off the gas till the checkered flag flew.
Josh Grant
ended up having a decent day and rounded out the final podium spot while fellow Sobe No Fear/Samsung Honda pilot Jake Wiemer put in his best performance of the series and rode home fifth overall. Meanwhile,
Jason Lawrence
just didn't have the horsepower or the consistency. He rode hard and overcame a first-lap spill in moto two to bring home fourth.
In the end it was a great day for outdoor motocross and yet another reason to believe and hope that it will be around 4-ever.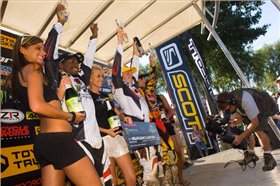 The ending of another great day of motocross