Red Bull KTM's Mike Alessi nailed down both holeshots in the AMA Motocross class
Round after round this year, it's hard to believe that the racing could get any better than the last, but 2007 is proving to be the best season yet. Round 5 of the AMA Toyota Motocross Championships presented by FMF took us to the beautiful
RedBud
Track 'N Trail, which
Ricky Carmichael
says is one of his favorite tracks on the circuit. And it's easy to see why. The soil is like none other, as its texture remained dark, moist and loamy throughout the weekend, providing multiple racing lines and maximum traction. There were several new jumps and track additions, which provided some great views for all fans in attendance. The spectator areas mirrored a well-manicured golf course, with fresh sod being laid in the vending area, as well as on the side of some jumps. And the crowd was quite possibly the largest that I've ever seen for an AMA National. So with the promoters and fans doing their part, it was now up to the racers, and in the AMA Motocross class—like they've done almost every race this season—they didn't let us down.
Both motos were instant classics. The first moto was reminiscent of
Budds Creek
, with Carmichael stalking Stewart every lap, waiting for a mistake. This time he got what he wanted, but before he could get comfortable, RC made a mistake of his own, handing the lead—and a comfortable cushion—back to Stewart. RC reeled him back in, but it was a little too late.
Moto 2 was much of the same, but Stewart showed great composure as the #4 shadowed his every move for over 15 minutes. Stewart then made a mistake in a deep rut, handing the lead to Carmichael, who cruised on for the overall win—the 149th of his career.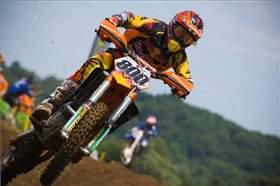 Mike Alessi finished on the podium for the first time this season with a 3-3
Beyond that, we saw a new rider on the podium as Red Bull KTM's
Mike Alessi
carded a very solid 3-3 for third overall. Mike showed speed on Saturday, posting the fastest lap time in the second practice session, and backing it up on Sunday with two Mototees Holeshots. He also led quite a few laps, before succumbing to the Stewart/Carmichael freight train.
In the Alessi Newsletter sent out today, Tony says, "To be perfectly honest I have been asking God for help! So I feel this week was divine intervention! Mike rode with confidence, speed, and focus." And here's a nod the younger Alessi brother Jeff, who finished 7-8 for seventh overall in the Motocross class. Well done, boys.