Racer X Tested: 2008 Yamaha YZ250F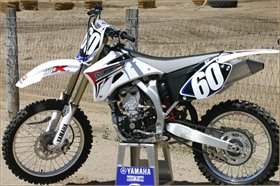 2008 YZ250F
It's that time of year again and the first manufacturer to release their 2008 model line is Yamaha. Their 2007 YZ250F was a great bike and they have a long list of improvements for this year. We met with the Yamaha crew at Milestone MX Park, a newly opened facility in Riverside, CA, to ride the newest YZ. And I grabbed Racer X test rider, Phil Lawrence, to take the bike through its paces and blow up a few turns for the camera. So, what could possibly be different about the 2008 model?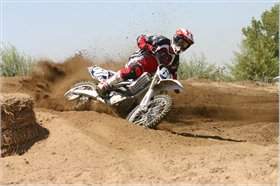 Factory Phil Lawrence puts the new Yamaha through the paces
A redesigned piston bumps the compression ratio from 12.5:1 to 13.5:1. Carburetor and ignition revisions compliment the higher compression and the changes are aimed at increasing low end power and acceleration. An adjustment of gear backlash between clutch primary gears and balancer gears reduces mechanical noise while a new outer fork tube design, new lower triple clamp and revised fork internals smooth out the ride on the front end. Also, an optimized linkage ratio improves rear wheel traction and shock performance. Another feature long overdue from any manufacturer is the 55mm footpegs that replace the 45mm ones that have been the norm. Yamaha also worked closely with Bridgestone to develop the M403 front and M404 rear that come on the 2008 Yamaha YZ250F. This new intermediate tire has been tested and proven by some of the best riders in the world, including Yamaha's
Chad Reed
.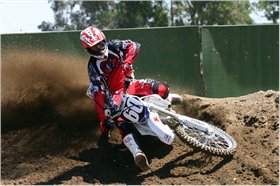 The bike is available with limited-edition white plastic
The newest blue bike is once again available in a limited-edition white plastic (as shown in our photos). The retail cost is $6,249 for a blue model and $6,349 for the limited edition white model. Visit your local Yamaha dealer for more information or check out
www.yamaha-motor.com
for the complete line of 2008 YZ models.
And be sure to check back later this summer when we stage our 2008 Racer X Tested 250F Shootout.