Welcome to the Shift Number Cruncher. This week's number comes to you with a nod to Sammy Hagar's foray into social awareness, which centered around his disdain for the speed limit on the Eisenhower interstate highway system. So the Red Rocker put it together in a song with "one foot on the brake and one on the gas." Soon enough his song had highway patrol officers all over the country writing citations for those who simply could not drive 55.

Okay, all 1980s hair band trivia aside, number 55 is a very fascinating number and one that is very rich in racing history. In fact, 1955 was one of the most pivotal (and tragic) years in the entire history of motorsports. I'll explain that at the bottom, but stick around for a while and check out some of these riders that raced the digit into motocross history.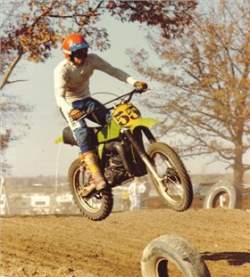 Lee McCollum
photo: Courtesy of BobbyM
Here we have a really cool picture of
Lee McCollum
that a lot of you may have already seen on the Mototalk message board. It was cool to see this shot and I was proud to use him in the shift Number Cruncher because Lee had e-mailed me around a year ago when we ran the first one. Looking at this pic, it still baffles me how those guys ran open-faced helmets. I know how many times I have knocked the mouthguard out of my Fox V3 and to think that could have been my chin and teeth instead – yikes. Respect the old school.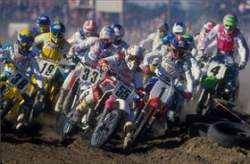 Mike Jones
photo: Fran Kuhn
Mad Mike
has pulled some big holeshots in his career, but this has to be the biggest one. Not many people can say they have yanked one against RJ, Wardy, Lechien, and company. Free Racer X stickers to anyone that can guess who rider #38 is.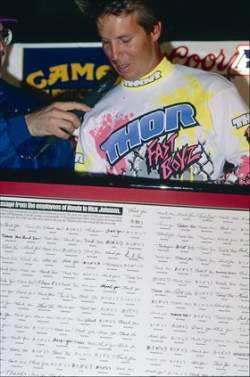 Ricky Johnson
photo: Courtesy of Moto Verte
Rick Johnson
actually earned national number 55 for the 1992 season but he never used it. Too Hip was a bad a dude as they came. He never made excuses, he rode hard, and he had style. I had one of those RJ Moto 4 replica helmets and I can still smell the fresh clear coat as I think back to how cool I thought I was when I raced with it.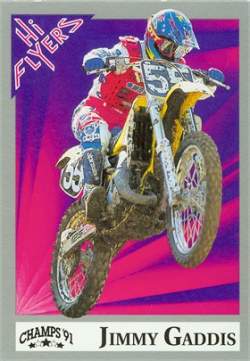 Jimmy Gaddis
Jimmy Gaddis
is one of the fastest mini cycle racers of all-time. I can still hear the scream of Jimmy's R&D Suzuki 80 flying down the start stretch at the World Mini Grand Prix. His battles with Buddy Antunez, Jeff Emig, Brian Swink, and Damon Bradshaw were legendary. Shown here running the five-five in 1991, Jimmy would win the 125 West Coast SX title two years later riding a Pro Circuit KX 125 then go on to a strong arenacross career.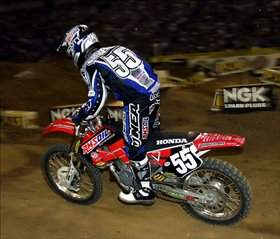 photo: Steve Bruhn
Check out
Li'l Goose
running the 55 in 2000 on a premix burning Factory Connection CR125. It's hard to imagine that Chris has been in the Lites class that long already. Seems like just the other day he was a rookie. He proved he still have some good years in him, but he needs to get on the stick for the rest of the AMA Toyota Motocross Series.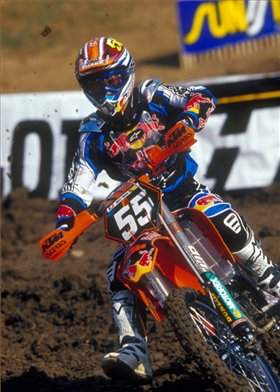 photo: Simon Cudby
This cat has been around for a while and ridden for almost everybody. While he skips around quite a bit, there is a reason he always has a ride—he's fast!
Bonifast
put in good rides every year and is a podium threat in SX. He ran the 55 in 2003 for team Red Bull KTM. A cool association here is that current Red Bull KTM manager, Casey Lytle, also earned #55 during the 2004 season.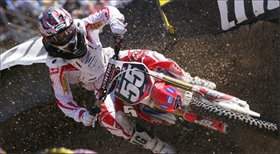 photo: Simon Cudby
Running the #55 in 2007 is Vine Grove, Kentucky's
Ryan Sipes
, who thus far is having a season he'd rather forget. Sipes suffered a broken leg at the Orlando supercross and just got back on the bike a few weeks back. If all goes well, hopefully we'll see the SoBe No Fear/Samsung Mobile Honda pilot on the track at
Unadilla
in a few weeks. Nonetheless, Sipes recently signed a deal with the MDK KTM team for 2008-'09. Read the press release
here
.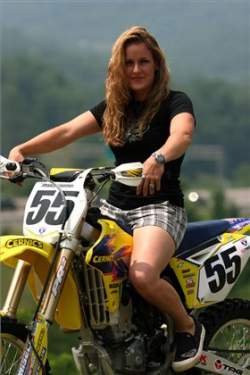 Jessica Coombs
photo: Jason Hooper
Here we half one half of the infamous McConnell twins. She and her twin sister Melanie have been going to the races with her family since she was five years old and she still races hard.
Jessica
has two beautiful kids, Cade and Chloe that occupy most of her time but she still managed to finish 10th in the Women's class at her regional last weekend. She's a looker, but careful guys: that rock on her left hand was given to her by Tim Coombs and that should be all you need to know.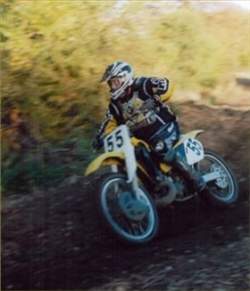 Rick Stepanovic
A fan sent us an e-mail a few months ago asking to be included in the Shift Number Cruncher in the event we ran number 55. This is
Rick Stepanovic
. Sadly, he passed away two weeks ago from Cancer. This would have been the 14th year in a row he attended the
Red Bud
national. We would like to dedicate this week's column to him and his favorite number. He was 52 years old.
Notable 55s:
- Bruce Stratton 1996, 1999
- Kyle Lewis 1998
- Kurt McMillen 1994
- Scott Sheak 1993
- Jo Jo Keller 1990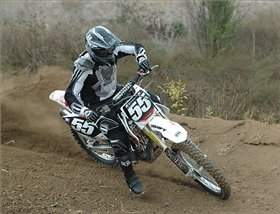 Rob Salcedo
photo: Salcedo Archives
I want to give a special shout out to my boy,
Rob Salcedo
, at Shift MX. He has always run #55 and I know he'll be stoked on this week's column. Rob broke his leg in 12 or so places and had to sell his bike, but anyone that has "Slayerfan" for a personalized license tag won't stay down long.
1955
I love history. I read about it as much as I can and always want to know more. Here is a little history on the year of 1955. It was one of the most important and tragic years in all of motorsports. Motor racing in general was entering into its adolescent years and things were beginning to move faster and faster. This year was particularly hard on the biggest names in the world. In addition to losing Albert Einstein, it was the year of the infamous Le Mans disaster that killed 83 people when an axel flew off a racecar in a high speed crash and went into the grand stands like a scythe.

Italian racing god Alberto Ascari was also killed in a racing accident. There are some really strange numerical coincidences with this one. Alberto's father, Antonio, crashed to his death on June 26th, 1925 so in memory of his dad, Alberto vowed to never race or drive on the twenty-sixth day of any month – except on the day of his own death, on May 26th, 1955. Both Ascari's were 36 years old when they passed. Both had been born on June 13th. The 26th being twice 13 and both crashed on left-handed turns.

1955 also saw 3-time Indianapolis 500 winner, Bill "The Mad Russian" Vukovich die in a fiery accident while he was leading the 1955 Indy 500. And perhaps the most famous car-crash incident of all was to come: James Dean was fatally injured when he crashed his "550" Porsche Spyder on his way to a race at Laguna Seca, and his unexpected death sent the nation's teenagers into a deep state of mourning, even though he had made only three movies: Giant, East of Eden and Rebel Without a Cause, the last of which was the only one to have been released before his death. He was 24.
1955 wasn't all bad though:

Births:
-Edward Van Halen
-Angus Young
-Arsenio Hall
-Greg Norman
-John Grisham
-Bruce Willis

And like we mentioned last week, the great Malcolm Smith rode off on his maiden voyage on a 1949 Matchless 500cc machine in 1955.That is all we have for you this week. I know there are a ton of #55's out there so please e-mail me at andy@mxsports.com so we can put you in the redux.