Monday Conversation: David Knight
KTM's GNCC superstar David Knight, was so fast at the Snowshoe GNCC, that he actually did three post race interviews while waiting for the race of the podium to make it in! Knight is the heavy –hitter for KTM in GNCC and his participation in the series means KTM is serious about winning off road races, and for the 6'4" giant, the tougher the better. Knight races a 450 XC KTM in a class full of two-strokes, but his strength helps him use the bikes to his advantage—much like it was for GNCC legend Scott Summers when he was racing XR600 Hondas against everyone else..
The Snowshoe GNCC had non-traditional start, more like the famous Blackwater road start with everyone in rows of 5. Knight was on the front row, and was in the lead and checking out on the first lap. While others had trouble on hills and sometimes having to wait for other to clear a hill, Knight had a clear track, and put together one of the most impressive runaway wins in GNCC history. He was so far ahead, this Monday Conversation was the third interview he did after the finish and he was still waiting for the others to get to the podium.
Racer X: That was a pretty big win, are you trying to make it look easy?
David Knight: It was good fun. It was tough, but you just had to keep moving forward. That is what it is all about. It was like a tough enduro. When the going is tough like that, I quite like it. It's hard work on the big four-stroke. It's heavy when you get in the ruts. It was good fun and I got the win and that's all that matters.

Was this an especially tough track?
It had a lot of fast stuff that was real slippery. You had to watch it. You could relax a little, and hit some stones. I think everyone had a few close ones. It was tough but it had just enough fast stuff to get relaxed on the first couple of laps. After like three laps the whole course is wrecked. Next year it will be even worse. It was tough but not as physical as some of the races I have been in.

What was your impression when you first arrived here at the Snowshoe Ski Resort?
It's like a lot of places in Europe. We race at a lot of ski resorts. It's a similar sort of deal. It's by far the nicest place I have been to. It's good when people bring their families and things to these and you have such a good place to ride the bikes and race. It makes it a good weekend, a bit more atmosphere.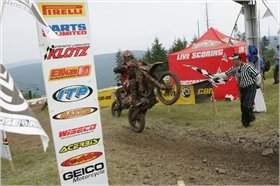 Knight came across over nine minutes ahead of second place

What did you think of that unique start?
That was better. It's better than the dead engine rubbish. I was just scared that we would warm up the clutches. They held the start a long time. I didn't get the best start but I knew there was some fast stuff and I could try and blast past the guys, then I just tried to get comfortable. The best part of the course was going into the pits I think! (Lots of pavement and supermoto turns).

Were there any hills out there that got impossible to climb after the bikes ran over them?
I got stuck on the third lap on a hill trying a different line. The second lap, I just got up it and I knew the third lap was going to be tough. There were guys stuck everywhere. On the last lap I stopped at the bottom and had a good look, and just took a breather, and found a new line and just saved that much energy. On the lap before I used up a lot of energy there. I probably lost a minute getting back fresh again. Once you push and get tired in that kind of riding, there is not much chance to rest. From the 8-mile marker it was tough going, so you don't get a chance to get your breath again. You just have to relax and keep moving. Speed didn't really come into a lot of it.

How do you know what's going on behind you in such a long race?
I don't know. I just rode me own thing. I stayed on the pegs and forgot I was racing. It was just like riding to a checkpoint in a world or British Enduro: If you worry about what the other guys are doing, you hit every single stump there and you end up crashing. Once I was coming into the bog once and I was worried about what line, and I hit some roots and ended up straight on me head. That woke me up a bit. I just concentrated more after that. Then it all went good.

In the pits, some people that were watching the pavement section said you were sliding through it the best. Do you know supermoto too?
[Laughs] Yeah, I have done a lot of it here and there. I have done a little bit of everything. I think there were some crashes in there. I saw some footrest marks in the pavement. That was probably the best place to watch.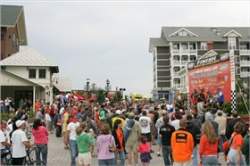 The Snowshoe Ski Resort provided a great atmosphere for the Can-Am GNCC

How is your suspension working out? Do you test much since you still live at home?
We did a lot of work this week with the WP suspension. It was worthwhile because you can have it working good, but if you don't feel exactly comfortable, it takes a bit of confidence away. I was comfortable today. I was hitting things hard and it was working good.

Good deal, and congrats on the win.
Thanks.