Hello, everyone, and welcome to the Rev Up. As I glance over at the calendar I see that today marks the first day of summer. This kind of struck me a little odd when I consider the fact that it's been 90 degrees for almost a month already. It really got me thinking about how much the seasons have changed since I can remember. Growing up in Kansas we used to get tons of snow in the wintertime. My father owned a tow truck company and more snow meant more people in the ditch on the Kansas turnpike, which in turn meant the chances for me to get new bikes were much greater. As the years went by and the snow began to fade, all of the sudden December would roll around and instead of wading through knee high snowdrifts pulling cables down to the ditch with my Dad, I was out on my practice track burning motos in the 50-degree weather. Thank goodness I was able to get fast enough to get support by then because those good hard winters were gone! Don't worry, this isn't going to turn into a global warming debate, it just made me think about all of the change going on around us.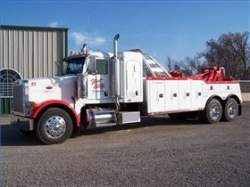 Dad hopes it snows this winter
photo: Bowyer archives
It's not just the weather changing. The entire sport is just so much different than when I first started racing. The other day I got a phone call from a mini Dad that asked me where he could park his "Team Hauler." I was about halfway through telling him that it is first come, first serve at Loretta's when he stopped me and explained, "Well, we have an 18-wheeler we bought from an old NASCAR team. It's a Peterbuilt and a Featherlight trailer and I just wanted to make sure there was a good place to park it…." Yeah, another sign of the "poor economy." Seriously though, it just opened my mind to how much the sport has grown and is growing.
Look at our bikes! Every week I look at old pictures in the archive and my jaw drops when I see those Maicos and Bultacos with drum brakes, dual shocks, and air-cooled cylinder heads. I don't know what's crazier, the bikes or the guys on them wearing long sleeve t-shirts, open-faced helmets, and kitchen apron-style chest protectors. I really thought about that when I was walking through the pits at
High Point
and stopped to drool over
Ryan Villopoto
's Monster Pro Circuit KX250F. Then as he was getting ready for his moto I watched him put on his Leatt-Brace and just over his shoulder I saw Chuck Sun fly by on his Honda 400 on his "Legends" lap.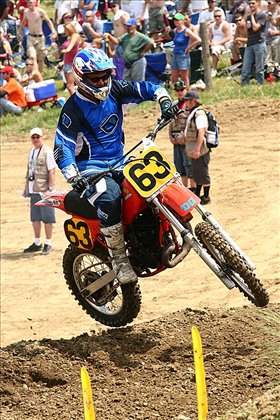 Time machine
photo: Matt Ware
Two weeks ago I ran into Davey Yezek, who hadn't ridden a bike for five years when he purchased a 2007 KX450F. I asked him what had changed the most since he had been away and he simply pointed at his bike with wide eyes.
And how about the media nowadays? Back in the day I used to sprint to the mailbox then slowly pull open the handle and peak inside praying a
Cycle News
was in there so I could see if Rick Johnson had won another one. Then came the internet,
Motonews, Racerxill.com, and live scoring are all the wonderful things we enjoy today. I almost had to pinch myself last weekend as I sat on my couch with my laptop and watched RC and James battling at
Budds Creek
. It's awesome!
Progression and change always astonishes me. Freestyle motocross is a prime example. I saw that the AST Dew Tour is kicking off this weekend. It shot me back to the time I stood on Pier 32 and watched
Travis Pastrana
do the first Indian Air in a contest. There was just no way it could get any gnarlier than that, right? I can only scoff as I click over to a highlight film of Nate Adams's run last year. As far as FMX goes, I mean those guys are off their meds, but in my opinion Evel Knievel still has them all licked in the stones category for jumping a 700cc Triumph over 14 buses. Fourteen because "13 is an unlucky number."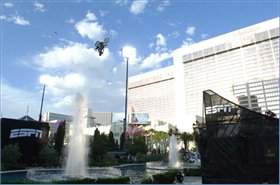 Evel is still gnarlier
photo: Steve Bruhn
Which reminds me that although things are changing, most things in the world are a constant. We'll always have visionaries that push things to the next level. The bikes are going to get cooler, the tricks are going to get bigger, and the coverage of our sport is going to continue to grow. The third week in June always marks the first day of summer, and if the Spring is any indication, it's going to be one to remember.
Thanks for reading, see you next week.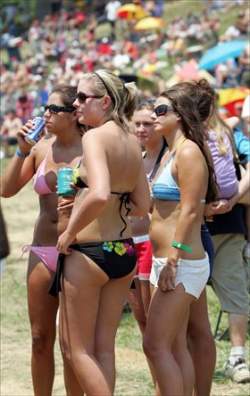 Summertime
photo: Steve Bruhn