Between the Motos: Andrew Short
2006 was Andrew Short's breakout season. After placing second in the AMA West Region Supercross Championship and winning the East/West Shootout in Las Vegas, Short went into the AMA Toyota Motocross Championship as full-on contender in the Lites class. Wins at Southwick and Millville only furthered his resolve. But then it all went south when he tore his ACL at Steel City, the penultimate race of the series.
So severe was the injury that Short, now 24, didn't return to the AMA Supercross Series until Round 12 at Indianapolis. And when he did return, not only was he nervous and a bit in the dark, he was also aboard a factory Honda CRF450R. But Short faced the music, found a rhythm, and placed fifth in each of the last four supercross main events. The opening round of the 2007 AMA National Motocross Championship at Hangtown saw Short struggle on the potent 450F, but come Round 2 at Mt. Morris he was on top of it, placing fifth overall. At both Southwick and Budds Creek he was fourth overall, including third in the final moto in Maryland. One of the most humble and genuine factory rider in the pits, Short is a true gentleman. But don't let that fool you: As this interview will prove, beneath his calm, friendly demeanor is a racer whose competitive spirit burns every bit as hot as Carmichael's or Stewart's.
Racer X: Andrew, what are you up to today?
Andrew Short: Well, I'm actually at a church camp. Steve Hudson got me into it. It's kind of a Fellowship of Christian Athletes camp and I'll be here until Friday.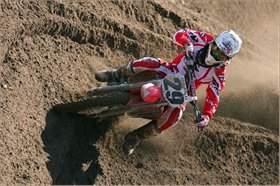 Short is a regular top-five finisher in the Motocross class in 2007

Last Sunday at Budds Creek you placed fourth overall and in the second moto, got your first podium in the 450F class. All things considered, a good day for you?
It was pretty exciting. I felt good about improving and getting better. I started off slow in the nationals, so I felt a lot better at Budds Creek.
Have you had a tough time adjusting to the 450F class?
Yeah, I came off of the 250F and I was able to ride that bike wide open. With the 450F, it's a big challenge to even hold on. It's hard to pin it because it's so fast. I mean I'm scared to hold the pace of Ricky Carmichael or James Stewart on it. I'm just trying to adapt to it and every weekend seems to be getting better and better.
You placed fifth in the last four supercross races of the season. Did those races help you get your head wrapped around the 450?
The 450 is different in supercross. I was off with my knee injury for so long that it all felt really foreign when I returned. I was happy to be back, but I was obviously not one of the top guys. When we moved to the outdoors, I was caught off guard. We were prepared and had the bike ready, but I thought I would be better at Hangtown. Even at Budds Creek I felt off the pace. I just need to hang with it and keep my head down. The biggest problem for me, though, has been adjusting to the bike. We had time to prepare, but I was totally off.
Running in third in the second moto at Budds Creek, you had something of a view of Carmichael and Stewart. What did you think?
[Laughs] It's pretty unbelievable. I didn't see them much. Those guys are on a whole other level! It's like they're in another race. They'll pass me, I'll see them for a few turns, and they're gone. Like I said, everything I ride the bike I am trying adapt. But those two guys — Carmichael and Stewart — are not even in the same class. Ferry, Millsaps, Grant Langston, and Kevin Windham are all good riders, and they are all also off the pace of those two guys. It's almost like two races in one: There's RC and James Stewart in one race, and all the other guys in the other race. I mean James and Ricky are the two greatest of all-time. James isn't as accomplished as Ricky, but he's running the same pace and that's something special. There has been some good racing. It's not like the Lites, where it's a crapshoot, but the guys in the 450F class come to battle.
You've finished in the top five at the last three Nationals. That has to be encouraging to you…
It has, but when I come back after a race, I feel like I've let the team down. Those guys care so much and work so hard. But they know I'm putting my best effort in and that I'm improving. I'm not going backwards. I want to do good for the team. I'm around them so much they're like family and I want to do my best for them.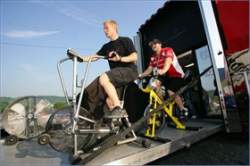 Teammates

How do you and your teammate Davi Millsaps get along?
[Laughs] Well, we're definitely different people. We're complete opposites, yet we've been getting along better than ever. At first, when we were both 250F riders, we did not really know one another. Now, more than ever, we do a lot of testing together and are around each other a lot more. I respect him and we're friends. I like him. He's a good kid and a fast racer.
Do you and Kevin Windham work well together?
Yeah, we spend a lot of time testing. I have total respect for him. He's smart and has a lot of insight and adds a lot to the team. It's amazing to watch him ride. He's perfect and does everything on the bike right. I like to watch him ride and study him. He's a cool guy and a great person in life. In fact, all the Honda guys are cool. There are no problems with the team and everyone gets along good.
Your next race will be at Red Bud Track & Trail on Sunday, July 1. Do you like the track?
Yeah, I love it. Millville is also cool. And so is Colorado—that's where I live.
We're creeping up on the halfway point of the outdoor season. What's your masterplan from this point forward?
For me, it's to keep improving. Obviously, I'm off the pace to win. Getting a podium is my next goal. Once I achieve that goal, I'll revaluate my situation. Another thing, or another goal I want to achieve, is to get the bike down. Ricky Carmichael and James Stewart ride the 450 wide open. I'm going to have to master that technique if I am going to match them.
You speak of Carmichael and Stewart a lot. What's your take on what's going to happen when Carmichael packs up his gearbag for good? And when he does, do you think it will change the racing a lot?
I really don't know. Obviously, I respect him. He's the best racer ever. That makes me respect him even more. And his sheer speed is crazy. The riders will miss him and so will the sport and all the fans. As far as the racing changing, James and Ricky are on another level. Racing with either one of them is not realistic at this point. [Grant] Langston made a charge on Stewart at Southwick. Someone can do that for a couple of laps, but for the whole moto, or for 30 minutes, that's a whole other issue. I don't know… It's like when Carmichael left supercross, James went on cruise control and won everything. I don't see anything changing unless something unforeseen happens. And that sucks.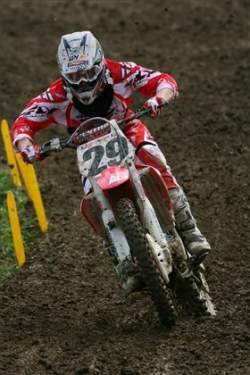 The CRF450R is a handful

In the 450F class now you have riders like Reed, Ferry, Tedesco, Millsaps, Alessi, Vuillemin, Langston, Windham, Byrne, etcetera. Being between Stewart and this entire crew would certainly be saying something, wouldn't it?
Yeah, obviously that's the goal. I'm pretty close. I was pretty close this week. I want to be "that guy." Ferry has had good races and Tedesco will be very good when he gets up to speed. And all those other guys are also very strong. It won't be an easy goal. It'll be hard. It's like the Lites class. There are so many good guys that it makes for good races.
Andrew, you are 24 years old now. Do you plan to keep racing for a long time?
Yeah, I love to race. I always have and I always will. Whether it's Arenacross or supercross, I'll keep racing. I'm pretty happy. And I feel blessed to be riding for Honda. That's a dream come true for me. I'm surrounded by so many good people there. I want to enjoy it for as long as it lasts.
Can you win a championship in the near or distant future?
I'd love to. That's any racer's goal. I was close in the Lites championship last year. I put everything I had into that championship and came out on the opposite end. But that's life and I had to deal with it. I just want to keep improving. I was never a Mike Alessi; I never won all these championships when I was on 80s. Even when I went to the 125cc class, I was only a top 10 or 15 guy. Every year I seem to get better and learn. That's why I feel like I have potential with the 450. I want to make up ground.
Okay Andrew. We'll let you get back to your camp. Thanks for your time and best of luck at Red Bud.
Thanks, Eric. Thanks for the call.