Hello, everyone, and welcome to the Rev-Up. Alright, the weekend is almost here, and with it comes one of the best races of the year: the Budds Creek National! A lot of amazing things have taken place in the jagged green valley of Jonathan Beasley's property. If you read "Things to Do," you may have noticed that the track lies on the same ground that the cowardly John Wilkes Booth scampered through after shooting President Lincoln. And more along the lines of bad history, it's a piece of property that has been especially cruel to Doug Henry, what with the horrific "Henry Hill" incident in 1995 and then breaking both his arms there in 1997. On the other hand, the venue played host to the last American GP back in 1999, which Kevin Windham won, and later this summer it will host the nostalgic Motocross of Nations.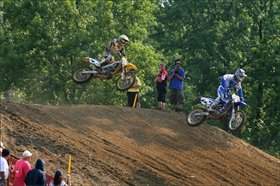 Reed was on it at Budds last year
photo: Simon Cudby
Last year's event was a full-on four-alarm barnburner, with
Ryan Villopoto
and
Mike Alessi
locking horns so furiously that RV ended up using the fuel of twelve years of Alessi oppression against #800 and pretty much cleaned him out. And one forgotten aspect of that race was the unexpected battle
Chad Reed
and
Ricky Carmichael
got into. Reed caught RC off guard and led a good portion of both motos, and Ricky had to resort to some aggressive riding of his own to get around him late in the moto. The word on the streets is that Chad will be pushing to the line this weekend, which adds even more spice to what has become a fiery battle for the third podium spot. It's time for another big one, folks! Outdoor motocross is one fire right now, so let's get Revved Up for what is shaping up to be an instant classic.
Lites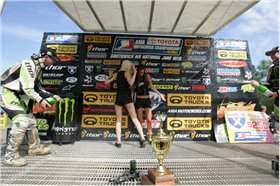 Team work
photo: Steve Bruhn
The first moto of this class last year was wild. Zack Osborne grabbed the holeshot and checked out, while
Andrew Short
and Alessi went down in the first turn.
Broc Hepler
made his return to the track and was riding around mid-pack following
Ryan Villopoto
. By moto's end, Osborne faded to 18th, RV Park took the win, and
Broc Hepler
rode home a surprising second. And the summer was over for
Billy Laninovich
and
Grant Langston
, as the two collided and were injured. As wild as that moto was, the second was even wilder. It was one of the most popular film shots of the summer last year. It wasn't so much good, hard racing as it was simply a time when a guy who had been beaten on for a long time finally swung back. And that was just the beginning, because after RV dusted Mike, he had to duck because Mike's mechanic, Paul DeLaurier, was swinging his pit board at his head! Wow, ya gotta love it, folks.
This weekend has the chance to be just as exciting. With the additions of Ben Townley and Ryan Dungey, you can be sure that we will see some serious sparks fly. All the same, I think RV will be pushing extra hard for his first win of the season and will be really hard to beat.
Motocross
The big word for this class this weekend is hundred. If Ricky Carmichael can get the overall win, it will mark one hundred outdoor victories for RC. While there are a lot of people who would like to reach that milestone, I can name a couple guys who would like to try as hard as they can to keep him from it. In fact, these two dudes have been able to do what no other motocross racer has, and that is making a dent in RC's unfathomable record list. James Stewart replaced Ricky as the most winning 125 rider in history in 2004 when he won his twenty-eighth overall. James also raced his ass off at Orlando and thwarted Carmichael's extreme effort of winning the last supercross in his career.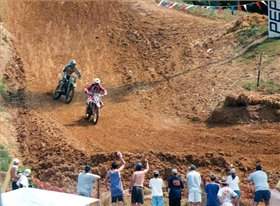 This isn't the first time RC chased down 100 at Budds Creek
photo: Rob Harris
Then we have
Chad Reed
. Remember when he prevented Ricky from winning his record-setting fifth consecutive Daytona SX in 2005? Hey man, when people have been kicked in the teeth as many times as RC has kicked these guys, you can bet your ass they will be digging deep for any chance they can get to give a little back. Ain't no way Stewart wants to see Ricky win his hundredth this weekend. And #7 straight flies at this track. In fact, some people call the track "
Bubba
Creek." James will be wearing the thousand-yard stare and twisting it hard. Reed's coming back, and he was super fast at Budds last year. Ricky has proven that sometimes a little time off is all it takes to pick up a second or two. Those two want to win really badly, and Ricky is going to have to ride his ass off if he wants to get it done for the one hundredth time in his career.
Throw in a rejuvenated Grant Langston, Davi Millsaps, Andrew Short, and the return of Tim Ferry, and we have a lot of reason to be hyped for the weekend. I've never been this pumped up for outdoor moto. It's never been this competitive, and there's never been better coverage. I'm still in awe of the footage those guys caught on the show from Southwick. Can it get any better? You bet it can.
Thanks for reading, see you next week.