Bench Racing Ammo: Brotherly Love
At this past weekend's Southwick National, we saw something that probably never has happened before—three different sets of brothers all making the main event!
The most recognized brothers racing these days have to be the Alessis. Both Mike and Jeff are Red Bull KTM riders, competing in the AMA Motocross class. At Southwick, Mike was able to finish fifth overall; his brother Jeff finished 12th.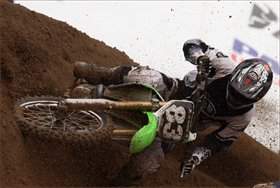 Chris Pugrab was on it at Southwick
photo: Simon Cudby
The other two sets of brothers are
Southwick
locals—and they all made the AMA Motocross Lites main event. The Pugrab brothers—Chris and Michael—call home Ellington, Connecticut. Michael finished 23rd overall, while Christopher, who wears national number 83, finished 28th overall on his Coastline Motorsports/Team Green Kawasaki. Until a crash in the first moto, Christopher was running with the lead pack!
The final two brothers who made the Southwick main was Webster, MA's own Villatico brothers. Both Jason and Joe are Kawasaki mounted, with Jason getting brotherly bragging rights with a 33rd overall, topping his brother's 35th. But after Saturday's qualifying, Joseph was faster, qualifying in 19th, while Jason qualified 34th. Nonetheless, it was a major accomplishment for these two brothers and it just may be a record.
What other brothers have qualified for AMA main events? I remember the Hedden brothers, Jon and Jeff, who both qualified for supercross main events on the same night. They both were from Kansas, but it's been awhile since seeing them on the track. Daniel and Vincent Blair currently race the arenacross series, qualifying for main events together, and in this year's past supercross series, both Ryan and Justin Sipes qualified for the St. Louis Lites main event; Ryan finishing 8th, Justin 15th.
Brian and Doug Stone were also on the top of their game in the late 90s, as both qualified for several 250cc supercross main events on the same night.
Some of the fastest brothers ever were Tyson and Tallon Vohland. Tyson is in the AMA record book for winning the 1986 Anaheim 125cc SX; Tallon has two 125cc SXs win to his credit from the early 90s, and in 1999 got a 125cc national win at Budds Creek. These days Tyson is into golf, and Tallon works for Acerbis.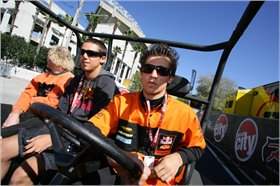 The Alessis are the fastest brothers in America
photo: Simon Cudby
Gary Jones was a 3-time AMA Motocross Champion, and his brother Dwayne was pretty fast too—he rode for the Can-Am factory team when Gary was there in '74. Ron and Jimmy Pomeroy were factory Bultaco riders back in the day, with Jim enjoying a Hall of Fame career in the 1970s and becoming "First American" with his win at the '73 Spanish GP. Other fast brothers from back in the day were Mike and Marty Tripes, Chuck and Ron Sun, and Mark and Greg Blackwell.
Beyond that, locally here in District 5, the Onisko brothers, Steve and John, were both able to put their Yamahas in the High Point 125cc main event in 1999. And it might not be long before Malcolm Stewart joins his big brother James on the AMA Toyota Motocross circuit, as well as Ryan Villopoto's younger bro, Tyler.
But the all-time best brothers? Bill and Bob Grossi were California hotshots in the early '70s. Bill Grossi has two wins to his credit—a 250 national win at Plymouth, CA in 1974, and a 500 national win the following year at Ravenna, Ohio. His brother Bob has a 250 national win at Daytona in 1973, making them the only brothers ever to each win an AMA Motocross National!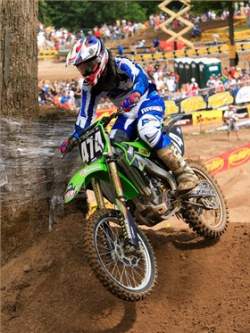 Joe Villatico
photo: Tom Ferriter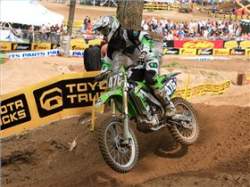 Jason Villatico
photo: Tom Ferriter