Welcome to the Shift Number Cruncher. We're tackling this week's number with a moderate case of trepidation, as this is a big, big number and it hasn't exactly been reached yet. But it's almost impossible to ignore and deserves special attention. When you take a step back and look at what this week's digit pertains to, it is quite astonishing. Actually, it's more like ridiculous.
The man sitting second on the all-time AMA Motocross wins list stands tall with 37 overall wins. His name is Bob "Hurricane" Hannah and he did more ass-kicking in the outdoor nationals than anybody else…. Well, everybody except for Ricky Carmichael, that is. Because when it comes to butt whoopins, RC has handed out 99 of them and is currently staring the century mark dead in the eye. That's right, 100 wins. Let's say it together: "one hundred AMA Motocross national wins." A hundred of them! That's just out of hand.
Okay, he isn't there yet, but it seems like just a matter of time now. So here it is, the #100 crew. These cats are all bad dudes.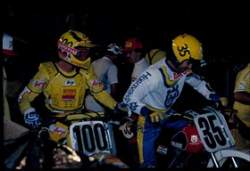 Bob Hannah
photo: Dick Miller Archives
If you were going to compare Carmichael to another rider, I'd have to say
Bob Hannah
is the best one. They both rode pretty wild and they're both meaner than a hungover army drill sergeant in the rain. Although, Bob was unique. They used to flash "Hurricane warning!" on the scoreboard at the Pontiac Silverdome before the gate dropped. He had lightning bolts on his gas tank, jersey and helmet and rode like the devil himself was chasing him.
Bob was cut down in his prime in a freak water skiing accident in the fall of '79 but came back strong wearing the #100 in 1981. He never won another title, unfortunately, but he added to his legend with amazing rides on Yamaha, then Honda, and finally Suzuki—including the 1987 Motocross des Nations for Team USA at
Unadilla
.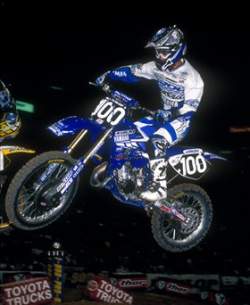 Ernesto Fonseca
photo: Karl Ockert
In 1999,
Ernesto Fonseca
had one of the best rookie season ever in 125 SX history. He won six main events during while wearing #100 and took the East Region title in a landslide. This picture was taken at the St. Louis SX that year. Ernie came from behind and landed on Kelly Smith (who had led the entire main event) on the last lap knocking him out of contention. Fonzy took the win, and Smith wanted to fight. Cooler heads prevailed.
One record that may never be broken: Ernesto Fonseca won the first five AMA Supercross races he ever entered.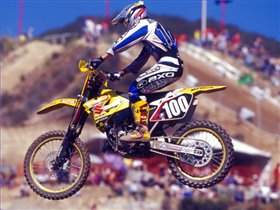 Buddy Antunez
photo: Simon Cudby
Buddy "The Budman" Antunez
is the greatest arenacross racer of all-time. After winning five AX titles and more than 100 wins, Antunez gave the Big Show another shot wearing #100. Buddy liked to give me a hard time when we raced in the PJ1 AMA Arenacross Series, so I'm going to use this paragraph to get a little back. While he has one of the coolest racing names ever, his nickname is certainly hurting. Besides, Mike Bell already took "Too Tall." Although, who am I to chide – Robbie Floyd used to call me "Boom Boom." Antunez might be a short, funny guy, but 9 times out of 10, if there was a fight on the arenacross track, he was in it, and he didn't lose.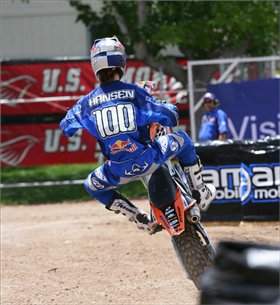 photo: Simon Cudby
Josh Hansen
has done some winning of his own with the 100. He turned a lot of heads when he won the 2004 Indy SX (barely edging out
Paul Carpenter
) then almost won the title in 2005 while riding for Red Bull KTM. A lot of people, and especially Kurt Nicoll, were expecting big things out of Josh this year but he just couldn't get going. The kid's fast and is a proven race winner. If he gets his ducks in a row he could come back in 2008 and contend again.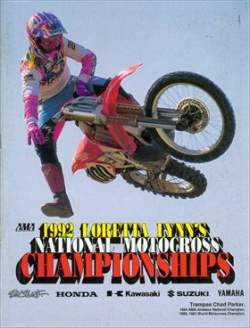 Trampas Parker
Here we have
Chad "Trampas" Parker
on the cover of the 1992 Loretta Lynn's program. This was the year following his second FIM World MX Championship and he came back to America to race a few rounds of the early AMA Supercross Series. Man, check out that gear. Yikes! Parker, who was born in Louisiana, was pretty much Italian by then, and he was an HRC Honda factory rider and the first American ever to win two world titles in motocross. Now he's back in the states, he's dabbling in some road racing as his son Ricky climbs up through the amateur ranks, and he just got voted in the AMA Motorcycle Hall of Fame.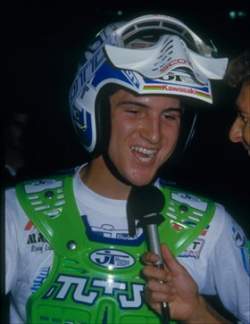 Ron Lechien
photo: Courtesy of Moto Verte
Ron Lechien
lost his Kawasaki factory ride after breaking his leg at
Steel City
in 1989. He came out of retirement for a brief time and ran the #100 aboard a Tuf Racing Kawasaki. Times and the speeds had changed since his halcyon days in the mid 80s and The Dogger just wasn't the same. Regardless, Ronnie is one of the most gifted motocross racers in the history of the sport and his textbook style and constant charisma will be remembered for years to come.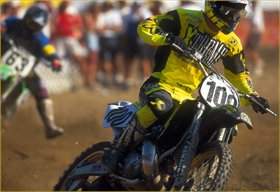 Jimmy Button
photo: Fran Kuhn
Here are some words from
Button Fly
himself!
"I was #100 in 1996 riding a Yamaha YZ250 in SX and MX. My mechanic was Anthony Paggio. This was my first year back from Europe. I did a privateer year just to get back home since I knew I still had something left to prove here. One highlight was a fourth overall at Millville. Lost a tiebreaker with Phil Lawrence for third overall on the day. Fro and Ryno went 1-2. Had some ups and downs, but finished the year well and got my Chaparral deal. Our gear was pretty tight, but it was really hot once we went outdoor racing."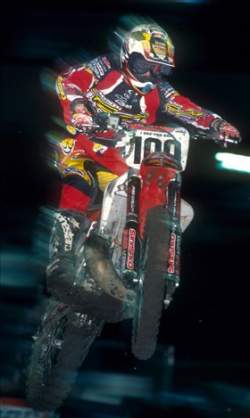 photo: Fran Kuhn
When I think of
Mike Brown
I think of two things, Muddy Creek and the #100. Brownie actually raced with the number twice in his career, including 2001 when he snatched victory out from under
Grant Langston
. That was quite a summer as Brownie and Langston went toe-to-toe, week-in and week-out, for the championship that
Travis Pastrana
could not successfully defend after some hellacious crashes at
Unadilla
and
Washougal
.
It came down to
Steel City
and a broken wheel for Langston, who seemed to have the title in the bag up to the point where he started spraying spokes. The controversy only began there as, if you recall,
Ricky Carmichael
entered this race and, once Brown realized he had the title in the bag, he slowed on the last lap, letting Branden Jesseman by for second, which handed the overall to Ricky (who had crashed in the first moto). This win pushed RC passed Mark Barnett as the all-time 125cc outdoor winner at 26. But only until
James Stewart
eclipsed that tally just three years later. The record now stands at 28.
By the way, by 2001, Carmichael already had 42 outdoor wins.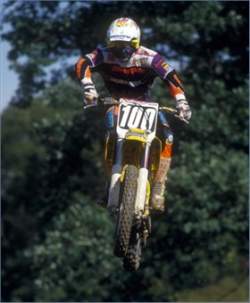 Mike Healey
photo: Jim Talkington
We've talked about this race before: Out-of-work Grand Prix racer Mike Healey drives a minivan across the country to the last national at Steel City, gets some help from Cernic's Racing, goes out and wins the second moto of the 125 National at Steel City—and he weighed almost 200 pounds! Anyway, the ride got Healey some long overdue respect here on the AMA circuit, and he was wearing #100 when he did it.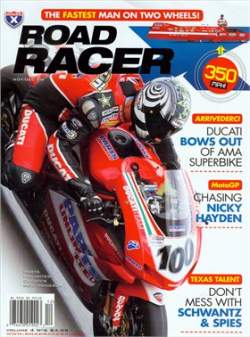 Neil Hodgson
It's been a while since we've shown the boys at
RRX
some love so here's England's
Neil Hodgson
. One of Isle of Man's favorite sons, "Hodgy" took #100 to the 2003 World Superbike championship for team Fila/Ducati before coming to America and earning this
Road Racer X
cover shot.
Okay, that's all we have for you this week. You know, I was a little apprehensive about dedicating #100 to RC before he's actually earned it, but seriously, is there anybody out there that wants to bet against him? Didn't think so. And besides, if he doesn't get it this weekend, Chuck Norris himself couldn't stop him at Red Bud. And even if he never reaches it, Ricky Carmichael's outdoor win total, 99 or 100, looks pretty stout standing beside McGrath's equally ridiculous supercross total of 72.
Okay, send me your #100 photos or memories: Andy@mxsports.com