Between the Motos: Forrest Butler
Forrest Butler is the team manager of the DNA Energy Drink / BTO Sports / BBMX Honda squad, who made motocross history this past weekend in Southwick. How, you ask? Well, all five of their team riders qualified for the AMA Motocross main event on Sunday—a first for AMA Motocross history for a privateer team, or in the big-bike class. We got in touch with Forrest today to talk about that great day in Massachusetts. For more on this privateer team, check out www.butlerbrothersmx.com.
Racer X: Congratulations are in order on being the first team that I could think of in a long time that got five riders into an AMA Toyota main event—all five in the Motocross class.
Forrest Butler: Yeah, it was pretty cool. We did that a few times in supercross for the night show, but that wasn't the main event. When we got all five in there we really weren't thinking about it, but after we did it we realized it was pretty cool. My favorite joke with it is I don't know if it's an accomplishment or I'm the only one dumb enough to run five full-time guys. [Laughs]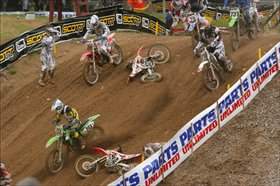 This first-lap crash claimed half of the BBMX team at Southwick

photo: Paul Buckley

Well, I know that there's a lot of fans that really appreciate what BBMX is doing with the DNA Energy/BTO Sports team. Unfortunately though, am I mistaken, or did at least four of the guys crash at the start of the first moto?
You're not mistaken! We went to the line extremely excited, obviously, and coming off the last few rounds we've had good starts and everything has been good. But somehow I think all five of our guys were in 34th place and back at the start of moto 1. I think Summey and Thomas hit, and Thomas went down. Skinner hit Thomas, then Dehaan landed on Skinner, and then Brandon got mixed up in it somehow too. The next thing I know is that the Asterisk Medics running for the BBMX team.
[Laughs] They were looking for the guys in the white jerseys! I don't mean to laugh, but it is an unbelievable coincidence, to have that happen. When we saw Townley get hung up on Villopoto in the first Lites moto, that was child's play—this was the whole team!
Yeah, Johnson was the only one who made it out unscathed!
Tell us more about the outdoor program. We're hearing and seeing it get harder and harder for teams to survive and compete, but here you guys are, a full-privateer effort with a really eclectic group of riders. Although there's only one Butler brother riding on the team, this has evolved into quite a big program, and you have to be happy about that.
Yeah, extremely happy. It's one of those things where we're just keeping our heads down and we're working forward. Sometimes you take a step back, but you can't get caught up in it. Actually, this last week we just got home and the local NBC channel just did a big story on us. And it's funny you say that, because everything still goes around the Butler Brothers, but I never even got one ioda of the attention that we get now, and I don't even ride motorcycles any more. It's funny how that works.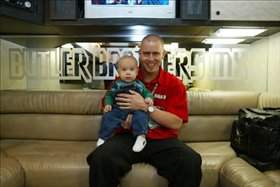 Forrest Butler and future team rider, Forrest Jr.

photo: Steve Bruhn

You helped us out with a feature in the new issue, along with Nick Wey, that people will see soon. You've really become not only an active voice in the privateer pits, but a very respected one, too. Because kind of like Steve Lamson, you're a former racer yourself, and you know what to look for in a rider and what to ask for from a promoter or the AMA…
Exactly. I think you hit the nail right on the head. What we get as ex-riders is that we have a very strong outlook on every single situation, and not just one. You see everything from track conditions to the highs and lows of a rider, bad luck, promoters, sanctioning body. Whatever it is, you've been there, and now that I'm working on a team like mine with five different riders on five different levels. I see a lot, and I think it definitely helps.
You said you were pretty stoked on Southwick. How did all of the guys get in? You have Bryan Johnson and Shaun Skinner, who are the younger guys, and your brother, while Jason Thomas and Doug DeHaan are the veterans. Who was the last guy to make the main?
I think Brandon was, as he had the 35th fastest time. But also in that, I'm so extremely proud of him because he did it in the second practice. We're three rounds into this new timed qualifying deal, and there are ups and downs to it, but I think everyone is pretty aware of the fact that if you're in the second or third or fourth practice, you're in an extreme disadvantage from the first practice. The one in Southwick was unbelievable. You have 40 guys out there in a 20-minute practice in three sessions, and there's a big difference in lap times. He was the only rider we had in the second practice, and he knocked four guys out of the seeded practice. He did a phenomenal lap, hung it out there, and on Sunday he backed it up with the 30th fastest time to go to the gate. So he definitely earned his way in there.
Where were you watching from? Do you guys get the feed in the truck, or were you down in the mechanic's area watching with everyone else?
No, I'm actually in the new team manager viewing tower, which is one thing I'd say is really nice this year. Last year I'd be running around trying to sneak into places, but this year as the team is growing, we're getting extra work from different people at the AMA, and I think some of it is deserved. That new viewing tower is just for team managers, and there's just a couple guys and it's not overcrowded. We had the best spot, and I think that's the way it should be.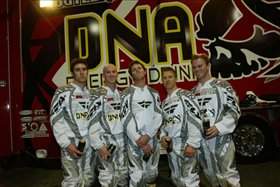 Shaun Skinner, Doug Dehaan, Bryan Johnson, Jason Thomas and Brandon Butler

photo: Steve Bruhn

You get through Sunday morning and get your gate picks and all of that, so that had to be a really great feeling of accomplishment for you to see five guys in the staging area running the BBMX colors.
It really was. I then went in the tower to get my lap time sheet, and it took me an entire moto to be able to handle all the lap times at one time. It was a really neat feeling.
In the second race things went a little better for Shaun and JT, right?
Yeah, they went 13th and 14th.
The other three guys didn't get any points, but at the end of the day everyone went home healthy, right?
Yeah, in the first moto pileup Dehaan actually hit his head and jammed his neck, so his results for the day suffered after that. He tried to run the second moto, but he was in some pain. Johnson had a really good weekend, too. He's been struggling a bit since coming back after breaking his kneecap in supercross, but in the second moto he worked his way back from a first-turn crash. But Skinner and Jason did ride really strong, and now we're headed into Budds Creek where those two both had their best finishes last year, so we're looking forward to it.
With Bryan, he was hurt after he got that seventh in Atlanta, right?
Actually, it was two days after. It was the highlight of the season, and then he broke his kneecap. He kind of rushed it then, like most racers do, to try and get a few more points before the end of supercross.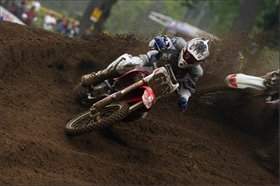 Shaun Skinner is looking forward to Budds Creek

photo: Simon Cudby

Well, I did ask around the office if anyone knew of a privateer team that got five riders in the main, and we were thinking LOP Yamaha back in the day, or the Fox Racing team when they were a 125 MX team… Well, you're not going to believe this, but in 2003, our own "Bad" Billy Ursic joined the Yamaha of Troy team for one day at Steel City and he actually qualified, so they had five guys in a 125cc national!
Yeah, I actually remember that. If my memory serves me right, he did a story in Racer X on that, right?
Right, but still, that's not a privateer team, and that's not the men's class. So as far as we're concerned, you got yourself a new record. And anyone who reads this that can come up with some facts that says otherwise email us here. For right now, you guys have got a place in motocross history. Congratulations!
Thank you very much. I'd definitely like to thank the team. Every mechanic and rider are all working hard every weekend, and now we hope to get five guys in the main every weekend.
Good luck and see you at Budds Creek.
Thanks DC.
Here's all of the members and sponsors of the team:
Tim Caruso: Truck Driver and my number 1 guy
Willie Manning: Bryan Johnson's mechanic and Head Technician
Frank Thomas: Jason Thomas' mechanic
Paul Perebijnos: Shaun Skinner's mechanic
Jarrod Johnsgaard: Doug DeHaan's mechanic
Eric "Stewy" Stewart: Brandon Butler's mechanic
Dan Truman: Assistant Mechanic
Karsten Butler: Assistant Team Manager


Team DNA Energy Drink / BTOSports / BBMX Sponsors:

DNA Energy Drink
BTOSports.com
Rick Case Honda
FLY Racing
WMI suspension/motors
FMF
Sunline
SixSixOne
Michelin
SIDI
ASMF
Engine Ice
ICW Radiators
Up Front Mx
Applied
Alpina
SPY
Dream Trax
Honda Oils
Honda Genuine Parts
Regina
Twin-Air
Ogio
Pro Clean 1000
Sponsorhouse
Wiseco
Devol Racing
Leatt Brace
FLmx
Accerbis
Seminole Tribe Mx
Mx ID Systems
Kinetic Animation
Safety Kleen
CV4
Yellowfin Yachts

www.butlerbrothersmx.com