Monday Conversation 3: Ben Townley
Ben Townley can add his name to the list of Southwick first-timers that left saying it wasn't what he expected, but not many people can say they won it the first time! Townley went 2-1 for the overall, trading moto wins with his teammate Ryan Villopoto.
Townley capitalized on a mistake Villopoto made in moto 2 that handed him the lead, and he won the second moto without a challenge after his pass.
He's won every second moto so far, which means his fitness is excellent and he's a candidate to be there until this series comes down to the wire. Here's what he had to say about his first time at Southwick.

Racer X: Ben, what are you doing on these second motos? Are you like the ironman or something?
Ben Townley: No, just working with Aldon is paying dividends now. I am very fortunate to be able to work with him. About midway through 2005, I think, when I made my deal with Pro Circuit, I talked to Mitch about living on the East coast and he was cool with that. I thought I would give Aldon a call and see if there was an opportunity. It's all history now. It's really paying off. I am super-pumped on the way I am physically. I have a great team. It's all working good. I just have one short redhead that seems to be able to all the same things! It seems we are both going at the same level.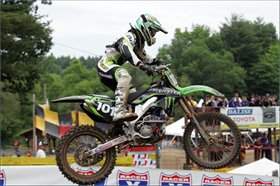 Townley is eight points behind Villopoto in the championship

As far races today, how did the first moto go?
In the first lap, he [Ryan Villopoto] just got away. I was third behind Davalos. I got Davalos and he got me right back. It took me until the finish line to get him so for a whole lap I was in third. He pulled a gap and then we just stayed the same. I expected to just catch him and it didn't happen. Midway through the race, I really dug deep and tried to catch him and hoped he made a mistake, but you have to give it up for him, he rode bloody well.
What did you expect out of this race? Was it the track you thought it would be?
It is like a supercross track in that it looks huge on TV. The turns look wide and everything looks fun and mellow. You get out there and everything is squashed together. It's just really confined.
With this track, I expected it to be sandy and whooped out and it was, but in those whooped out sections there was a hard base to it. Everytime you go into it you don't you know if you are going to actually stay there. The sand I have ridden before, you knew what you had. This was a tricky track.
Everyone makes a big deal about me not riding many of these tracks and I don't think there are any issues there, but this one was definitely the hardest one so far.
Did you struggle with the track in practice?
No, that was more with bike setup. We hadn't ridden anything like this as far as sand. As amateur kids come up, they are so good at riding tracks that are flat out, they can get out there and go balls to the wall. It's tough for me to go out and ride like that in those first practices. Once it gets some lines and it gets rough it's more like a realistic moto situation, I can find my speed.
Doesn't the team have all this experience and information about Southwick and do you find yourself inundated with advice?
No, that's what good about working with Mitch. He knows I have good experience, and I do still rely on him and we work together. They don't tell me what to do and I don't tell them what to do either. That's why the relationship is so good. I have a lot of respect for Bones and he has a lot of respect for me. It seems to be working well. I don't want to change anything. It is a great team to be on.
With yourself and Ryan so close, do they sit you two down and say "Okay, race but don't bump into each other or stuff like that?"
No, the only thing that Mitch ever said was race hard but race clean. That is my philosophy as well with Ryan. We are both out there trying to win a championship and we both respect each other. When he went down (moto 2) I could have just run over his legs but I didn't want to do that hurt someone in the process. I am sure if it were the other way around, he would have done the same thing. He is clean and isn't going to put anyone over the banners at all.
Are you taking notes for the Motocross of Nations when you race Budds next weekend?
[Laughs] The Motocross of Nations is a great race. I'm sure you guys think the same. The atmosphere is not like any other place. I am looking forward to it. As far as next week, it is just another race and I have to prepare and make sure I am ready to go.
After three rounds, are you where you expected to be?
Yes. I had bigger expectations for this track. In the others, I was further ahead than what I thought. The supercross season took so long to finish. I still raced Vegas so I didn't really get much outdoor time. I set a goal of making sure I was up there for those first three rounds and to come away winning two of them is great. Obviously the only asterisk to the whole thing was that first moto at Mt. Morris.