Monday Conversation 1: Antonio Cairoli
Antonio Cairoli picked up his sixth Grand Prix win of the season last weekend at the Grand Prix of France. The Italian rider who many are saying is the quickest small bike rider in the world continues to show amazing speed and a very level head. While racing defending champion Christophe Pourcel in the second moto of the MX2 class last weekend the 2005 MX2 champion slowed down and let Pourcel come to him, he is that confident at the moment. We sat down with the always smiling Cairoli and asked him about his French success, his future, and of course his up-coming visit to America (which should decide who really is the best 250F rider in thr world: Cairoli, Ryan Villopoto or Ben Townley).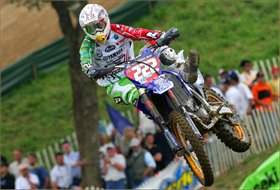 Antonio Cairoli took his sixth win of the season in France

MXLarge.com: Antonio, you lost in Japan two weeks ago, but came back strong in France. Tell us about your weekend.

Tony Cairoli: I was a little bit mad about Japan, because it was my mistake and I had a good chance to win the Grand Prix. First heat I caught Pourcel, I had good speed, I took a gap between Pourcel and Rattray and I made a mistake, so I was disappointed for that for sure. It made me want to win this one even more. I prepared all week for the French Grand Prix because I know that Pourcel wanted to win his home Grand Prix. He had a lot of motivation to win and if I could have beaten him at his home Grand Prix it really helped me in the championship.
Second moto you looked to slow down, Christophe caught you, but then you raced off again. What was that all about?

I closed the gas a little bit and waited for him. In the beginning of the weekend I wanted to have a fight with him on the track—the racing was so boring, also the first moto, and I wanted to get the public involved, and I also wanted to have fun. When I closed the gas I slowed three seconds on my times, but he (Pourcel) also didn't go so fast, so I decided to open the gas again and take an easy win. I am much faster than him, I think. I just want to win the championship as soon as possible. I want to win all the GPs.
We talked to you last month about your plans for the next few years, but you actually signed with Yamaha, so now it is official?

As I mentioned to you in the last interview last month, I want to stay in MX2 for 2008, because I really enjoy racing it. In 2009 I go to MX1 and then in 2010 I stay in MX1 or I can change the contract and go to America. It's not just about making money, it is also about being happy. For sure America was more money—I have many offers from America—but I feel really good with my situation here in Europe. It's better I stay here and win as much as possible. I see how Ben [Townley] got injured: If you do Supercross you really have to do two years of just testing for it. If you go straight into Supercross then you get injured, I think it's too dangerous.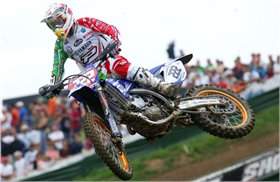 Cairoli will race the Glen Helen National this season

What about America, do you think you would like to live over there?

I don't know if I like living in America. I go in early 2008 and do some SX races, similar to what Pourcel did this year. I don't want to do all the championship, just a few races. I don't go there for winning; I go there to find out what it is like. I ride slow and just have fun. It is also good preparation for training in America for the Grand Prix season.
Your old rival Ben Townley is doing well in America at the moment. When will you get to race against him again?

I see Ben winning over there and am happy. He is a really nice guy and I know he can beat the American riders. He has a good talent, I am happy for him. I will do the last National at
Glen Helen
just before the des Nations, and I look forward to that moment to race with Ben and I also want to win the MX2 class at the Motocross of Nations in
Budds Creek
, for sure I want to win that.