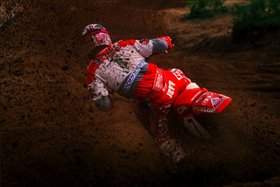 Jeff Stanton at Southwick back in the day
photo: Paul Buckley
After a weekend off, it's all back on. The 2007 AMA Toyota Motocross Championships presented by FMF sets up on the beach that is
Southwick
's Motocross 338. The Racer X Motocross Show on Motocross.com will air our pre-race show tomorrow evening, hopefully by 10 p.m. EST. Practice highlights, timed qualifying, interviews and more—exclusively on
Motocross.com
.
Sunday, the Racer X Live Webcast kicks off right around 12:30 p.m., with racing at 1 p.m. EST. And the live timing and scoring can be watched all weekend long at www.amamotocross.com.
This weekend marks the last visit to Southwick for Ricky Carmichael, who owns this track like no other. RC has won nine times in ten career visits, losing only to John Dowd in 1998—one moto to a seizure, and the other to a straight-up defeat by the local legend-turned-national hero. Dowd will be out and about again, though his old NESC partner in crime Doug Henry can only watch this time around.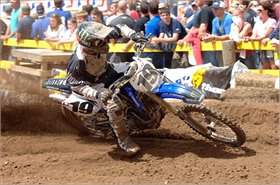 Help support Doug Henry this weekend at Southwick
photo: Carl Stone
As you likely know, Henry is battling from the back injury that has him in a wheelchair from a Supermoto crash back in early March. He's supposed to attend, and the MX338 club, the NPG, MotoTees, and more have organized a benefit auction that will take place during the intermissions. All of the proceeds benefit the Henry family, so if you're coming to the race, bring some extra cash!

Also, Ping told us that Troy Lee Designs has just announced that they will be donating $10 from every Doug Henry SE-2 replica helmet they sell to aid in Doug's recovery. This helmet is limited edition, so once they are gone they are gone, and there are only about 300 of them left right now. Helmets will be sold on a first come-first served basis. Contact your local dealer for more information, or visit www.troyleedesigns.com.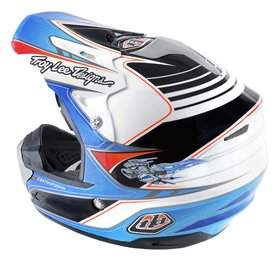 Pick up this limited-edition Doug Henry replica today!
If you're not going to
Southwick
on Sunday but you are going to the races somewhere on Sunday, here's your chance to get in
Racer X Illustrated
: Just send us a high-res photo of you or your family members or friends at the track, getting ready, loading or working on bikes, gearing up, scanning the track—whatever represents your day at the races—and we'll consider your image for publication in our next issue. Be sure to identify everyone in the photo and tell us where you're racing.
Remember, the photo must be high-res to work in the magazine, and it's gotta be sharp and well-composed, too. Take your time and take multiple shots if you need to, but only send us ONE photo—the best one. Send all submissions to letters@racerxill.com.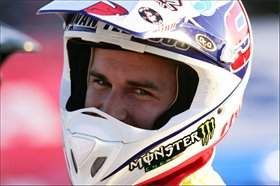 Don't look for Tedesco in Massachusetts
photo: Simon Cudby
One person who won't be racing this weekend is
Ivan Tedesco
. According to a source at Makita Suzuki, it appears that the former AMA MX Lites Champion is ready to go, but he's likely going to wait until
Budds Creek
to join the outdoor circuit, as
Southwick
may not be the best place to make your motocross debut when you're coming back from a concussion.
The same source also told us that while Tedesco is said to be going to Team Honda next year, the bosses at Makita Suzuki still have the right of first refusal, and to this point they have not seen an actual contract. With RC stepping out and top 450 riders at a premium, Ivan just may end up yellow again after all.

But speaking of red, check out this video of Team Honda's Tommy Hahn and Davi Millsaps putting in some practice laps at MX338 earlier this week.
There was some national championship racing last weekend up in Canada, and Cernic's Kawasaki's Paul Carpenter bagged the win at the always-rough and super sandy Gopher Dunes circuit. Something to keep in mind as we head into the 'Wick: Both of the Blackfoot Yamaha YYZ450s of Jean-Sebastien Roy and Blair Morgan ran out of gas on the last lap in one moto.
Team Yamaha's
Grant Langston
spent last weekend in
Southwick
, doing the off-weekend amateur race there, along with
High Point
National winner
Josh Grant
, his SoBe No Fear/Samsung Honda teammate
Jake Weimer
, Red Bull KTM's
Mike Alessi
, and the aforementioned
John Dowd
. To catch a glimpse of last week's action, check out the
Racer X Film
put together by
Paul Michaud
and
Travis Steward
.
Langston must feel like MX338 owes him at least one—maybe two. Back in 2001 when he first visited as a Red Bull KTM rider and matched up with Travis Pastrana, both predicted victory in the sand, but Langston ended up with a separated shoulder. Then last year, he fried his KX250F, as did Monster Energy/Pro Circuit teammates Ryan Villopoto and Troy Adams. With RC and James Stewart in the mix, it's going to be tough to pull off a win for anyone else this weekend, but it does seem like Langston should be ready to battle with Davi Millsaps and last year's Lites winner here, Andrew Short.
Speaking of Team Yamaha,
Broc Hepler
was back on the bike riding last weekend, and
Wes Williams
met up with him at High Voltage MX Park in Pennsylvania for a feature in our Racer X Motocross Show "Off-Weekend" presentation. If you missed it, just
click here
.
Hopefully, we will see Hepler back out on the racetrack by Red Bud. His goal? Win at least three races again, just like he did last year after coming back at Budds Creek.
Don't forget to catch the AMA Toyota Motocross Championship presented by FMF from High Point Raceway on Speed TV this Sunday June 10, 6 pm (EST).
The AMA Motocross Lites – Tuesday, June 12, at 3 pm (EST). Both races will repeat at that same night on Speed, from 9 to 11 p.m. (EST)
Time to turn this over to Ping on the west side.…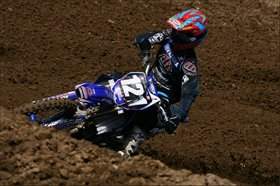 Jesseman will be looking for a new team in '08
photo: Simon Cudby
Word has been circulating for some time that the PPG/Motoworldracing.com team is closing its doors at the end of the season. Team manager
Paul Lindsey
wanted to give his mechanics and riders plenty of time to look for job opportunities in the future, and that kind of information is hard to keep secret. I spoke with Paul, who is planning on working in the industry as an agent, about the decision to close up shop.
"It was a really hard decision to make, but I think we're doing the right thing," said Lindsey. "I started this team because I couldn't stand some of the other programs that were out there not paying their employees on time and doing things half-assed. I wanted to run a team the right way. But it's gotten to the point where some of our sponsor money hasn't come in, and I've put a lot of my own money on the line to keep things going. I feel like I'm on the verge of becoming one of those teams telling their employees that the check is in the mail. I'd rather shut it down than go out like that."

Paul always ran a great program, and his effort will be missed at the track. Now he gets to beat up other team managers for money as he works for the other side as an agent. Good luck, Paul.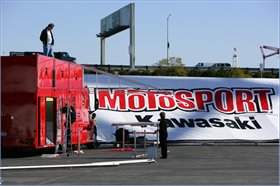 Team Motosport Kawasaki is folding up their awning
photo: Simon Cudby
Another team closing its doors is the Motosport Outlet squad. After several seasons with Honda and then Kawasaki, they have decided to call it quits at the end of the summer. So between both camps,
Michael LaPaglia
, Orlando SX winner
Branden Jesseman
,
Sean Hackley
,
Bob Kiniry
,
Kyle Chisholm
,
Matt Boni
and
Steve Boniface
will find themselves standing at the unemployment line after
Glen Helen
this September. It is going to be tough to find a job for many Lites-class riders in 2008.
One place that a lucky few might land is the TLD/Red Bull Honda team. The successful Supermoto team is considering a move into West Coast Lites competition. The AMA Supermoto season runs from the end of May through November, leaving the team transporter sitting throughout the AMA supercross season. Troy Lee has spoken with several riders about racing the West Coast Lites series and then possibly competing in the AMA Supermoto championship over the summer. Riders that have shown interest include Josh Hansen, Eric Sorby and Chris Gosselaar. This is like an answer to prayer for guys who suck at the nationals or just plain don't do well racing them.… Hey, Troy, where were you at about five years ago when I needed you?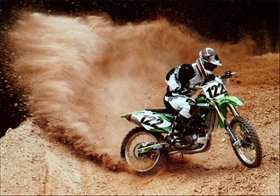 Dan Reardon is verbally committed to racing here in 2008
photo: Courtesy of Reardon
Australian hero
Dan Reardon
has made a verbal agreement with a team here in the States for 2008 and beyond. Though his agent couldn't comment, Dan has been a longtime Kawasaki rider back in Australia, and one of his tryouts was with the Pro Circuit camp to ride the Lites class. With
Ben Townley
leaving for Honda and expired contracts with Gosselaar and Metcalfe,
Mitch Payton
definitely needs someone who can win. Reardon would be a good choice. Look for a press release soon from the Reardon camp about his decision … though someone just whispered in my ear that he may end up on a red bike!
Malcolm Smith is being honored with his own exhibit at the AMA Motorcycle Museum Hall of Fame. With seven ISDT medals (six of them gold), multiple Mint 400 wins, Baja 1000 wins, and countless scramble and off-road wins Malcolm certainly deserves his own section.
On top of all that, the star of On Any Sunday, who arguably got more people into off-road motorcycling than anyone, works with several orphanages down in Mexico helping children. In honor of the motorcycle legend, an auction and exhibit was held at his new dealership (which is amazing, by the way) in Riverside, CA, on Thursday. All of the memorabilia that will find its way to the Hall of Fame in Ohio was on display for those on the West Coast that might not get to see it otherwise. It is an impressive display that spans Malcolm's entire career and really showcases his passion for motorcycling. Several original paintings were being auctioned off, along with jerseys and other items. Congratulations, Malcolm, there certainly isn't a more deserving guy.
Here's some good news: MDK will be the Lites-class satellite team for KTM in 2008. The Austrian brand is looking to expand its 450 program in-house and needs someone to take over a portion of their Lites effort. It sounds like KTM might still have one 250F rider in their semi, but the bulk of their 250 squad will be run by MDK. No word on which rider(s) might join the Alessi boys on KTM 450s next year…
… if the Alessi boys actually stay in the States. It's been rumored for some time that Tony Alessi has an idea about taking the boys to Europe to race the Grand Prix circuit for a year or two, then come back with better confidence and a little more strength for supercross. Stay tuned on that one.
That's it from Ping.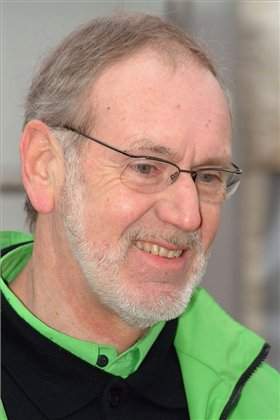 Jan de Groot
photo: Maximilian Ludwig
While last weekend was an off-weekend for the AMA circuit, it was a momentous one off the track. First came news out of Europe on the passing of
Jan De Groot
, the extremely well respected and successful manager of the Kawasaki Europe program (and before that, Suzuki and even Honda). De Groot, who was battling cancer, worked with world champions like
Davey Strijbos
,
Greg Albertyn
and
Sebastien Tortelli
along the way (Tortelli hopped a flight to the Netherlands on Wednesday to attend the funeral). Jan's passing came just a few days after his current rider,
Billy Mackenzie
, topped the MX1 class at the Grand Prix of Japan at Sugo. Mr. De Groot was 62. Godspeed, Jan.
Closer to home, the news about Amp'd Mobile that showed up in the Wall Street Journal was not good for supercross. The company, which is the title sponsor for our series, filed for bankruptcy protection: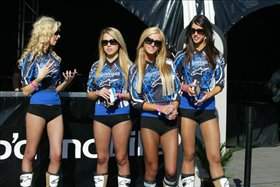 So no more Amp'd girls?
photo: Steve Bruhn
"Start-up wireless carrier Amp'd Mobile filed for Chapter 11 bankruptcy protection late Friday night, according to a person familiar with the situation, wrote the WSJ. "The move marks the latest of several failed wireless ventures that focused on bringing video, music and other content to cellphones. Bill Stone, president of Amp'd Mobile, confirmed that the company filed for bankruptcy protection. Mr. Stone said the company was forced to make the move because its business has been growing fast in the past 6 to 8 months and couldn't keep up with the growth. 'We are pretty confident we'll come out stronger,' Mr. Stone said in an interview."
The crew over at Racer X Canada has come up with a groundbreaking new program for the Canadian Nationals. They packed up their belongings and have hit the road in a Fun Mover for three months to cover the series. How's that for dedication to Canadian motocross? To complement their trip and build an innovative feature for their magazine and website, they have invited one or two of the hottest young local prospects from each national to pit with their rig and get the factory treatment for the weekend.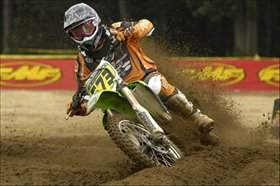 14-year-old Kyle Stephens
photo: Allison Kennedy
"We've completed two of nine rounds and everything has gone even better than we anticipated," says
RXC
's
Brett Dailey
. "Our rider for Quebec,
Jeremy Medaglia
, finished 14
th
overall at Ste-Julie and then backed that up with a breakout ride the next weekend at Gopher Dunes with 4
th
overall! We chose 14-year-old
Kyle Stephens
for Gopher Dunes and we were able to cover his first attempt at a pro national. Kyle delivered, becoming the youngest rider in Canadian history to qualify for a Canadian pro national and he scored his first national points in the second moto with an 18
th
."
The Canadian series takes a break this weekend, but the RXC crew is already on the road to Morden, Manitoba, for Round 3. "We are stepping it up for next weekend and pitting two local prospects under our tent for Morden," says Dailey. "We have Ryan Millar, who won the 2006 Racer X Canada Total Devotion Award, and he has already enjoyed a free week at Millsaps Training Facility courtesy of MTF and RXC. Similar to Kyle Stephens, this will be Millar's first attempt at a pro national so we are thrilled to capture the experience.
"Josh Penner is our second rider," adds Dailey. "He's already proven himself in Canada, finishing 12-13 in Morden last year and earning national #92, so we are expecting big things from him at his home national.
"We're only two rounds in so we still have ten new riders to introduce but the Factory Rider program has already been an incredible experience for everyone at the magazine as we have been able to spend some quality time with some great families. We look forward to watching our factory riders shine in the years to come and we have no doubt that we will be reflecting on this experience one day when one of them reaches their goal of becoming a national champion."
For more information on the Ignition Racing / Racer X Canada Factory Rider for a Day program and its riders, you can click here.
Johnny McLean of Lusty in Australia sent us a YouTube link to this clip of Bilko Williams doing an off-the-scale backflip "ruler" at a recent stop of the Crusty Demons Tour. It's sick.
From Matt Wozney, here's a look at the Northeast Regional at Unadilla, which took place on the "U2" track (they are saving the main real estate for next month's pro national). It's good stuff, and check out the scrub technique on just about every good out there—Bubba's reach is already deep into the spot.
With all three of last year's Lites podium finishers not on the Lites gate this Sunday (Short and Alessi are on 450s now and Metcalfe has a broken thumb) the first-place trophy is up for grabs on Sunday. Townley has never been there, but the word is that he can ride the sand.
McCread on Mototalk offered this on Townley's sand-riding skills: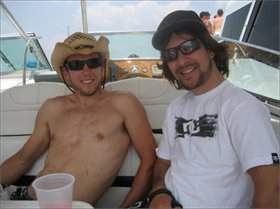 BT101 and Ernesto Fonseca
photo: Scott Taylor
"BT is awesome in the sand. He passed Everts at Lierop two years ago…. not that it lasted too long. Everts went on to win by 25 seconds, but still not too many people can say that they passed Everts in Lierop!"
Villopoto did not have such a good race here last year, but he hasn't won either of the first two nationals, so he's due for one. Will it end up being a brand-new winner? If so, which rider? That's this week's Troy Lee/Racer X Online poll question.
From the Weege:
On Friday before High Point, the Alessi gang stopped by the office, and I asked Mike Alessi about Hangtown. He said he was disappointed with how the race went, because he made the mistake of trying to race with James Stewart early in the moto. Mike spent a lot of energy trying to run that pace, and it hurt him late in the moto. "You can't try to run with Carmichael and Stewart, those guys aren't human," said Mike. I decided to ask a few other 450 contenders about running with RC and JBS, and they admitted it might be smarter to just let those guys go and run your own race. Davi Millsaps said that after his Hangtown holeshot in moto two, he just focused on setting a pace he knew he could run for 30 minutes, instead of going all-out trying to run with Carmichael. Tim Ferry said that there may be a few riders who are able to set the kind of lap times that Carmichael and Stewart turn, but it would be risky, not for fitness, but because you're really taking chances and might end up on the ground.
It's a pretty interesting scenario developing here. The competition is trying to complete their 30-minutes-plus-two moto in one piece, so they've decided to let those boys go. Is that smart or is it an early surrender? We'll see at Southwick, which we all know saps more energy than anything else out there.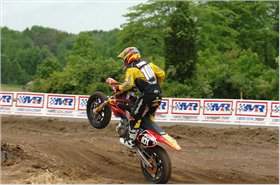 Ping finished second in the AMA Supermoto Lites class at Englishtown last weekend

photo: Carl Stone

Guy B. at VitalMX is trying something different, and so far it's very good. He calls it "Sunday Funnies," a comic-book riff on each race. That means J-Law and Villopoto at Hangtown, and RC's last visit to High Point. Check it out.
My friend Paul Fleming was watching TLC and spotted Backyard Nation, an extreme makeover deal centered on people's back yards. The subject of the first show was none other than Rich Taylor, the former pro racer and longtime test rider. According to the guide, "Motocross veteran and adrenaline junky, Rich, wants to give his two dirt-bike-racing boys the ultimate extreme sports backyard. And with the help of Brian, a motorcross track builder and contractor, the boys are given the ultimate extreme playground."
Yes, it says "motorcross," as we've seen too often lately. At any rate, it's on again on July 15 at 2 p.m. We will try to remind you that week.
Out for the rest of the season, according to a press release from Moto XXX, is Japanese rider Yoshihide Fukudome after his crash in traffic in the first turn at High Point: "Dome was examined by the Asterisk Medic crew immediately on-site where the initial diagnosis was a sprained knee and some fairly severe burns on his calf. The medic staff advised Fukudome to meet with doctors upon his return to California. After meeting with the Moto XXX team doctors to review the results of an MRI, it has been determined that Fukudome has suffered a Grade 3 tear of his MCL (Medial Collateral Ligament) and 3rd degree burns on the back of his calf." Ouch!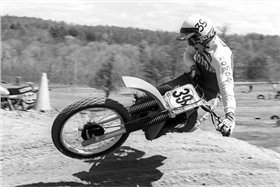 Jo Jo Keller will be on the Racer X Motocross Show this weekend
photo: Paul Buckley
It's been a big two weeks for
Jo Jo Keller
. First, the 45-year-old New England legend and his girlfriend just had a son last week. His name is
Benjamin
, he's 8 lbs., 6 ounces, and everything is good. Then Jo Jo, who decided to get back into some racing after
Eric Johnson
's epic piece on his career in
Racer X
a few months back, tried to qualify for his first Loretta Lynn's. Keller made it through at
Unadilla
, going 3-2-2 behind another East Coast (amateur) legend,
Ray Neibel
of Western PA. "I had not gotten much sleep in the week leading up to the race, but that's no excuse," said Keller. "I was really nervous—I don't know how those little kids do it, because I was afraid that I would fall or something and not even qualify. But Ray rode real well, and I look forward to getting down to Tennessee and getting after it."
As I mentioned last week, Keller will be joining the Racer X Webcast on Motocross.com this Sunday afternoon. Make sure you tune in (12:30 p.m. EST),because Jo Jo is as fun to listen to as he was to watch race.
Sad news about an old friend. Former AMA pro referee Ron Denny, who was 68, died during surgery at a Dayton, Ohio-area hospital on Wednesday. Calling hours are at the Baker Hazel & Snider Funeral Home in Dayton from 5 to 8 PM Monday with the funeral taking place there at 10 AM Tuesday. Ron is survived by his wife, Kay.

Ron and Kay Denny worked as the referee and clerk at professional AMA MX races and hillclimbs for more than a quarter of a century. If you were to look up the word integrity in the dictionary, you would see Ron's photo next to it. Ron and Kay always looked out for the best interests of riders and their families never treated a privateer rider any differently than a factory star, and they were liked and respected by all the industry people who knew them. Ron began his racing career as an amateur dirt track rider before becoming an official. He and Kay loved touring on their street bike all over the country and were even planning a ride to Alaska.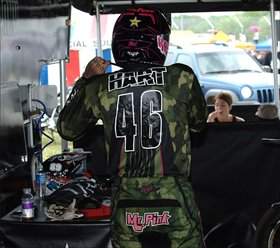 Carey "Mr. Pink" Hart was in E-town
photo: Carl Stone
On a brighter note, special thanks to Motodude on Mototalk for finding
these gems
. There's footage from what looks like the '80 New Orleans SX, which Wise won, and the '81 (I believe) U.S. Grand Prix at
Unadilla
. The stuff is excellent, considering how old the footage is.
Looks like Eric Sorby might be heading into a Supermoto career. He is set for a tryout with the TLD Honda team, where he will race in Detroit and then at Jolliet outside Chicago. Ping and Sorby—that's a dream team right there if you like fast, funny guys.
During the off-weekend from the GP tour, Americans Mike Brown and Sean Hamblin raced the British MX Nationals in Hampshire. JP O'Connell sent over the pics below of Brownie in action.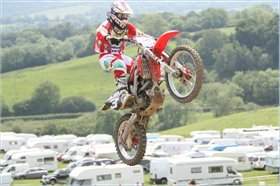 photo: JP O'Connell
There will actually be THREE Americans racing the Grand Prix in France this weekend. No,
Ryan Mills
is not going back, but
Brad Graham
is going to do his first MX1 Grand Prix.
Check out the graphs we spotted over on www.mx2k.com, a French motocross site. It follows the consistency issues Tony Cairoli had last year, followed by this year's almost flat line of wins. Christophe Pourcel, meanwhile, is doing the opposite: consistent last year and all over the place this time around.
This is from the boss: As loyal readers of Racer X Illustrated, we value your input. In our ongoing effort to build an even better magazine, we would like to invite you to tell us about your interests and hear some feedback about our sport by taking a few minutes and filling out the 2007 Racer X summer readers' survey.
Check it out: As an extra incentive, our friends at Kicker Audio Components have offered a killer sound-system package as a grand prize in a drawing of all completed survey entrants!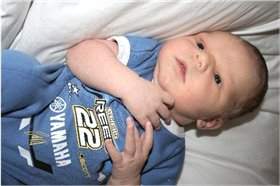 New addition to MDK Motorsports: Kaden Michael Cody Pedler
photo: Courtesy of Lou Pedler
Kicker TS10L5 Square-Woofer Design sub-woofer, a pair of KS65 Coax speakers, and a ZX550.3 3-channel power amplifier. So let's drop the starting gate here and get going on your survey: it's fast, it's fun and it's free! And thanks in advance you for your time on this.
Also, are you checking out Racer X from Australia, South Africa, the UK, or anywhere else in the world besides North America? Or maybe you're in North America but it's just not convenient for you to get print magazines for one reason or the other? If so, consider subscribing to our brand-new digital-edition format. For only $14.98 US, you'll get 12 issues of Racer X Illustrated or eight issues of sister publication Road Racer X in digital format. Not only can you save up to 66 percent off foreign print subscription rates, but you'll get your issues at the speed of light—no more waiting weeks for your issue to arrive. Subscribe now!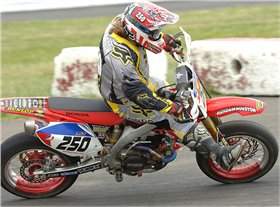 Jessica Patterson is fast on pavement, too.
photo: Carl Stone
Everyone is turning out in droves to help
Gavin Gracyk
, whose compelling story
we featured here two weeks ago
. Now FMXer
Jeff Tilton
has joined the crowd: He has offered to burn some of his frequent flyer miles to get Gavin to a race! "I have got over 400k with Delta, so I'd be pumped to help him out," Said Tilt. Well done, Jeff.
Who knew that smuggled Red Bull is becoming a problem in some countries?
From Larry Wosick of Honey Lake:
"This past weekend we had our Vintage National. Each National they honor a Legend. I advised AHRMA I wanted our event to honor Danny "Magoo" Chandler. I saw the Racer X ad last month for the Magoo masterpiece from Rob in the UK. I got hold of Rob and bought two prints to auction for Danny. Magoo was at our event, he signed the prints and we raised $1,000 from the sale of the two prints. Brad Lackey donated the event shirts, and we raised another 3k with that. Danny had a great time, he did a safety and riding clinic for youngsters who were at the event. Some of our old race buddies and friends of Danny's like Cantaloupi all stayed with us for the weekend.
"Anyhow, the timing of the Magoo masterpiece in your mag was perfect and added a special touch to the event. The track photographer took a pic of the Magoo masterpiece presentation with Danny, I'll forward a copy to you."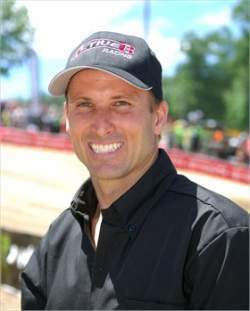 Can Dowdy make the podium?
photo: Steve Bruhn
Four Winds International has announced that
Ricky Carmichael
will appear at the Fun Mover display at the AMA Pro National at MX338, in
Southwick
, Massachusetts, on Saturday June 9.
The Fun Mover display will be hosted by Crossroads RV, with locations in Lakeville and Middleboro, Massachusetts. Carmichael will be available to sign autographs, meet with fans and promote the Fun Mover Sport Recreation Vehicle after Saturday's practice and qualifier. The specific time for this event will be announced at the track.
Oh, and Rupert X is reporting that Tyler Bowers will be racing his first AMA National at Red Bud in the AMA Motocross class.
Finally, congratulations to Erin (Palermo) and Andy Brozik. After eight years of dating, they finally tied the knot last Saturday (yes, they picked an off-weekend) in Morgantown, WV. They plan on spending phase 2 of their honeymoon at Budds Creek next weekend. Best wishes!