Hello, everyone, and welcome to the Rev Up. We have another big one on our hand folks! After a brief one-week hiatus, the bad boys of summer will be making the trek to the beautiful northeast part of these United States to take on Southwick, Massachusetts's Motocross 338. It's Round 3 of the AMA Toyota Motocross Championships presented by FMF!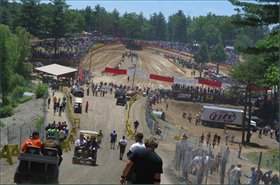 Motocross 338 is a beautiful venue
photo: Steve Bruhn
Southwick
has always been one of my favorite racetracks. The photos I used to see of Bob Hannah and Ron Lechien standing tall on the pegs as they wheelied over the whooped-out straights always made me look forward to my first visit to a sand track. But, I'm telling you, there are sand tracks, and then there is
Southwick
. I was fortunate enough to finally attend this historic racetrack for the first time last year. While I thought I had a pretty good idea how rough it was, the pitted out, crater-infested goblin that met my eyes blew my expectations out of the lake! It's super, ultra, mega rough. It's so rough, that you are hard pressed to find so much as a yard of loamy track surface where there isn't a braking bump or a sand roller. It's O.T.S.S. baby!
This track separates the men from the boys to say the very least. So who should we be looking at?
Southwick
has a rich history of local ringers that always make the most of a hometown advantage. Ah, but hold the phone – who really has the home field advantage? Who will flinch first during the stare down between Carmichael and Stewart? Big weekend, folks, Let's get it up.
Lites
Last time these cats took to the track Ben Townley was a man among boys. After last year, people were all about jumping on the "Ryan Villopoto is going to dominate" bandwagon. Well, Villopoto is definitely the points leader, but BT101 returned to the front lines after knee surgery with blood in his eyes and is straight crushing it. But, RV1 is the defending champion for a reason. I guarantee you he's been back in SoCal shadow boxing with Randy Lawrence and getting ready to show up at the 'Wick born again to ride the sand. And how about the enigma himself, Jason Lawrence? This ball of raw talent and even rawer brains made his debut at Southwick two years ago and blew people's minds. Last year he was fast but his bike was a little weak. What does he have for the boys at what he calls one of his home tracks? Will Lawrence and the rest of the NESC locals have the advantage? Mmmm, not so fast.

For, you can't leave out Ryan Dungey, who grew up riding sand in Minnesota and he spent the better part of this year riding sand at RC's.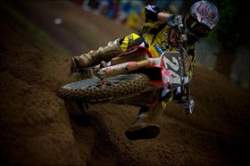 Josh Grant got dialed in to the 'wick last weekend
photo: Cam Baird
Things could get really, really interesting: Do you recall the day that Mitch Payton had at this event last year? RV, Adams, and Langston all three grenaded the power plant in their Pro Circuit machines. Talk about "Black Sunday." I'm not much of a betting man, but the safe money would be that he probably won't be commanding as much steam from his motors this time around.
I'd also be keeping an eye out for
Josh Grant
. He has the eye of the tiger this outdoor season and is bringing momentum with him from his first career win at
High Point
. He also spent last weekend running the local prequel event at Motocross 338.
Motocross
James Stewart got his ass handed to him last time out and kept a stiff upper lip at the press conference. He said he was trying as hard as he could and he was going to go home and get right to work. Meanwhile, RC said he was headed to the boat to have himself some drinks.

Here are the facts. Stewart came into last year's Southwick event battered and bruised from his slam at High Point and chased after RC the whole first moto, and was right there when Carmichael made that rare mistake to grab a moto win. The second moto he wasn't going to beat Ricky but he was close until his bike blew up on a 4th gear, wide-open drop-off and knocked the living daylights out of himself.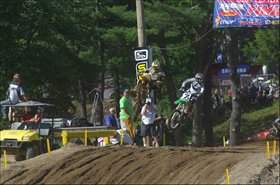 It should be another great one between these two
photo: Steve Bruhn
James rides into this weekend on the heels of two sounds drummings and will be looking for vengeance. I don't think he'll be thinking championship as much as he will be thinking "beat Ricky." Look out; we may see some scary speed out of
James Stewart
.
What about RC? Hell I don't know, man. The guy's a machine. Last year he was fighting shock problems and was still stupid fast and he's somehow a second and a half faster this year. RC might have threw a few back on the boat during the off week, but rest assured that he put in the work when he got back home. It will be nothing short of a full effort from #4 and there will be no mercy. Ain't nothing changed, ain't nothing gonna change with that dude. If he wins, it's his 99th national win…. Damn, that's a big number.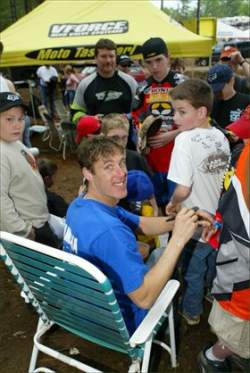 Southwick won't be the same without Doug Henry racing
photo: Steve Bruhn
How about Millsaps? Last year Davi put the wood to it and ran the race for half the second moto. He's been looking good outdoors and he'll grab at least one of the holeshots. If things get weird with RC and
Bubba
he could grab a big win for Team Honda. The first they will have enjoyed since the day they let Carmichael go, by the way. Langston was there last weekend brushing up as well and is a sand specialist. Yamaha could use a podium.
No matter where you look, though, in the AMA Motocross class, someone from or next to the state of Florida is going to win.
Ok, let's bring it home.
This is an absolutely huge weekend for the sport of motocross! In addition to Motocross 338 going down, the French GP will be racing over seas, there is a GNCC down in Kentucky; the hormones will be raging at Mid Ohio, Muddy Creek, and
Millville
as the Loretta Lynn's regionals are at full song; meanwhile, brother Clint will be racing Nashville on Saturday and Pocono on Sunday. I have to get it all-upstairs by Monday. Want to join me? I mean a weekend like this means you really, really have to ring it out good. Make sure she's cleaned out then throw a couple of tear offs on, and pin it like RC. Put your elbow at your rib cage and turn it till it stops. Don't stop shifting till you see Santa then throw a one handed pan across the checkered flag. It's going to be fun!
Thanks for reading, see you next week.