Privateer Profile: Cole Siebler
Switching teams is difficult. You have to get used to a different bike, different teammates, a different mechanic and different surroundings. Most guys get an entire off-season to go through that process, but Cole Siebler, one of the top privateers in the sport, had to make it happen in one day. I called him at his home in Idaho to see how his switch to Team Tamer was going. Make sure to show Cole and all of his new sponsors some support by clicking on the links at the bottom of the page.
Racer X: How's the weather in Idaho right now?
Cole Siebler: Oh, man, it's pretty nice right now. We could use some rain though. It's been a dry spring so all the tracks are dusty.
It must be nice to be home after so many weekends on the road.
Yeah, after 16 rounds of supercross and a couple nationals it's nice to have a weekend off at home. I live in Emmett, just outside of Boise, Idaho. I love it here. I spent the whole supercross season in California so it's been a while since I've been back.
How has your season been so far?
Not bad. I made 10 mains this year in supercross, so that was an improvement over last year. I also got a 10th-place finish, which was another goal of mine. I finished top twenty in points too. Then I just recently switched teams to Tamer Kawasaki for the nationals. The Wyvern team decided they were only going to do a couple nationals on the west coast and I wanted to do them all, so when this came up I was pretty stoked. It was a last-minute deal for Tamer to do the series, too. I showed up at Hangtown on Saturday and I had never ridden the bike. I just jumped on it and rode it.
No way!
Yeah, I did decent. I got a13th the first moto and then crashed the second moto and got 25th. The bike is good though. I like it a lot. It's really similar to a Honda.
How did High Point go?
I got 13th. It went all right for me. That's one of my worst tracks of the year. It has too many ruts for me. I'm good on the hard pack, slick stuff--not that gooey east coast stuff. So, I was happy to get the finish that I did.
What are your goals for the season?
I want to be top 15 in points at the end. I would like to be top privateer, but it's tough when you have guys like Vuillemin and Byrne that are considered privateers now. Those guys are fast.
What do you think of the Kawasaki now that you have some time on it?
It is surprisingly similar to the Honda. They feel the same, especially in the turns. It has a five-speed tranny which I like. I didn't want to have to ride a four speed. The Kawi engine is a little more mellow; it's easier to ride. And our stuff handles really well. Ross at Enzo Racing is doing our stuff and it works great. I'm really happy with the bikes and the team, especially since I had to just jump on it and go race.
You spend a lot of time in Europe racing during the off-season. How did you get to become so David Hasselhoff-ish?
I sent an e-mail to a team over there that Doug DeHaan raced for, Meyer Honda. They had me come over to do a couple rounds and now they keep inviting me back every year. It's cool to keep racing during the off-season and make a little money.
Do you have some lined up already?
Yeah, I want to the U.S. Open and McGrath's race again. Then I have three or four rounds over there that I will go do. By that point it's already time to head back out to Canada for the first rounds over here.
Is the Tamer deal just for the summer or will you stay with them for next year?
Right now it is just a nationals deal, but we have already talked about next year. I'd like to do something with them; I really like the team and the bikes. It's up in the air right now though.
It sounds like you are pretty comfortable on the bike if you go straight out and qualify for Hangtown without having ridden the bike before.
I was nervous. I showed up there and didn't know what to think. You have to go right out in the first practice and turn a fast lap time to qualify, but I had never ridden the bike before. I was like, oh well, I guess I'll pretend I'm sixteen again and just pin it.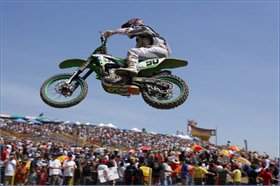 Siebler is hoping to finish top 15 in points

photo: Paul Buckley

How old are you now?
22.
Are you staying in Idaho all summer?
No, I think I'm going back to the east coast after Budds Creek for a while. I need to ride some different tracks and maybe get some rain. Maybe I'll stay out in Pennsylvania or something.
What sponsors do you want to thank?
Tamer Kawasaki, Fly, Maestro card, Bike Bandit and all the other team sponsors.
Anyone you want to thank personally?
I have a new trainer, Dan, that has been helping me out a lot. I really appreciate that. Also, the whole Tamer team has been great and I just want to thank all of them.
Cole Siebler's sponsors:
Bud Racing

Classic Truck Sales

Group D pit wear