Monday Conversation: Billy Mackenzie
Last Sunday morning, May 27, at 6 a.m., this writer rolled out of bed, tripped over my shoes, found my computer, typed up a global motocross website and found out that a rider named Billy MacKenzie had won the Grand Prix of Japan. Caught off guard — and, admittedly, not super well versed on the travels of the young Scottish rider — I surfed the net to find out more about Billy Mac. The winner of the last two MX2 Grand Prixs in Japan and now a full-on factory Kawasaki rider, the word on the street, er, web, was that Mackenzie was a fast, talented rider who was struggling to find a rhythm in the premier MX1 class he had graduated up to in 2007. Whatever he did, Billy managed to get it all right in Japan and now heads into round seven of the MX1 World Championship Series at St. Jean d' Angely, France as a full-on challenger to Josh Coppins, Kevin Strijbos, Steve Ramon and company.
In an effort to find out more about this Billy Mackenzie character, we tracked him down in Southampton, England, once he was home from the Orient and fired a bunch of questions at him for our Monday Conversation.
Racer X: Billy, a week after winning the Grand Prix of Japan, what are you up to?
Billy Mackenzie: Right now, I am back in England and just getting things sorted for the next round of the British Championships. I'm just washing boots and cleaning out campers and things like that.
How did the Grand Prix of Japan go for you?
Incredible! It was the best experience of my career so far. Winning in Japan the past two years haven't been so special for me because there wasn't the same sense of achievement in winning in the MX2 class there the past two years. But this year, with my dad being there, the effort the team put, in and the fact that they organizers played "The Flower of Scotland" on the podium was something really, really special. I loved every moment of it.
How did you prepare for the 2007 MX1 World Championship during the off-season?
Like I have every other year, really—I worked hard on a lot of endurance work, doing interval sessions, working with weights, pretty much doing everything you need to do to be an athlete. I also stopped eating so much junk food. I said to myself, "Now that you are on a factory team, you have to put every single bit of effort in and take no short cuts."
Were you excited about moving up to the MX1 class for the 2007 season?
Definitely. I've been waiting for a while now to get in the MX1 class to mix it up with the big boys. I did half a season in MX1 in 2004 and had some mega results on a standard 450, but I couldn't leave MX2 without achieving what I wanted to achieve.
What made you decide to move up?
The fact that I wasn't going to win a World Championship in MX2. The first year that I won races in the MX2 class, I wasn't thinking of the championship. But the next year, 2006, I thought it was possible. I was up to fifth place on points after the first five races, but then I broke my hand in a British Championship race and, due to that, I never recovered from the points I lost.
Do you feel more comfortable in the MX1 class?
Absolutely! The bike is unbelievable. And I find that I can show off my true style instead of just ragging a 250 around the track. I'm just too big for the 250s.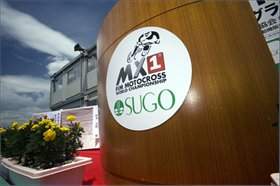 Sugo has been good to Billy

When comparing the MX1 class to the MX2 class, are the differences dramatic?
For sure the MX1 class is more competitive. All the big names are in MX1 this year, and everyone seems to show it more interest in the MX1 class. It is definitely is the top class for media attention and competition.
Can you describe the team you race for?
It's the number one Kawasaki team in Europe. It's the same type of team that [James] Stewart and [Tim] Ferry ride for over there where you are. We receive parts direct from the factory and the experience Jan de Groot has can't be replaced. He is a very clever man. It's the same team Chad Reed rode for before his move to America. It's an amazing team and I'm so proud to be a part of it.
With six races down and seven still remaining on the 2007 Grand Prix schedule, what will be your approach to the second half of the season?
My goals for this season were to finish in the top six overall in the championship, to try and stay consistent, to win some races and get some podiums. But my most important and immediate goal was to catch the pace. I want to know I have the speed to win so that I can concentrate on a World Championship title next year. It is something I have always done in my first year in a new classification: Crash a lot, but find the speed I need to win.
Whether it be 2007, or in the years to come, do you believe you can win the MX1 World Championship?
I think I can, yes. If I can stay on a team that provides me the type of machinery that Kawasaki does right now, then I am sure I can. Or, maybe try for an AMA title!
What riders will you have to be the most concerned with in 2007 and why?
There are a lot of them—basically, the top 10 riders in the championship because we all have the capabilities to win races.
What riders on the GP circuit do you get along with the best?
I like Christophe [Pourcel]. I spent some time with him testing in Japan and we had a real good laugh. However, I don't see him a lot at the races because we are in different classes. I don't know, really… I wouldn't say I have many top riders as mates.
Where do you currently live in Europe?
At the moment, I stay in Southampton, England, with my girlfriend and her parents. It is difficult to find a base that I feel comfortable with. Where most of the riders stay — in Belgium — I just find the language barrier too difficult to deal with. And I find it hard to deal with things like food because I have allergies to certain foods. I guess I like to know what I'm reading on the labels!
Would you like to race in America one day?
For sure!
Have you been able to attend a supercross in the U.S.A?
I watched the Anaheim Supercross once.
What do you think of the American scene?
Very flashy! Good tracks and nice style.
Do you know any of the American riders?
No really. Only some of the Euros that have went over, but they seem to forget us when they leave! I've raced James in the Mini Os before and I've hung out with Ricky at the mall one time when I was with Jamie Dobb. I doubt they would remember me, though. Well, James might as we took each other out at the Mini Os!
In your opinion, how is the sport of motocross doing in Europe?
Really good. The depth of riders is coming along. The tracks are becoming more awesome at all the races. I think they have finally worked out how to make a good track! And the weather is getting better, too. So all is good, man! We just need more money—prize money!
In your home country, is there a lot of interest about you and your travels on the Grand Prix circuit?
You mean Scotland? [Laughs] No. Unless you play snooker or golf, they don't give a shit. They turn our motocross tracks into golf courses! But I still love being Scottish. I just hope they realize what motocross is one day.
What do you like to do for fun?
I like the internet, BMX, mountain biking, cinema, traveling — everything that involves sport, actually.
Who are your heroes in motocross?
Stefan Everts and Jeremy McGrath.
How cool would it be for a Scotsman to become a World Champion?
Very cool. When they played the Scottish National Anthem for me in Japan, it was an unforgettable moment!
Good luck with the rest of the season, Billy.
Thanks.