The busiest week in the life of every Racer Xer here in the office is the one that precedes Memorial Day weekend. That's when Racer Productions holds the High Point National right up the road at Mt. Morris, PA, and Morgantown, WV, fills up with big rigs, race fans, and industry friends. It's a hectic week, followed by a crazy weekend, and this year might have been the best ever.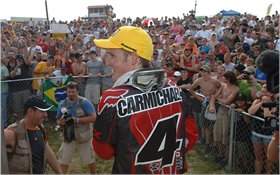 Ricky has a great thing going with the High Point faithful
photo: Carl Stone
Of course,
Ricky Carmichael
left
High Point
for the last time as a winner—something like six in a row now for this track—and
Josh Grant
left as a winner of an AMA Toyota Motocross Championship race for the first time in his career. RC was the given a hero's welcome and then a king's farewell, and even the most ardent
James Stewart
fans had to admit that Ricky rode a superb set of motos, as he came from a crash the first time to run James down, then just plain cleared out the second time after taking the high line over holeshot artist
Davi Millsaps
' head! (And yes, that big jump is now officially called the RC Double.)
High Point
also marked the opening round of the third annual Monster Energy/Kawasaki
Triple Crown of Motocross
. RC has never lost the Triple Crown, but there are still two rounds remaining (
Red Bud
and
Steel City
) and Carmichael won't be at
Steel City
. That means no $100,000 bonus for RC, but there's a chance for
Josh Grant
to make some extra dough if he can win in both Michigan and Pennsylvania.
High Point is a race you don't want to miss on Speed TV. Check out the AMA Motocross race (and some insane leaps by RC) on Sunday afternoon at 6:00 p.m. EST. The Lites, which saw a close first moto and then another Ben Townley pull-away in the second stanza, will air on June 15 which is next Friday, at 3:00 p.m. EST.
If you missed the Racer X Motocross Show on Motocross.com's wrap-up show, please have a look. And check back this Saturday night for our "off-weekend" show, which will be coming at you from the Racer X offices and includes an exclusive interview with Team Yamaha's Broc Hepler, who is finally back on the bike.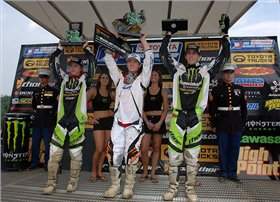 Josh Grant is now in the AMA record book with a national win

photo: Carl Stone

Josh Grant was understandably pumped about his first overall win, even though he didn't actually realize it until one of the SoBe No Fear/Samsung Honda crewmembers told him. But a bigger surprise came when it was discovered right after High Point that Josh and Ryan Hughes may not be working together anymore, and that Grant may have already begun working with Jeff Spencer. Either way, he's in New England right now for the Southwick "amateur day" race, which is this weekend, along with the rest of the Factory Connection riders, as well as Team Yamaha's Grant Langston.
The track at High Point was epic. There were lines everywhere, and that allowed someone like Townley to go from deep-dead-last (30 seconds behind the 39th-place rider) to tenth in the first moto, basically salvaging his season.
After the race, Carmichael talked about how much he liked the dirt here, though it was a little fast at times. Townley countered that it was dug just right on Sunday (though a little deep for Saturday's timed qualifying). Look at the line selection coming down this fast off-camber hill—the same hill (and line) RC used to pass Stewart in the first moto, plus the spot where Villopoto passed Jason Lawrence, only he was on the far inside, or left side in this Roddy MacLeod photo below.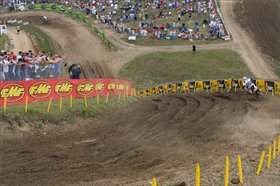 photo: Roddy Macleod
Ever since
TFS
and friends on Mototalk started discussing the track, there have been some online critics who say the tracks have become too easy. Having been at the first two rounds of the series, I personally think that's ridiculous. My two cents in the debate were this:
Motocross is supposed to be rough, but not so rough (or fast) as to be dangerous. All of the promoters and the AMA are trying to find the right balance for a safe, competitive and entertaining track. After Hangtown and High Point, they are 2-for-2.
In filming for the Racer X Motocross Preview Show on Motocross.com, three veteran riders—Tim Ferry, Kevin Windham and Ivan Tedesco—all expressed to Simon Cudby that the tracks were too rough last year and felt that it was hurting the racing. And on Monday afternoon, I received an email from David Vuillemin that included this:
"I just wanted to let you know how good was the track on Sunday morning and also how it developed during the day. It was way better than being disked too deep. I hope the tracks will be prepped this way from now on."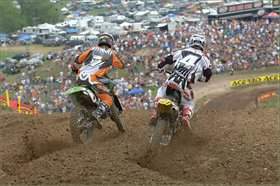 The first moto battle was exciting at High Point

photo: Carl Stone

Chris "Shenzi Rubani" Favro was in town for the race and offered this summation of the 450 class:
"Even though I am a fan of James Stewart too, it is always with awe that I see RC ride and race. His performance in the second moto is more impressive for me than his win in the first: he simply never slowed down, never paced himself, never relaxed the full moto. Even when he had a nice small gap on Bubba (who was fading, or at least slowing down towards the end) Ricky kept going, keeping that fast rhythm and throttle WFO!"
And speaking of James, a rumor broke out on Saturday afternoon on AMAmotocross.com that he was considering a supercross-only deal in 2008, then one of the magazine sites picked up on it. I'm not sure how that all got started, but it did get a few folks' dander up, including the Stewart camp. I think it's safe to say that James will be riding the nationals for some time. There will always be talk of this kind of thing, just as there has been ever since Jeremy McGrath did it, and especially since Chad Reed is doing it right now. But James is 21, he likes motocross, he's great at it, and he's got some competition coming up with Millsaps, Short, Townley, Villopoto, etc. The kids are going to be all right.
Davi Millsaps is continually improving on the 450
photo: Carl Stone
Reed rode a motocross race two weeks ago back in Australia and found a very game
Daniel Reardon
waiting for him. Now Reardon is in America looking for a ride for next year, and he's got a lot of teams interested:
"Kawasaki is the first team we are going to test with," Reardon says. "I've had a great relationship with them back at home and it would be great to continue that here. I'm also going to meet with Honda, Suzuki and the Joe Gibbs team while I'm here."
To read David Pingree's complete interview with Reardon, click here.
I spoke to Townley on the phone yesterday. He was trying to find out if the nationals were going to be on Sky TV down in New Zealand so his family, friends and fans could all watch. He was also headed out to the Gulf of Mexico with Ricky, who was hilarious in last Sunday's post-race press conference: "We're going out on the boat, we're gonna have us some drinks, we're going to have a good time,…"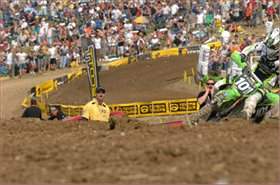 RC and JH were cheering for Townley early in the second moto
photo: Carl Stone
But don't worry, Townley fans, he won't be out there getting all liquored up like the Colts' old kicker: "I've got 15 championships to win before I can do that!" he laughed.
Also, looking at the replays, after bumping with Villopoto, it was Dan Sani whose pegs Townley apparently got wrapped up in. Everything is good in the Monster Energy/Pro Circuit Kawasaki camp right now, at least between #1 and #101. But Brett Metcalfe broke his thumb in practice and is out for at least six weeks. His shitty year continues, though he did fly straight to San Jose to see his doctor and get the thumb operated on.
Even though Villopoto has yet to win an overall, he's been solid in every moto so far this season—and the majority of the people at High Point, including the Racer X webcast's own Jason Weigandt—has him down for the overall with a 2-2, but instead it was Grant's 1-3 that meant the first-place trophy.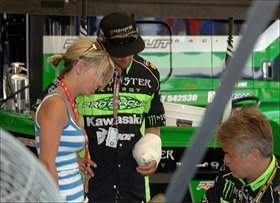 The Metcalfe camp was bummed at High Point
photo: Carl Stone
Ping spoke to RV1's main man when it comes to training,
Randy Lawrence
, for a chat about how the season is going, and how Ryan is taking the newfound challenge from his teammate, as well as from
Jason Lawrence
.
It's a great read
.
PPG/MotoworldRacing.com Yamaha's Branden Jesseman also got hurt in practice, apparently tearing his meniscus. As a result, he did not race either. As a result, both of the Lites alternates got in: Craig Dube and Tyler Tiffany. In my opinion, the alternate system is working—especially since they race for the chance to be the top alternates at 11 a.m. Sunday. That means they know the track as well as anyone, and it makes a nice addition to the program.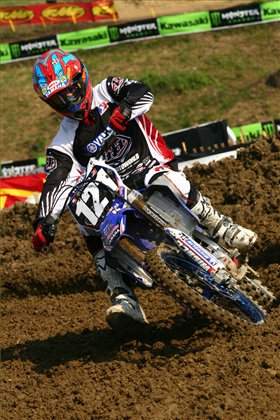 Brando's High Point curse continues
photo: Matt Ware
At the first two rounds of the AMA Toyota MX championships, Ohio's
Gavin Gracyk
really caught our attention after putting in two very solid performances at both
Hangtown
and
High Point
in the Motocross class. Gracyk has been in exile, so we decided to call him up to see what he's been up to for yesterday's Sponsorhouse.com
Privateer Profile
.
Well, it turns out that Gavin's been through some very rough times over the past year, losing his fiancée due to illness and then having his father diagnosed with Lou Gehrig's Disease. Nonetheless, the former amateur standout got some support from Cycra and Championship Powersports and is doing everything he can to scrape together some funds to make a go at the entire AMA outdoor series as a privateer.
Well, after reading the interview, Hammertime on Mototalk started a thread to help Gavin out. Within hours they had a PayPal account set up for some extra funds to help Gavin get to all the races. More often than not the online community gets a bad rap, but it shows that these guys are all out there in support of the sport and to try and make things better. Good stuff, guys.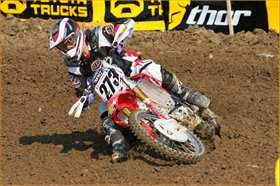 Gavin's tough year and great results have a lot of folks pulling for him now
photo: Zak Lowery
I spotted the makeover that
Jody
and crew have underway at
Glen Helen
and I think it looks great—if the Lites' title comes down to that race, it should be epic.
Check it out
.
Meanwhile, down at Budds Creek, they are doing all they can to get the track ready in the absence of promoter Jonathan Beasley, who busted himself up badly when he rolled over a small cliff on a quadcycle. Fortunately for Beasley, Andrew Lourake is on the case, and the track should be ready to go in a fortnight for the fourth round of the AMA Toyota Motocross Championships.
This from Lt. Col. Lourake: "The staff at Budds Creek will be going all out in 2007 honoring past riders of America's Motocross of (des) Nations team riders. In the planning stages, past American MXN/MXD team riders will be recognized during a formal ceremony on Sunday race day. Budds Creek staff is tracking down each rider going back to the first Motocross des Nations America participated in, which was 1972. Additionally, and equally if not more exciting, Budds Creek is planning a gala dinner where 150 seats will be open for sale to the public to dine with the former MXN/MXD riders (approximately 20 have committed as of 31 May). The profits from this $200 per plate ticket will be going to the motocross charity 'Road to Recovery' (www.road2recovery.com). Tickets for this event will go on sale at www.buddscreek.com on 30 June 2007."
Cool film to watch this weekend of Trey Canard and Brett Cue from Amateur MX.
Okay, now it's time for Ping:
First I want to wish Casey Johnson good luck. The former motocross racer and recently retired but soon-to-be back-again WORCS racer is getting hitched this weekend to his fiancée Michelle. One woman for the rest of your life … way to think it through, Johnson. I'm kidding. Best of luck, guys.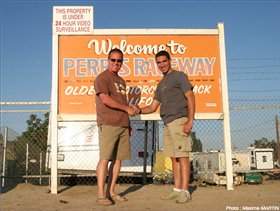 RJ and Seb are now the proud owners of Perris Raceway
photo: MX Max
I got to meet the next Aussie import this week,
Daniel Reardon
. The 21-year-old will be out in Southern California for the next week trying out for several different teams for the 2008 season. Reardon has become the dominant rider Down Under and even went toe-to-toe with
Chad Reed
, who was home last week for a national round. I was impressed with the entire Reardon family. They seem like very nice, down-to-earth people, and I don't think he'll have trouble fitting in over here at all. How's his speed? It's hard to say because the track we were at is a total P.O.S. It's so rocky and rough that nobody looks fast. But if he's battling with Reed, then he has to have some skills.
I also met up with RV and his trainer Randy Lawrence this week. The two of them have been extremely successful since teaming up two years ago but they are facing their toughest challenge yet in Ben Townley. Ben is a sand specialist, so Ryan has been working extra hard this week to prepare for Southwick, the next championship round.
Speaking of Townley, I sat next to Ben on a flight out of Pittsburgh last weekend and he told me the deal with Honda is not set in stone. That flies in the face of what
Mitch Payton
told me on Saturday, where he confirmed that Ben was leaving. Apparently, Ben wants to race a 450 in the Motocross series next year and Kawasaki wants him in the Lites class exclusively in 2008. Honda is open to the idea, and Ben is at least considering a move to the red squad.
Ivan Tedesco's switch to Honda sounds like it's a done deal now as well. Of course, that could all change by next week. Who knows?
If you live in the Northeast and you're looking for a race to watch, get over to Englishtown, New Jersey, this weekend. Round two of the AMA Supermoto Series takes place Saturday (practice) and Sunday (racing) at the famed motocross venue. For details and a complete schedule visit www.amasupermoto.com.
That's it from Ping—he hopped a plane for Englishtown himself!
Bryan Stealey posted this:
Something tells me that Samsung has a better idea what motocross is than Panasonic does.
www.pahr72.com is the new golf company that has a lot of motocross ties, as you will see by the photo on the main page!
And congrats to Mackie, the 15-year-old daughter of the late Marcel Fortney. The weekend after her first motocross at Hangtown, she qualified for the Jr. National Horse Trials, which is the equivalent to Loretta Lynn's for that sport. She will be one of only three riders representing her area (California). Her horse's name is Beacon Hill and she got him from Florida—must be something in the water down there!

She will be competing the week of Loretta's in Lexington, VA, in the North American Young Riders Championships. This is an unbelievable accomplishment for her at her age. Well done, Mackie, your father would be extremely proud!
Speaking of Florida, that was another 1-2-3 in the 450 class for the Sunshine State at High Point (counting Davi Millsaps, who grew up in St. Cloud), plus Tim Ferry was fourth!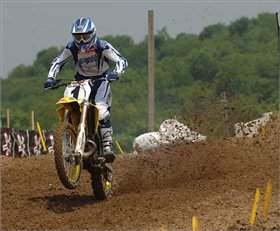 Roger DeCoster rode High Point for the first time
photo: Carl Stone
Last Sunday saw a special opening ceremony at
High Point
, with riders like
Jeff Stanton
,
Gary Semics
,
Mike Fisher
and
Mike Beier
all taking part in the Legends Tour. But what really put it over the top was the last two riders:
Ricky Carmichael
and
Roger DeCoster
, both on two-smokes! That was the first time Roger rode the
High Point
track.
Afterward, the gear on many of these folks was auctioned off—I bought the Stanton jersey for $550, which was nothing compared to the $4,000 paid for RC's race jersey by Serious Racewear's Larry Winters! But it was ALL for a great cause: Doug Henry. All told, more than $10,000 was raised in the impromptu auction.
Yamaha's Tim Olson called to let us know that an even bigger auction is set for Southwick next Sunday, and Henry himself will be there. So bring some extra dollars and help out Doug and his family. I can't think of very many men who have given more to motocross that Doug Henry; I know what I will be bidding on—a No Fear XXL jersey with "Keller" on the back.
By the way, Jo Jo is doing his regional this weekend for Loretta Lynn's at Unadilla, and then next weekend he will be joining Jason Weigandt and myself as special guest analyst for the Racer X Webcast on Motocross.com! That alone will be worth listening.
Finally, please remember to check out all of the Racer X Motocross Shows on Motocross.com this weekend. We have some good ones going up, including our High Point montage, and also check out Simon Cudby's Racer X Film of the Legends Tour. That's it. Thanks for reading. See you at Southwick.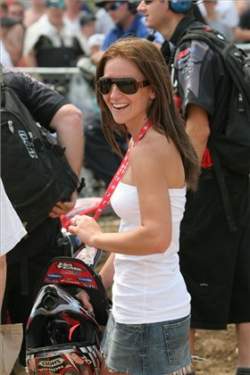 Josh Grant's girlfriend was stoked with his win
photo: Zak Lowery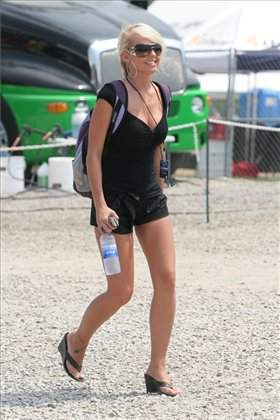 The nationals are keeping Leticia busy
photo: Zak Lowery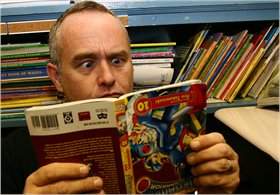 When he's not shooting photos, Simon loves to read.
photo: Matt Ware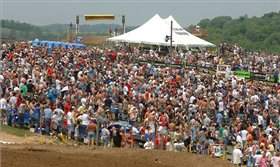 High Point saw a very healthy crowd of MX enthusiasts
photo: Carl Stone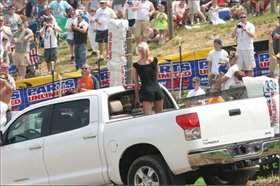 That's a sweet, umm, truck!
photo: Zak Lowery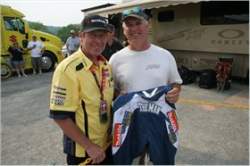 The Man gives away his High Point pants
photo: Zak Lowery