Number Cruncher: Josh Grant
Welcome to the Shift Number Cruncher. When Josh Grant took the checkered flag in third-place in the second moto last weekend, there was a lot of people scratching their heads as to who won the overall. Josh had dominated moto one, while Ryan Villopoto chased him home second. Then in moto two Villopoto was able to better Josh and earn himself a 2-2 on the day, which in amateur motocross means he would have gotten the overall. Ah, but when you race with the big boys you go by the AMA points system, which awards 25 points for a win, while second-place gets 22 points. And with good reason, because when you win a moto at an outdoor national you have really accomplished something special and it deserves to be rewarded!

This nomenclature worked into Josh Grant's favor as he was able to use a 1-3 moto score to earn the first overall win of his pro motocross career. Josh has had a tough season, but has been throwing down since the outdoors have begun and has planted his feet in the concrete as a legitimate title contender. Personally, I really like watching Josh race. He has a textbook riding style and the kid is always charging. Thus, we have decided to dedicate this week's column to the numbers Josh has worn through his career, which just reached a milestone with a win at the Monster Energy High Point National.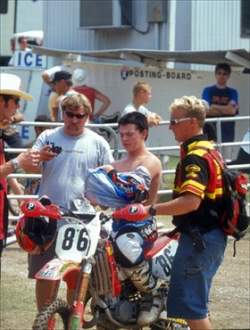 #86
photo: Chris Hultner
Josh's amateur number was #86. He carried his favorite number to his first AMA/Air Nautiques Amateur National MX Championship at Loretta Lynn's in 2002 in the highly-competitive 85cc 14-15 modified class. He was riding for Honda of Houston, and his success there helped put what's become a powerhouse amateur team on the map.
Josh Grant
leapt into the fire of AMA Pro racing in 2004. He was able to keep his beloved #86 but had to throw a three in front of it. Grant immediately showed world-class speed when he holeshot his first-ever race and led
Hangtown
for two glorious laps before stalling his bike and not being able to kick it back to life, seemingly forever! Still, he served notice that with some strength and experience he could really do some damage at the outdoor nationals. The word on the streets was that his starts were pretty decent too…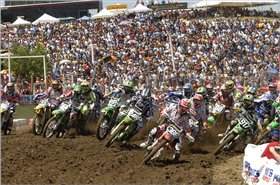 2004
photo: Tony Scavo
As mentioned above, Josh made an impact on AMA Motocross in the first 100 yards of his pro career, nailing this holeshot at
Hangtown
in the '04 series opener—his first pro national. He must know the guy that drops the gate there because this was just the beginning…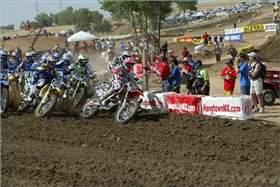 2005
photo: Steve Bruhn
Fast-forward to the beginning of the 2005 outdoor season and again it was Grant pulling a monster holeshot at
Hangtown
. This time he was able to hold on to fifth overall. Later in the year he earned the first moto win of his career at
Budds Creek
.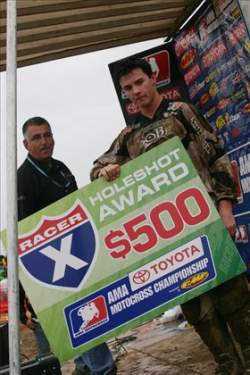 photo: Simon Cudby
Okay, this time at
Hangtown
he had to face the rain, but the song remained the same in '06: Another new outdoor season and yet another holeshot to get it fired up! This time he picked up the Racer X Holeshot Award. People were expecting a lot from Josh last year. He had two years under his belt and had Ryan Hughes training him. Alas, something was missing and he ended the outdoor series winless (though he did get three wins in SX).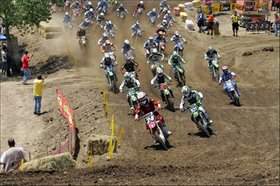 2007
photo: Steve Bruhn
One of the most popular things you will hear before the drop of the gate at an outdoor national is some chatter consisting of something like, "So, who's gonna bang the holeshot! Who do you got?" Well, if you had that conversation at
Hangtown
, you should have replied with the name of the man that had drilled the three previous in a row! Once again, the first holeshot of the outdoor season went to Samsung/Factory Connection's
Josh Grant
.
This is what it's all about. While Josh had already won some SX Lites main events he needed to earn an overall outdoor win to fully establish himself as an alpha male among the Lites class herd.
Ryan Villopoto
and Ben Townley have been the talk of the Lites class, but I'd keep an eye on Grant to continue to be at the front as the series progresses.
Congratulations, Josh, and congrats to the whole Sobe No Fear/Samsung Honda team—and Factory Connection!

That's all we have this week and we hope you enjoyed it.