Tuesday Conversation: Ricky Carmichael
Makita Suzuki's Ricky Carmichael left High Point the right way, on top and popular with the fans. "RC" had a great race with Stewart in moto 1, and in moto 2 it was a romp, with him opening a gap of nearly 30 seconds.
RC put on a great show for the fans in a number of places on the track, the "pin it to the sky" tunnel jump right after the start, the downhill whoops where he just touched the ground three times, to the famous finish jump "flat lander." RC had all his weapons out and used them, and it was just too much for Stewart on this afternoon.
RC left High Point a winner, but the truth is, he was tired too. The grind of trying to learn NASCAR and stay at winning speed in AMA motocross is tougher than he expected, and if RC says something is tough, believe it. Here's what RC had to say on the way out of Mt. Morris.
Racer X: That second moto was heavy duty, Ricky.
Ricky Carmichael: Yeah, it was a good race for me. I am super pumped that it went good. We were working hard since last weekend and I am really excited it ended up the way it did. I am pumped.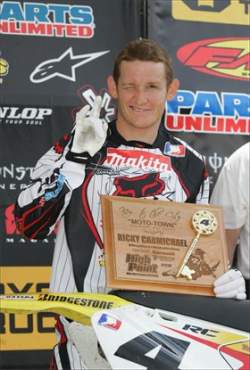 RC with the key to "Moto-Town"

photo: Steve Bruhn

What's going on with the total win count and your 150 goal? It seems like the count was all over the place last weekend. Two to go, four to go, or something.
The AMA said 98 outdoor and 48 supercross, so I have 146 now. I would have to win out now I guess.
You were laying it down in that second moto for sure, so it's not out of the question.
Yeah, I'm laying it down. Suzuki has really stepped up to the plate and I'm happy.
Can you give us more details on what you went to work on since last week, like setting or parts?
Parts! Lots of parts. I can't be exact, but we changed a lot of stuff. Now the bike is awesome.
Are you going to keep working when you get home or relax now?
I am going to relax. I have been driving myself into the ground, riding with BT (Ben Townley) a lot. I am ready for a break. I am going to ride a lot during the week later to get ready (for Southwick). Today was real fun for me and I had a good time. The fans here are great people, they really are.
For the next race at Southwick, do you think you will have one of those motos like last time where you pin it over the finish table with both feet off the pegs and land who knows where? Do you think about that one much?
Oh hell yeah! I think about it too much. That was pretty crazy. Still I am looking forward to it. As well as I do there, it is still a lot of work. You have to change your bike quite a bit. It's tough.
Are you where you thought you would be as far as staying on top of the cars, the bikes and being a dad?
It's way more work than I thought. It's so tough to do both 100 percent. You can not lay off here. That is the tough part so that is where I am having a hard time.
We better let you go back to the RV to relax then.
Thanks, Steve. Hey, I am always happy to see you after a race, though!