Kawasaki/Racer X Race Report: High Point
Ricky Carmichael could have stepped away from the sport completely last fall, when he announced his big stock car deal with Ginn Racing at the U.S. Open. But he chose to come back and race part-time in 2007, partially so he could pay back his Makita/Suzuki team with some more wins, and partially so he could visit his fans one last time.
So the fans have gotten to see plenty of
Carmichael
this season. The competition, though, hasn't seen as much.
Carmichael
is still able to do what he has done for basically his entire racing life, which is pull out of his competition's sight and ride deeper into the record books. He did it again over the weekend at the Kawasaki/Monster Energy National at
High Point
presented by Centra Bank, the second round of the AMA/Toyota Motocross Championship presented by FMF. While RC had to fight for his win last weekend at
Hangtown
, at
High Point
he was clearly the man once again, coming from behind to win the first moto and then dominating the second one. That gave the
High Point
fans something they wanted to see, although for the rest of the pack, they didn't see much of it, which is exactly what they didn't want.
Carmichael's command of High Point has been pretty steadfast over the years (save those mud races), and 2007 was no exception. He made major changes to his bike after Hangtown and showed up ready for the off cambers, ruts and hills of Pennsylvania, logging the fastest times in every practice session. In the first moto he did not get a great start while Team Honda's Davi Millsaps squeezed out another Racer X Holeshot, and then Carmichael fell over trying to make passes. So Monster Energy/Kawasaki's James Stewart took the point position from Millsaps and tried to get away fast. He did, but not fast enough to deter Carmichael, who started ripping off passes and cutting down Stewart's lead, aided by some tremendous leaps through the High Point hillsides. One included his patented monster jump over the High Point finish line, the same one he used to pass Stewart for the lead here in 2005. Somehow Carmichael tuned a table top into a huge single, landing in the flat and closing on Stewart.
Stewart tried that jump once. He landed it smoothly, but bobbled in the next corner and come within millimeters of throwing it all away on High Point's big step down again—just like last year. By then Carmichael was on him, and the fans went crazy watching another big Stewart vs. Carmichael bout. By the end, though, Carmichael had made the pass and was gone with the win, an incredible and amazing comeback that kept the fans screaming through out the moto.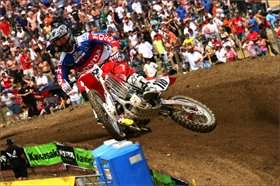 Davi Millsaps is getting great starts, and his finishes aren't too shabby either.
Stewart's teammate
Tim Ferry
worked his way past the Honda teammates of Millsaps and
Andrew Short
to take third.
Based on his first moto performance, Carmichael was expected to win moto two, and he did. Millsaps grabbed another holeshot, Carmichael went past him, and then the moto turned into essentially a 30 minute victory salute.
Stewart worked his way into second, with Millsaps, Ferry and Grant Langston next. The fans were all fixated on Carmichael though, he is proving to not only be the greatest of all-time, but the greatest of this time, too.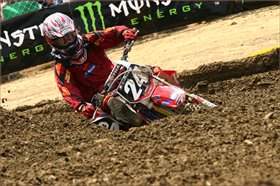 Add Josh Grant to the AMA record books as a national winner.
The action in that AMA Motocross Class may have been predictable, but it certainly was a surprise to see Sobe No Fear/Samsung Honda's
Josh Grant
snag his first-ever AMA/Toyota Motocross victory in the Lites class. After a disastrous supercross campaign, Grant came into this year's outdoor tour searching for answers. He has found them, taking the early lead in moto one from Moto Tees Holeshot Award Winner
Ryan Dungey
and pulling away, and then holding steady throughout the race to win in commanding fashion. Last week's winner, Monster Energy/Pro Circuit/Kawasaki's Ben Townley, got tangled up before the pack even went into the first turn, went down, and emerged with broken spokes. He had to stop in the pits for a new wheel and found himself a half lap behind the entire pack at the end of the first lap. Amazingly, BT worked his way up to tenth by the end of the moto.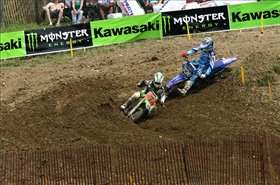 RV1 made a late-moto pass on his rival Jason Lawrence to take second in moto one.
Meanwhile Dungey yielded to Boost Mobile/Yamaha of
Troy
's
Jason Lawrence
and defending champion
Ryan Villopoto
. Fans braced for a
J-Law
/RV battle, and they chased each other hard for the last few laps. Finally, Villo made the pass while Lawrence, who later admitted he was tired from being pushed by Villopoto, took third.
Townley quickly took the lead and checked out with moto two, while Villopoto took second from Grant. But Villopoto's 2-2 score gave him one point less than Grant's 1-3, thus handing Grant a long overdue overall win.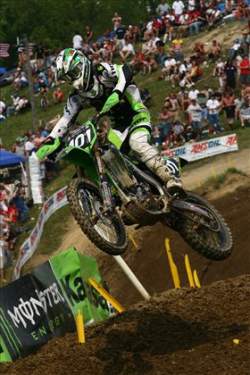 BT101 lost the points lead, but served some notice about his speed for the rest of the summer.