How does he do it? How the hell does a man take two months off of racing motorcycles, then come back out to the first motocross race of summer and beat
James Stewart
? That's a question that fans leaving
Hangtown
yesterday might have been asking themselves had it not been for the fact that the man who did it is the Greatest of All Time.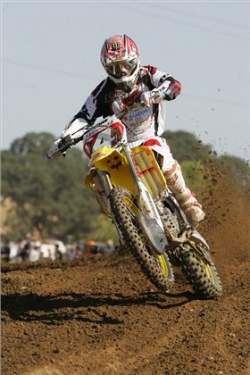 Chalk up win #97
Ricky Carmichael
proved once again that he can ride a motorcycle like no one ever has, earning his 97th career national win in his last visit to the oldest stop on the AMA Toyota Motocross circuit. Carmichael led the newly crowned AMA Amp'd Mobile Supercross Champion
James Stewart
in the first moto before a spill in the infield cost him the small cushion he built. Stewart worked his way past and then seemed to control the rest of the race from the front, taking a narrow win. But in the winner's circle, RC did not look pleased to have put on such a good race after sitting out for so long; instead, he seemed downright pissed to have lost!
So the second time out, he made sure he started out front and stayed out front. This time it was Stewart who had problems, as two crashes left the Kawasaki rider with a badly bent bike and a slightly bruised his ego. However, James took it like a man. He salvaged second-overall points, sat respectfully through the press conference, and even chatted some with RC before they made their respective ways back to Florida.
And so did the third-, fourth- and fifth-place riders, as Florida neighbors
Tim Ferry
,
Davi Millsaps
and the transplanted
Grant Langston
rounded out the top five. For Ferry, his third-place on the day proved that supercross was no fluke. For Millsaps, who holeshot the second moto and rode solidly throughout, it was maybe a breakthrough. And for Langston, it was the first strong race he's had this season—he will be battling for the podium soon.
As for the rest of the guys, there are some questions back there. Red Bull KTM's
Mike Alessi
really took the plunge and raced the 450 class, but he was far off the pace at the end of each moto, leaving many scratching their heads over his decision to move up to this class so quickly. And
Kevin Windham
was fast at times, but his results remain below his potential.
So now RC and Stewart take their abbreviated final season together to Mt. Morris, Pennsylvania's
High Point
Raceway, the very track where last year's championship duel pretty much ended.
Hangtown
owed RC one after last year's loss, and he got it. Anyone who remembers
High Point
last year knows that this place owes Stewart one. It should be epic!