Privateer Profile: Heath Voss
Heath Voss's career has been somewhat of a Cinderella story. The Minnesota-born rider started as a privateer in the 250 (450) class, sponsored by Great Lakes Aviation. Voss had a rig and support that could only be rivaled by the factories, but as any racer knows, his equipment wasn't close to what the factory riders had. So Voss put his head down and eventually landed a ride with Yamaha in 2004. It was the big break he had worked for his entire life. Voss won a World Supercross title but struggled with equipment, ironically, in his last year with Yamaha. Now, Voss is back in his own truck and doing it his way. And for Heath, that's just fine.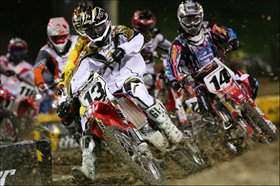 Heath showed some speed in the '07 Amp'd Mobile SX Series

Racer X: Now that supercross is over, tell us about your season.
Heath Voss: It went pretty good. I got real sick before Dallas. I was on the road with Brock Sellards for about four weeks riding at Matt Goerke's house and Millsaps' place, and we were riding every day and doing motos. Then it was a 15-hour drive from Davi's house to Indy. Between the riding every day and being on the road so much, I just wore myself out. I overdid it. I kind of blew it, so that was disappointing. I ended up getting strep throat, and I didn't eat. I lost ten pounds, and I ended up getting pneumonia and stuff. I was just mad at myself because I've been doing this long enough to know not to over-train, and I did it again.
Well, on the bright side, it sounds like it was an effective diet. You're ten pounds lighter and have your abs all ready for summer.
[Laughs]Yeah, I just didn't have any energy. I'm going to take the time this summer to slowly lose the weight again because I did feel so much better on the bike when I dropped that weight. It's difficult being 195 pounds and racing supercross.
How did you end up in the series?
I don't know. I was wanting to beat David [Vuillemin]. We were four points apart all the way up until Orlando. Then at Indy, I crashed in the heat and Doug DeHaan accidentally hit me when I was passing him and it drilled my foot. I dislocated my pinkie toe. I used my provisional to get into the main, but my toe kept popping in and out during the main. I think I ended up sixteenth, but after that I just kind of lost it. It's not much fun racing for seventh or eighth. The top-privateer deal gave me something to race for, but once that was lost, the wheels kind of fell off my program. I tried my best every weekend, but I just quit paying attention to the points because it's just depressing.
What's it like being back on your own? You were a factory rider for three years in a row before this.
The Yamaha guys were always real good to me. I just had some electrical problems with my bike [ed. note: his bike was bogging sporadically due to ignition problems], and I was just scared to ride it. They couldn't assure me that they could fix it, and I was just scared of it. I couldn't race that way anymore. It's too dangerous, especially after Ernesto and James Marshall got hurt. I'm good friends with James, and I just thought, Man, how much money would they give to just walk again. So that took the money issue out of it for me. I ended up buying a Honda just to ride around, because I wasn't going to stop riding. And I just liked it so much that I thought I'd go race supercross again. It's a lot of fun. I hung out with a lot of the Yamaha guys, and I had good people around me at the races. It's definitely what I want to be doing on my Saturdays. But I would like to be making a little more money doing it. It cost me $2,200 to drive my truck from Seattle to San Antonio. Diesel is at $3.25 per gallon now. That means 50 percent of my expenses are fuel and travel costs.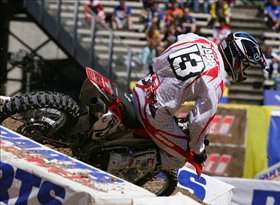 Voss is hoping to get invited to the 2007 X Games for water skiing

What are you doing all summer?
I'll probably water ski a lot. We live right by a lake and I have a boat on it. I used to compete as a kid, and I actually wanted to do some tournaments. But I'm hoping that I get invited to the X Games. I'm looking forward to that. I have a couple other supercross races here and there, and other than that I'll just get reloaded for next season. I actually rode a Supermoto bike for the first time last weekend, and that was awesome. I had never done it before, but I loved it. The track is always perfect! I'd like to do a couple of those too.
Will you do the same thing next year?
Yeah, probably. I wish I could ride the Lites class. It's so much fun racing for a championship. With Bubba in the 450 class, it's tough. There's a group of guys ahead of me that I can run with if I have a good night, and then there's Bubba. It's just not much fun when you don't have a chance.
Between sixteen rounds of supercross, the X Games, the U.S. Open, and Jeremy's race, there isn't a lot of down time for you, is there?
People keep asking what I'm going to do. Every morning I wake up and I've been riding and training like usual. It's only been a week, but I'm having a hard time relaxing. It's like when you go on vacation and the last day or two you finally relax and enjoy it. But last year at Jeremy's race I made $31,500, and the year before at the U.S. Open I made $16,000. I would have to race the nationals for three or four years to make $30,000. The most I ever made doing them was in 2004 when I was in sixth all the way through the series until close to the end and I made $12,000. So it's pretty disappointing racing motocross. If it's a mud race, you'll pretty much ruin a bike. I used to love racing them, but they just don't make sense for a privateer. Plus, it's mentally draining racing sixteen rounds of supercross in a row. We need a break.
How's the family?
We're good. One of these days we'll have some kids, but we just travel too much right now.
Do you miss Minnesota?
Yeah, I do. I love being able to do different seasonal sports, and I miss the change of seasons. It's just always sunny out here and I get tired of it.
Will we see you at any nationals?
I might do the Texas round and maybe Colorado. Those would be fun, and they're close.

Heath Voss' sponsors: