Racer X Files: Reason for Being
The 2007 AMA Toyota Motocross Championships are about to get underway, and in the latest issue (June 2007) issue of Racer X Illustrated, Davey Coombs discusses how he tries to support the sponsors who support our sport. Toyota is now a major sponsor, and DC touched on their involvement in his column.
To download and read a PDF of Reason for Being (Adobe Reader required), please click here or on the image below.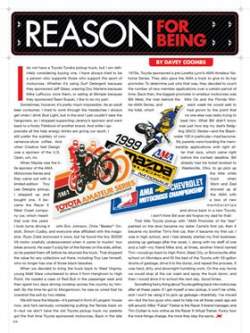 Click the image to download and read
Racer X Illustrated Goes Digital!
Did you know that you can now receive 12 digital issues for only $14.98 (USD), no matter where you live? No additional shipping charges apply! Click here for more info!