A Racer X reader sent this in this morning, and we thought we would share it on this Mother's Day Weekend…
Cruisin' the net, I went to Bad Brad's site and saw the photo of Lackey chasing the "Doctor," Gerrit Wolsink and "Rocket" Rex Staten. It really triggered a déjà vu-like flashback.............
We awoke to soaking-wet sleeping bags, the coastal morning moisture had welcomed us to Carlsbad. We could care less. We scrambled to the track to check it out.

Banners ringed an almost ghostly site, as fog held vision to 50 yards or so. The track surface looked muddy. We laughed and ran into the mud.

Mom parked at the turn before the ledge. We had decided a command post at the outside of the ledge was much more appropriate. We were literally sitting on the track, on outside berm of the famous "Carlsbad Ledge." The ledge was a right turn, uphill jump, similar to jumping up a vertical cliff and turning right. We were four very excited 13-year-old moto dudes.

Practice started, and the 250 Support class was first. Marty Smith and Tommy Croft were awesome on their factory Hondas. Kent Howerton rode the 250 Husqvarna stylishly well. We made it into the photo of "The Rhinestone Cowboy" crossin' it up off
the ledge. Local guys were in the support class as well. The track remained muddy while morning fog kept us cool. No one blew us off outside of the ledge, though we did get roosted pretty good a couple of times. We loved it.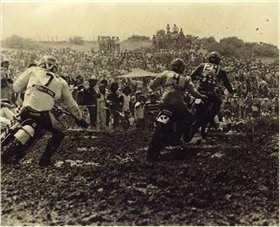 photo: Courtesy of BradLackey.com
The famous photo of R.D. draggin' the handle bar through the berm was taken at the turn where we had mom camped in her lawn chair. She told us about it: "Did you see
that?" We were in awe. The Euros were smooth and stylish. They didn't look like they were going nearly as fast as Rex Staten, but they were. Brad Lackey rode like a Euro.
"Where is Christer Hammergren from?" we asked.
"Sounds Swedish to me," mom pointed out.
Jaak Van Velthoven looked like a giant, though a very fast, smooth giant. Gerrit Wolsink was no small dude either. The riders all wore bibs with flags of their countries.
There are 30,000 people here, rooting for Brad, the American hope, but then Rocket Rex holeshots! Crowd is losin' it! Brad is near the front….
These are three decade old, very fond memories, for an over-40 teenager still in love with moto. After the race we got into the pits, and I remember telling my mom, "Hey, that's Roger DeCoster!"
"Ask him for his autograph!" she said. I was too embarrassed. So mom went over to him got his autograph for me, plus a smooch from "The Man." She told that story proudly the rest of her life.
My mom passed in October of 2005. I told that story at her memorial.