Hello everyone, and welcome to the Rev Up. Wow, how crazy was last weekend? It's Thursday and I am just now starting to throttle back and downshift back to normal life speed. After watching the Busch race Friday night (Clint won!) and following it up by walking around the entire MGM Casino floor flexing my right biceps and gesturing like I was wearing the title belt, I had to fend off some rather intimidating stink eye from some highly partisan boxing fans. I guess there was some sort of professional contest going on in the Grand Garden there that weekend or something? In my state of mind I couldn't get past what could have been bigger than the NASCAR race and the following night's SX event so I dismissed the bothersome stares with a wave of the hand that Ryan Philippe would have been proud of. I could have been shot.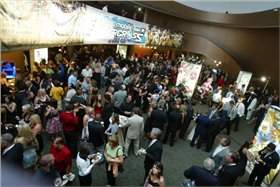 The banquet was awesome
After that it was a 5th gear blur of memories consisting of
Ryan Dungey
winning the Dave Coombs Sr. East/West Shoot out, too much sun at the pool, news of F5 tornados in my homeland, and the smell of whiskey at the awards banquet. The banquet was awesome, and finally the long forgotten tradition of taking to the dance floor at its conclusion was remembered. It was a gorgeous scene and somewhere in the middle of it a female participant had commandeered a full bottle of Crown and was spreading its content throughout with glee. Can't imagine what she felt like Monday morning…
Moving along from Vegas I just want to send congrats to BT101, RV Park, and
Bubba
. They were all the best men in SX07 and they carried their trophies well.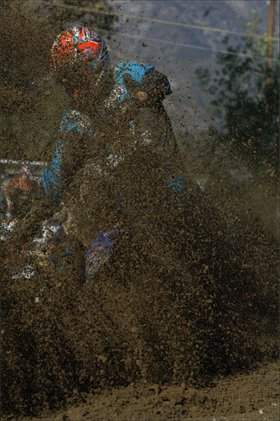 Outdoors = Copious amounts of roost
So what now? What happens next? Now it gets good and dirty, that's what happens. Ah, yes, ladies and gentlemen, it's time to take it outside! As I gaze in my crystal ball I see some heavy noise coming our way. The images I see spawn some enticing questions. Will Steve Lamson earn any points on his premix burning CR125? How are the Alessi brothers going to fair riding with the big boys? What will become of the brewing civil war over in the Pro Circuit camp? Will
Bubba
get out the broom? Is RC done winning? Hmmm…let's go over some of that, shall we?
First off, the Lammy factor. Hey man, who doesn't like Steve Lamson? One of the coolest riders from the nineties is still just that: one of the coolest riders of all. I realize
Hangtown
is his favorite stomping grounds and he will be trying to harness the ghost of two-stroke past, but dude – there isn't a snowball's chance at Loretta Lynn's that he will make the top 20 riding a two-banger against the snarling pack of young lions he will be lining up against. I know
Michael Willard
did it at Seattle, but that was against half the competition—and the East was stacked! Seriously, I don't care if he runs a stroked out, 170cc with a titanium frame, because the 250F machines of today are straight nasty and the little bastages riding them are even nastier. All the same, I give props for such a noble quest. Futile as it may be, there will be some t-shirts swinging along the fence lines as Serpico rounds the sweepers with that crispy machine singing that almost forgotten song.
And now for the next chapter in the saga of the fabulous Alessi brothers. When I think about Mikey boy lining up alongside #7 this summer my mind recoils back to that hot afternoon in August '04 in Hurricane Mills when James rode out for his demonstration on the 2005 KX 250. Before heading over to the Ten Commandments, he made a pit stop over to visit Mike while he sat on the starting gate, gesturing "come on out and play…"
Mike did a week later at
Millville
and it went badly, but two weeks after that, he landed on the podium at
Steel City
! We all know what kind of starts Mike gets and it's not if there will be drama there, it's when and how much. Be that as it may, #800 will be on the box before the series is over. Probably several times. As for Jeff, I have never seen him ride a 450, so he's much more of a question mark.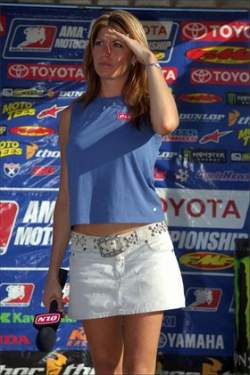 Erin Bates will be outdoors
And what is this I hear of a building difference-of-opinion between Ben Townley and
Ryan Villopoto
? The way I see it, it is inevitable. In motocross, you can never truly be friends with your competition. You can be civil, you can walk the track together and even sit at the same table for team meetings, but in motocross—one of the last true sports of gladiators—there is only one person a racer is concerned with other than himself, and that is the man that has the best chance of beating him. In RV and BT's case, this means one another. The SX Champs from both sides of the country riding the same machines with the same goal. Look out….
Did I mention that DC keeps telling us not to forget about
Brett Metcalfe
? I will add him to the list, along with
Ryan Dungey
and
J-Law
.
Beyond that, of course, there is the element of Ricky Carmichael making his final outdoor charge. Will it be five races to say goodbye or five races to win? The word on the streets is The GOAT is as fast as he's ever has been, and he's working overtime as always. You know what the best thing you can do for a rider with a 10-year career and 15 titles? Give him some time to chill. Remember how fast he was when he took the SX season off in 2004? The scoreboard that summer read 24-0. Can he do that again, only make it 10-0 before he parks it? No way. But he'll win at least one of them! And we, as fans, will be treated to five more chances to witness greatness. James Stewart vs. Ricky Carmichael in two 30-minute motos on 450cc machines. Say that again, only slower. Feel the chill?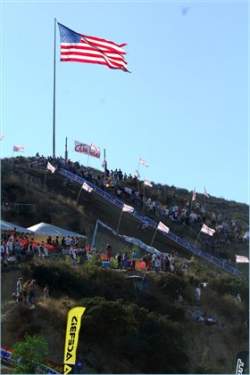 It's time for American motocross!
Otherwise, I think the 450 class will see some great racing behind James. What can
Timmy Ferry
do outdoors on that KXF450SR? I say, he'll do some damage. So will 'Saps. Beyond that, K-Dub, I.T., Andy Short, DV12,
Nick Wey
and the Alessi's are going to keep people from going home after the 2nd Lites moto.
So, what else? We also have the Prequel going down this weekend. A lot of guys like
Josh Grant
,
Kyle Cunningham
,
Steve Boniface
, Metcalfe, Andrew McFarlane, and the Alessi bros have been riding at "REM." The
Glen Helen
warm-up race should provide a decent preview for what we may see at
Hangtown
. A guy you might want to keep your eye on is Missouri's
Jimmy Albertson
too.
In addition, the WMA will kick off and each year those girls have been getting faster and putting on a better and better show. I wonder how the rivalry between reigning LL #1 Tarah Gieger and reigning WMA #1 Jessica Patterson has been over the off-season?
It's all coming our way in two weeks. Who's ready?
Thanks for reading, see you next week.