Privateer Profile: Jacob Marsack
Michigan's Jake Marsack is having a great year … at least he was until he found out that his team isn't going to the nationals this summer. Still, the Tamer Kawasaki rider made ten main events and finished as high as eleventh overall, at the Dallas round. We caught up with Jake at home in Flint as he was figuring out his summer plans.
Racer X: You had a pretty good supercross season this year, Jake.
Jake Marsack: Yeah, it was a good one for me, finally. I've been working hard at it. I trained really hard during the off season and it helped. After the opener I was pretty disappointed that I didn't qualify and I thought, Man, this is going to be a long season. But the next one went better and things just kept going from there. It seemed like I would make two mains and then miss one. I never qualified for three in a row. So I don't know what that was all about.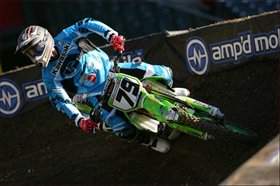 Jake Marsack made 10 SX main events in '07

photo: Simon Cudby

How many mains did you make this season?
I think it was ten.
How was the Tamer Kawasaki team?
They had a pretty good program for me this year. They didn't really know what to do with me at first because last year I didn't have that good of results. They had a good setup for me, though. The bike was great and the suspension from Enzo was good. I really like the Kawasaki, and I was happy to be on them.
Who else was on that team with you?
They had Eric Sorby, Bradley Graham, Ronnie Jackson, and Ryan Newton. So they had a lot of people, especially Lites guys. Me and Sorby were the only 450 guys.
Did Sorby ever try to take you out?
Yeah, actually, he almost took me out in Vegas, but I don't think it was on purpose. He knocked a Tuff Block out in front of me. I just tried to stay away from that guy.
Are you going to all the nationals with them also?
No, I just found out last night that they aren't going to any of the nationals. So I don't know what I'm going to do. I don't have a ride.
The original plan was to do all the nationals, though, right?
Yeah, it was. Up until yesterday, that was the plan. Now they're saying that they aren't going, so, I guess I don't have a ride.
With a lot of these teams folding up after the supercross season, it leaves a lot of riders without a way to get to the races this summer.
Yeah, I'll be doing them either way. I'll do it on my own if I have to. Most of the races are on the East Coast, so it won't be too far for me. I have a buddy, Brian Mason, that says he is going to do most of them, so I'll probably go with him.
It's really tough to make any money doing it that way.
Yeah, for sure. It sucks when you have a good supercross season and they still don't want to go because the sponsors don't want to pay for it. It's a bad deal.
Is Tamer folding for good or just not going to the nationals?
They'll do supercross next year. They wanted me to stay with them for next year, but it kind of made me mad when they said that. I'll probably try out for some other teams next year. I built my resume up pretty good, and hopefully I'll get a top-fifty national number after the summer. I already have forty points.
Where do you live?
I'm in Flint, Michigan.
Do you ever see Brian Swink around?
Yeah, I actually saw him not that long ago working in the gravel pit.
Did he still have a beard and a flannel sweatshirt on?
Yep. He still goes fast on a dirt bike too.
I'm sure he does. Swinkster is the man. So, who do you ride with back there?
Just my brother usually. He's three years younger than me and trying to get his pro license. We just kind of do it on our own. Sometimes I ride with Josh Woods, but he's in Georgia now. And Nick Wey lives in California now, so we don't see him much.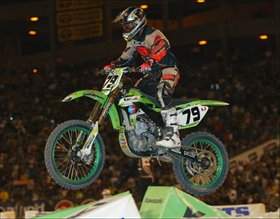 Jake Marsack needs a ride for the outdoor nationals. If you're interested, drop him an e-mail.

photo: Paul Buckley

Do your parents help when you get in a tough spot like this?
Yeah, they will. I'd rather do it on my own, though. They've helped enough already. I'll just take the money I made in the supercrosses and go racing. Hopefully I can make more this summer.
If you had to make a sponsor list right now, who would be on it?
Kawasaki has helped a lot. Leo Vince, Maestro, Answer, Vortex, Chris Becker, Carbon Fiber works, Dragon, Oxstar and Dunlop have been great and they will probably help me this summer.
If any teams have an opening for the summer and want to contact you, what is the best way?
Probably my e-mail: marsack21e@hotmail.com.
What was the highlight of your season?
Dallas, for sure, was the best race. I had problems with my flight and didn't get hardly any sleep the night before. I just made practice and ran sixth for a while in the main. I almost had tenth, but Gibson got me right at the end. Still, eleventh was the best I'd