Ricky Carmichael made his way on to the cover of our June 2007 issue of Racer X Illustrated, and in his honor we decided to print up some of these very cool stickers.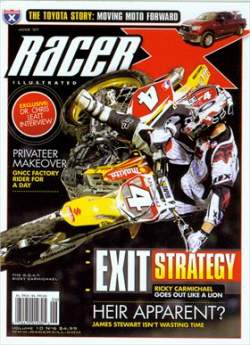 Hurry, because quantities are limited!
Want one? All you have to do is send a
self-addressed stamped envelope
to the address below and we'll send you one of these stickers. Quantities are limited and we cannot guarantee everyone a sticker, so hurry up!
Remember the postage rate increase starts on Monday, so be sure to use 41 cents on your self-addressed stamped envelope!
Send your self-addressed stamped envelope to:
Racer X Illustrated
Attn: RC Sticker
122 Vista Del Rio Drive
Morgantown, WV 26508