Number Cruncher: AMA SX Champions
Welcome to the Shift Number Cruncher. Okay, we have a big one for you folks this week! When James Stewart won the 2007 Amp'd Mobile AMA Supercross Championship last weekend in Vegas it marked the 34th AMA Supercross title in the 250/AMA Supercross class—36 if you count the ancient 500cc class of the mid-1970s (and now, when you really think about it….) Anyway, there have only been 10 numbers used to win them, and we're going to crunch them all!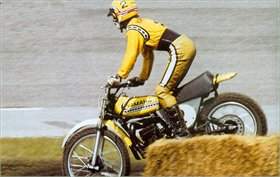 Pierre Karsmakers
photo: Courtesy of Moto Verte
The first ever AMA Supercross titles were won in 1974. "Titles" is plural because there was a 250cc and a 500cc championship up for grabs. In the 250cc class
Pierre Karsmakers
wore the #2 to the title, while
Gary Semics
donned #8 on his way to the big bore crown on a Husqvarna.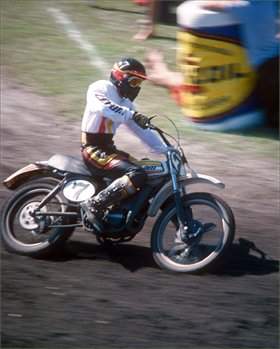 Jim Ellis
photo: Dick Miller Archives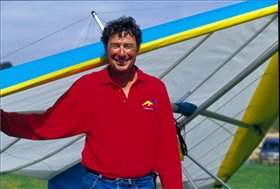 Steve Stackable
photo: Bryan Stealey
Number 7 turned out to be a popular number among supercross champions. Of course,
James Stewart
is the 2007 champ, but way back in 1975,
Jimmy Ellis
became the first rider to win it wearing the lucky number aboard his white Can-Am—his ride at the Los Angeles Superbowl of Motocross is featured in those Can-Am ads that run on NASCAR now. Meanwhile,
Steve Stackable
would grab the 500cc title the same year wearing number 4 on a Maico…. A Canadian bike and a German bike as SX champions? How strange is that!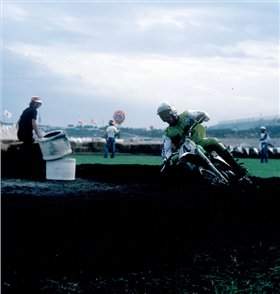 Jimmy Weinert
photo: Dick Miller Archives
Jimmy "The Jammer" Weinert
had one of the first flamboyant and truly colorful personalities in the sport. Between Steve Stackable, The Jammer, and some other guy - #4 is a very popular SX digit with champions!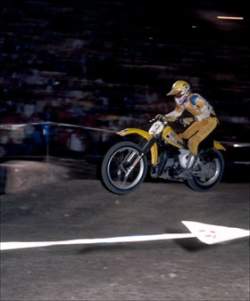 Bob Hannah
photo: Dick Miller Archives
Bob Hannah
won his first AMA Supercross championship wearing #2 in 1977. Hannah was just getting warmed up…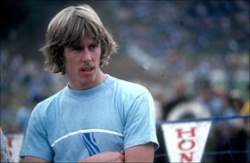 photo: Dick Miller Archives
"The Hurricane" was blowing at full force in '78 and '79. The only thing that could slow him down would be a broken leg suffered from a freak water-skiing accident in the fall of '79 (with Marty Tripes at the wheel). He would be the first rider to defend the number one plate.
Here's a crazy stat: 1978 would be the last year a rider successfully defended his title until 1990. In these days of extended dominance (Jeremy, RC) it seems unreal that no one repeated for so long – almost like NCAA basketball until those Florida Gators came along.
At 6'3"
Mike Bell
became the tallest man to ever win the supercross title in 1980. He did it as Yamaha's "replacement hero" for Bob Hannah. But Bell was much more than a replacement: He came from a strong SoCal motocross family and earned this title shot. If not for terrible knees, he might have won more than this single championship.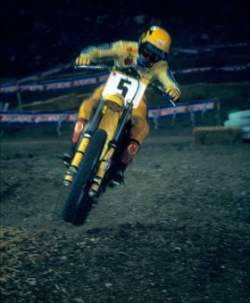 Mark Barnett
photo: Dick Miller Archives
Mark Barnett
would wear the #5 on his way to the '81 title. An interesting thing on Barnett was that he actually won the very first supercross race he enterec—and in the 250 class!—at the '79 Los Angeles Superbowl of Motocross.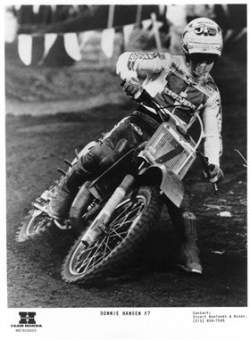 Donnie Hansen
Donnie Hansen
's 1982 title would mark the second time that #7 made its way to the supercross title. Sadly, Donnie would never have a chance to wear his #1 plate, as he would get injured in the off-season while riding in West Germany. He was preparing to ride for Team USA and paid a steep price: the rest of his career. Like Mike Bell, "Holeshot" Hansen remains just an all-around great guy.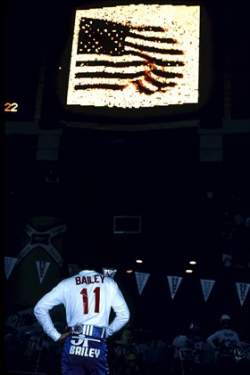 David Bailey
photo: Courtesy of Moto Verte
David Bailey
's 1983 title would mark the first and only time the #11 would win the championship. He would also use it to the win the AMA 250 Motocross Championship that season. His career ended in January '87, but his influence remains large and vital: Just check out how many guys are wearing Leatt-Braces now…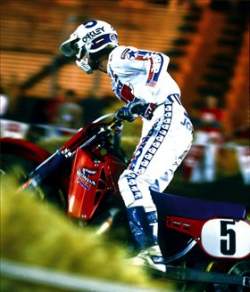 Johnny O'Mara
photo: Courtesy of Moto Verte
#5 made its way to the top of the heap three times in the history of supercross. The
O'Show
's 1984 crown being the second after Barnett.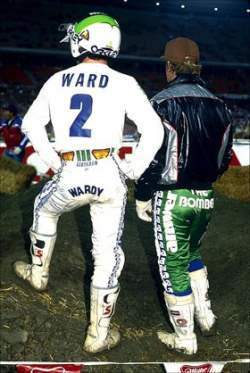 Jeff Ward
photo: Courtesy of Moto Verte
Jeff Ward
, wearing #2 would go on to win the 1985 title for factory Kawasaki. His teammate for '85 was none other than Mark Barnett, who brought his 42 career wins on a Suzuki over to Team Green. Mark still had one more left in him, as he would snap up victory at the '85 Atlanta Supercross.
In one of the sport's epic duels,
Rick Johnson
would defeat his Honda teammate David Bailey and become the third rider to win the championship wearing #5. If you've ever watched a video of the Anaheim '86 SX battle (won by Bailey) or read the March '06
Racer X Illustrated
feature, then you know what an amazing race and championship fans saw that season.
RJ would get knocked out at the first round, leaving
Wardy
to run off with the title wearing the #3. Pretty cool to think that exactly ten years later that number would do another Kawasaki rider some good…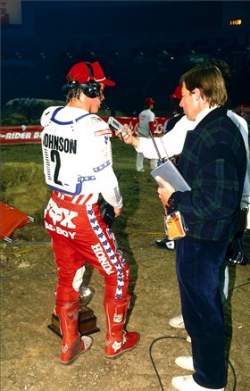 RJ #2
photo: Courtesy of Moto Verte
1988 was arguably Rick Johnson's greatest year of racing. Remember how he would run the #2 on top of the cut-out #1? Unfortunately it would mark the last year he would win any titles. Trouble was waiting for him at Gatorback Cycle Park…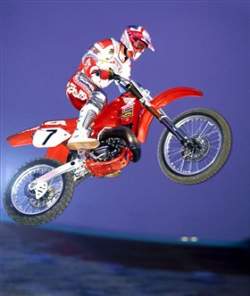 Jeff Stanton
photo: Courtesy of Moto Verte
Number seven rears its head again! This time it's Michigan's
Jeff Stanton
wearing it to his first of three supercross crowns. Stanton was the lucky recipient of RJ's broken wrist after a collision with privateer Danny Storbeck at Gainesville's first national, after RJ won the first five SX races in a row then crashed in Atlanta, giving Stanton his first win.
In 1990 Jeff Matiasevich and Damon Bradshaw came out swinging but ended up crashing out. In the end, Stanton would successfully defend, proving that he had grown as a racer and an athlete in a short period of time.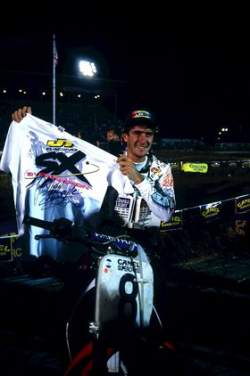 Jean-Michel Bayle
photo: Courtesy of Moto Verte
1991 will always be known as "The Year of the Frenchman."
Jean-Michel Bayle
pretty much rewrote the book on how to ride supercross in '91. It's hard to say if anybody was as effortless or precise as #8 was this year.
1992 would see Bayle's bitter rival and teammate Stanton win back the title. Bayle and Stanton didn't like each other and it was this animosity coupled with simple burnout that began to shove the mega-talented Frenchman away from the sport, along with Damon Bradshaw. Bayle wanted to go road racing; Bradshaw just wanted out of the spotlight. Both soon got their wish…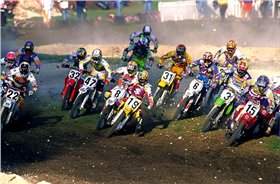 Jeremy McGrath #15
photo: Courtesy of Moto Verte
They knew he would be fast, but in reality nobody really saw
Jeremy McGrath
coming in 1993. Mike Kiedrowski,
Mike LaRocco
, Damon Bradshaw and Jeff Stanton were still really fast but "Showtime" pulled holeshots like this one all season to dominate '93 and win his first of four consecutive championships—something no one has ever matched. He would wear #1 in '94, '95 and '95, though his switch gear from Sinisalo to Fox.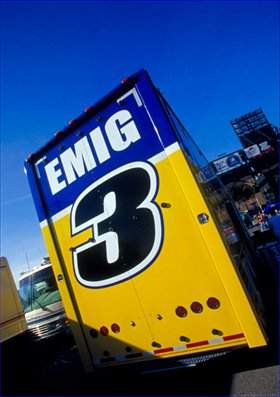 photo: Simon Cudby
Jeff Emig
won a very hard-earned title in 1997 wearing #3, taking advantage of Jeremy's problems with his new Suzuki and a Doug Henry crash with Jimmy Button that knocked the points leader out. With this being the Shift Number Cruncher, I should note that this year marked the introduction of Shift riding gear. The super simple yet bold design quickly on caught and marked the motocross fashion for that era.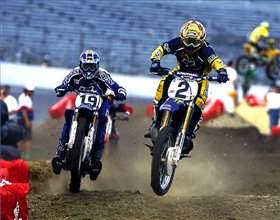 McGrath #2
photo: Courtesy of Moto Verte
Most had written him off but McGrath was simply starting a new steak in 1998, as he would own the crown for the next three years—this time on Chaparral Yamahas! He would win the next two years with #1, as well as another gear switch, going from Fox to No Fear.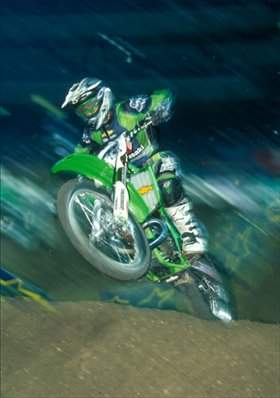 photo: Simon Cudby
The
Ricky Carmichael
Era officially begins. Between 2001-2007 the #4 would win 48 main events and five SX titles (three different brands—Kawasaki, Honda, then Suzuki—and all in Fox gear). Respect the 4—forever!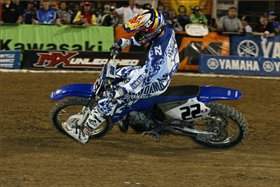 photo: Steve Bruhn
Chad Reed
bested Carmichael in the last six races of 2003, then with Ricky taking the '04 SX season off to repair a damaged knee, there was nobody stopping him. Would he have won it if Ricky were there? Not if the outdoor nationals that followed were any indication: Carmichael stepped back up to the starting gate and won all 24 motos.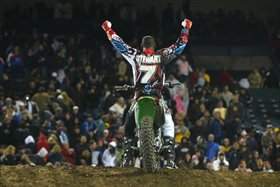 photo: Steve Bruhn
The
James Stewart
era officially begins. How long will he reign? That's going to be the story of 2008!
Number Breakdown by #'s, SX titles and the riders that wore them:
#1: 7 (Hannah x2, Stanton, McGrath x4)
#2: 7 (Pierre Karsmakers, Hannah, Ward, Johnson, Stanton x2, McGrath)
#3: 3 (Mike Bell, Jeff Ward, Jeff Emig)
#4: 7 (Stackable, Weinert, Carmichael x5)
#5: 3 (Barnett, Ward, Johnson)
#7: 4 (Ellis, Hansen, Stanton, Stewart)
#8: 2 (Semics and Bayle)
#11: 1 (Bailey)
#15: 1 (McGrath)
#22: 1 (Reed)