Between the Motos: Jimmy Button
Seven years after a career-ending supercross injury, Jimmy Button got hurt again at an event involving supercross: The Banquet! In case you didn't hear, "Button Fly" tripped on Sunday night while trying to help get his friend Ernesto Fonseca to the casino floor, suffering a broken femur. We called the former Suzuki and Yamaha factory rider and Grand Prix racer—now an executive with WMG and The Familie—to send our best and find out what the heck happened.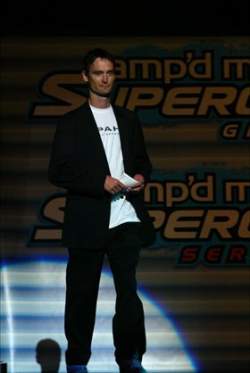 Jimmy Button at the SX banquet last Saturday night

photo: Steve Bruhn

Racer X: Okay Jimmy, what the heck happened?
Jimmy Button: Well, the banquet was over and they had a DJ going and all that stuff. We were there for awhile, just running around talking to people. And then everyone, like me, Reedy, Byrner, LB (Larry Brooks), we all decided that we were going to bounce and go up to the casino or cruise to the Amp'd party at the Palms. So me and Byrner went down to grab Ernesto, and we got him and took him over to where the wheelchair elevator was. We took him up that and were just walking out the of the hall, and with my right leg, every once in awhile I'll catch my toe, so I kind of stumbled. Normally I can get my left leg out in front to stop me from crashing, but I just wasn't able to do it and went down on my right side and snapped my femur in two.
Damn!
Yeah.
How did that feel?
I've been hurt a lot, and this was like nothing I ever felt in my life.
Of all the luck, to get hurt at a banquet? So, are you still in Vegas?
Yeah, I'm actually still in the hospital right now. They operated on me Monday morning and put the femur back together.
Do you have a rod in the leg now?
No. It kind of broke the head of the femur off that goes into the hip, so they just put five screws and screwed it back together. They said the main reason why it probably happened was when I was in the hospital originally, when I got hurt in 2000 (at the San Diego SX), with all of the steroids they put you on to keep the swelling down and things like that, it really makes your bones pretty brittle. So it was one of those things where I hit the wrong way at the wrong angle. It was a super-clean break and everything went together really good in the surgery, so that's good.
Well, I send you the best from everyone here at Racer X plus my mom and all… So, what is the short-term outlook?
I already got up in a walker today; I can't put my right leg down, but was able to get around. I'm probably going to be laid up for a good five or six weeks without being able to do very much, especially since my balance already sucks to start with. But they said probably eight to 10 weeks before I should be able to walk around normal again. More than anything, I'm so pissed I'm going to miss Sacramento! The Lites class is going to be so good, and I was really looking forward to that. I wanted to cheer on all my guys that I look after.
Speaking of all of your guys, you mentioned Mike Byrne. Is he going to ride a 450 or 250F outdoors?
I don't know. Unfortunately he's not my guy, he's one of Bobby Nichols' guys, but from what I was told he was going to ride the big bike outdoors.
Oops, I knew that… And Chad Reed is going to ride waves in Australia?
[Laughs] Yes, that and V8 supercars. I think for a fact that he's going to ride Budds Creek to get ready for the des Nations.
Cool. I noticed he's been wearing the green, white and yellow Australian gear. It will be good to see him wearing that in September, for sure. Australia could be packing a wallop…
They could be a dark horse that could come in there and surprise some people, for sure.
Ryno tells me that Brett Metcalfe is absolutely flying, and then you have Byrner or maybe Andrew McFarlane—and those are just the guys here in the States right now. Tell me about another one of your guys: Tyler Bowers. When are we going to see him make his professional debut, and is he out of the AMA's doghouse?
He's still in the doghouse, but his suspension is rescinded on the 29th of May. And so if all things go kind of as planned, and from what Ryan Holliday (AMA Sports) said, he is going to give him an endorsement for his license, and he will race Southwick on a 450.
He's a big boy. He's the biggest 15-year-old since Gene Naumec.
Well, he's 16 now. But when he was 12 he was riding big bikes! But that whole situation with Tyler, it was a bad deal, and I think everyone in the camp learned a pretty valuable lesson from it, and he will go into his pro career and have some good success.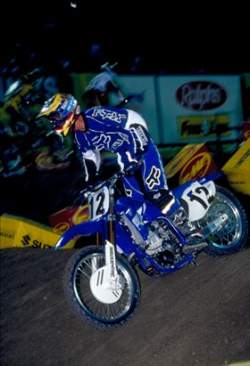 Button also rode for Team Yamaha

photo: Simon Cudby

I think everyone will give him the benefit of that doubt. That was just something that got out of hand… kind of like Erick Vallejo's speech at the banquet.
[Laughs] The funniest thing about that was that at rehearsal Sunday morning, we were all talking and wondering if Vallejo was going to pop up and speak on stage, because Live Nation was trying to limit how long the speeches were. But Ricky didn't get the memo, though he deserves his time on the stage! They were trying to limit the whole deal to two hours…. At one point we were trying to find Goose to see if he could go give him the two-lap board.
[Laughs] Well, if there are two people in this industry who deserve time at the podium to speak, one is Ricky, and the other has got be Vallejo, because you don't know what he's going to bring!
Me and LB were talking about Vallejo, and we just kind of laughed about it. It was pretty funny for sure.
Well, what about James Stewart? The thing he was doing in Las Vegas—jumping that whole whoops section—was just unreal. What can Chad or Kevin or any of these guys do to reach that level for the time we get back to Canada in December?
Seriously? Be willing to die. I mean, that's what you have to do to ride with that guy on that level. The stuff he was doing on that track, I never even thought about anything like that—ever! Like you said, when he was hitting that jump in the whoops and jumping over the rest of the whoops? Unreal.
Well Jimmy, all the best on speedy recovery, and thanks for taking time to talk to us.
Thank you so much, Davey. I've gotten tons of phone calls and emails, so thanks everyone for keeping in touch with me. Sorry I had to give everyone a buzz kill at the banquet!