Las Vegas!
Can't wait to see the last AMA Amp'd Mobile Supercross of 2007 tomorrow night—from my couch. Normally, that's not a great thing—Vegas means bright lights, wild parties, pretty girls, huge bar tabs, sleep deprivation, pounding headaches, a sense of guilt and regret.…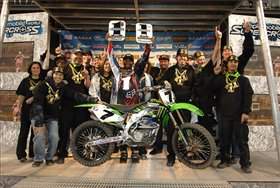 Team Kawasaki started their Vegas party in Seattle
photo: Carl Stone
Actually, sitting in front of my giant 42" (okay, not so giant) TV and drinking a $1 bottle of Stella and watching live (and free) on SPEED sounds like a pretty good deal after all. Thank goodness for modern technology!
Make sure you tune into SPEED tomorrow at 10 pm EST/7:00 pm PST for the live broadcast of the 16th and final round of the series. The four-hour coverage includes a 30-minute preview show, in addition to a wrap-up show. The following day, CBS Sports will recap the 2006-'07 Amp'd Mobile Supercross season with a recap show airing at pm 1:00 EST/10:00am PST. This will be something to keep on your TiVo for a long time.
Just because the race is live, doesn't mean Weege and Holley won't be doing their thing. Tune into the SX Live! webcast tomorrow on www.supercrossonline.com.
As you know, James Stewart is the 2007 AMA Amp'd Mobile and FIM Amp'd Mobile World Supercross Champion, uniting the titles again, just like Ricky Carmichael did in 2005. Stewart's on a six-race winning streak, he's scored 360 out of a possible 375 AMA points so far, and he's having a season that almost matches the best of Jeremy McGrath ('96) and RC ('01).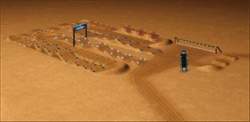 That's one really, really long start
So there's not a lot of drama there. In the SX Lites class, though, the Dave Coombs Sr. East-West Shootout should be a real barnburner. In a race that Live Nation graciously named after my dad when he passed a decade ago, it's Monster Energy/Pro Circuit Kawasaki East vs. West, with fast guys like
Ryan Dungey
,
Jason Lawrence
,
Tommy Hahn
and
Ryan Morais
thrown in. Who will win? That's this week's Troy Lee Designs/Racer X Online Poll Question.
Vote here
.
With that poll, Bad Billy Ursic also somehow managed to ruffle some feathers. He asks readers who they think will win, then offers the names of all the race winners, plus the fastest regular contenders: Morais, Lange, Lawrence, Hahn.…
But left off was Mike Alessi, which earned us some surprising letters. No, we're not surprised that #800 has folks out there who think he can win; we're surprised that while Alessi had an obviously poor SX tour (seventh in the East), we didn't receive any letters about third-ranked West rider Josh Hill, who was left off the poll. Bad Billy indeed.
Billy's response: "Those other guys are all under 'other' on the poll."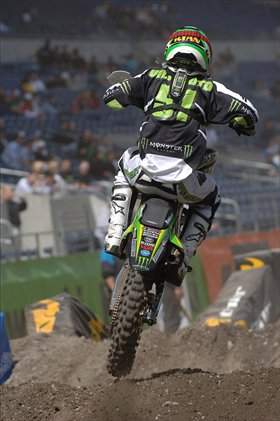 Ryan went 7-for-8 out west this season, including last Saturday's home-state win in Seattle
photo: Carl Stone
Stewart has a cool feature in
USA Today
where they discuss his being the first African-American superstar in supercross, as well as compare him to golf god
Tiger Woods
. At one point, Stewart's own golf new game comes up:
"I've got more clubs than Roger Dunn's [golf shop]… I try to go in and buy a golf game and it doesn't work," jokes Stewart. "I'm like one of those golfers who have like good days and bad days, a good hole and a bad hole."
And you just know it's your week when you clinch the AMA Supercross title, and then the very next week's Nextel Cup is named after you—sorta. While James Stewart is putting the finishing touches on this near-masterpiece, the Jim Stewart 400 Nextel Cup race at Richmond will be on. Turns out that Jim Stewart, a 34-year-old whiskey drinker from Louisiana, won Crown Royal's essay contest and the chance to see his name atop a Nextel Cup race.
And speaking of stock cars, Andy Bowyer's brother Clint (also a Loretta Lynn's graduate) is featured in one of those NASCAR "Road Test Re-Evaluation" ads, with these instructor comments: "Mr. Bowyer recently caused a multi-car pile-up in Daytona after trying to squeeze past two vehicles. Bowyer's car flipped and skidded on its roof before bursting into flames. After exiting the wreck, Bowyer calmly threw his driving gloves into the fire and left the scene."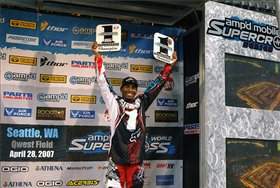 He's got two #1 plates, but can he handle a 2-iron?
photo: Carl Stone
Is it all possible that both Stewart AND Villopoto could lose tomorrow night? Doubtful, though any NBA fan (including
DV12
) will tell you that upsets can and do happen: Last year's two NBA finalists, the Miami Heat and the Dallas Mavericks, BOTH lost in the first round of this year's NBA Playoffs. The Heat were hurting all year long, but the Mavs had the best record in the league. Just keep that in mind.
Villopoto quietly became the first man to win an AMA supercross wearing a Leatt-Brace over the weekend. With the titles all wrapped up in both classes, we might just see a few more guys show up wearing it in Las Vegas as well.
A rider that seemed upbeat all day long was Kevin Windham. Carl Stone (who lent us many of these great photos from Seattle) wrote, "I had a feeling K-Dub was going to have a good night. In the pits on Saturday he seemed very happy and upbeat—and we all know how well Kevin rides when he is in the right frame of mind. Sure enough, later that night he came out and rode a near flawless race and put himself on the podium with a heat-race win. That was a sign of things to come later that night."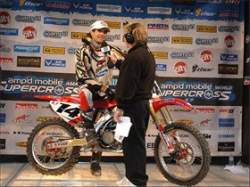 Kevin was stoked to get his first heat race win of the season in Seattle
photo: Carl Stone
It's been a below-average season for the veteran from Mississippi. Here's hoping he takes the two weeks off before
Hangtown
to get his outdoor groove on, then shows up and gives Stewart all he gave Carmichael back in 2003.
Then there was Davi Millsaps. According to C-Stone, Davi seemed to struggle all day in practice on that track, as did most of the riders, but was still able to tick off some impressive lap times just behind Stewart. During the main, Davi went off the track and nearly crashed but somehow managed to keep the bike from falling completely over. He remounted and put in some aggressively intense fast laps to wind up a career-best second. After the race, C-Stone said to Davi, Where the hell did you get all that speed tonight? His response? "He just looked at me and smiled!" Stone says.
Maybe he was smiling because he knew what was in store for team boss Erik Kehoe this weekend in Las Vegas. Fox Racing's Warren Johnson picks up the story here:
"A little bet was made between Erik Kehoe and Davi Millsaps a few weeks ago. Davi's been sporting a 'Duke' butt patch on his gear (which is his nickname) and at that point, had not been riding up to his abilities. Kehoe, trying to fire up his guy, suggested that Millsaps should change his butt patch to read 'Daisy Duke!' Davi fired back and said he would, but if he did do better, Kehoe would have to wear a pair of 'Daisy Duke' shorts at Las Vegas! Guess what … Millsaps won the bet!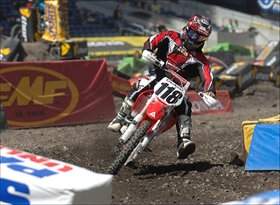 Davi looked good in Seattle, so now Kehoe has to pay the prize in Vegas!
photo: Carl Stone
"
Fox Racing
has customized a pair of the Honda crew shorts just for Kehoe to wear in Las Vegas this weekend," adds WJ. "We took over 8 inches off the inseam of a standard short just for Erik. These things are short!"
Look for hot-shorts shots of Kehoe … man, I hated to type that. Look for funny shots of Kehoe on TFS' Weekend Window, which is already open with news of the first DNF of the weekend.
Seriously, Team Honda has a lot of good momentum heading into the outdoors right now with a 2nd, 3rd and 5th in Seattle, not to mention Tommy Hahn's 3rd in the final East Lites race the week earlier in Detroit.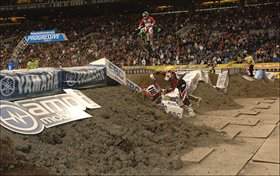 Davi somehow saved this and managed to take second in the main
photo: Carl Stone
But the news wasn't all good for Honda this week, or the industry in general. According to
Powersports Business
, "For the third straight year, Honda Motor Co. is reporting reduced sales of new motorcycles, ATVs and PWC in North America. The manufacturer's 2007 fiscal-year report shows its powersports segment sales dropped 18 percent and its motorcycle sales fell 15 percent compared to its 2006 fiscal year. Those numbers represent new unit sales in Mexico, Canada and the United States for its recently concluded fiscal year, which ended March 31."
Also, according to the report, the 503,000 powersports vehicles Honda sold in North America during its '07 fiscal year is a 21 percent drop from two years ago.
Everyone here at Racer X would like to give Mike Church a get-well-soon wish. Mike and his father, Greg, were Racer X Gas Card sponsors for this weekend's Las Vegas SX, but unfortunately, Mike received fractures to both his left tibia and fibula last weekend, and they will not be able to make it.
While everyone seemed to know this was coming, the first official report came on www.MotoVerte.com:
Scoop ! La recrue américaine du team Honda Martin a fait ses bagages en début de semaine et met fin à sa participation au mondial MX2 ! Blessé lors des deux premiers débats, il n'avait inscrit aucun point pour son premier Grand Prix au Portugal. On peut comprendre la déception de Paolo Martin qui, avec la nouvelle blessure d'Antoine Méo au genou la semaine dernière, cumule les emmerdes…
Our friend Shenzi Rubani translated it as such:
"Scoop! Team Honda Martin US recruit packed his bags early in the week and ends his participation in the World MX2 championship! Injured during the first 2 rounds, he had not scored any points in Portugal. We can understand the disappointment of Paolo Martin who, after the new knee injury Antoine Meo suffered last week, is having problem after problem."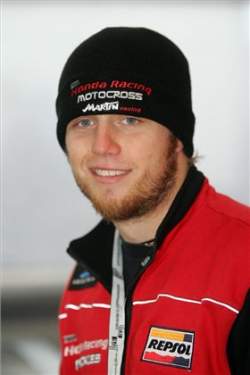 Ryan Mills is back home and unemployed
photo: Steve Bruhn
But before Shenzi got his head wrapped around the translation,
Guy B
from Vital MX ran it through his own translating program:
"Scoop! The American recruit of the TEAM Honda Martin made his luggage at the beginning of week and puts an end to its participation in the world MX2! Wounded at the time of the first two debates, it had not registered any point for its first Great Price in Portugal. One can include/understand the disappointment of Paolo Martin which, with the new wound of Antoine Méo to the cumulate the emmerdes…"
That's good stuff!
So Ryan Mills is back in the States, but it sounds like Sean Hamblin is staying. In an interview this week, the struggling Team Swift Suzuki rider was asked what he thought of the pace over there.
"I expected it to be this fast, I watched videos and stuff," he answered. "I saw Stefan [Everts] and all the guys, so I had a clue of what was going on. But what impressed me was the fast lap thing; everyone goes out and puts in one fast lap, and that is that, as I do my fast lap after two or three laps. I just have to learn to get out there, and do my fast lap right away. Other than that, I expected everyone to do what they have already done."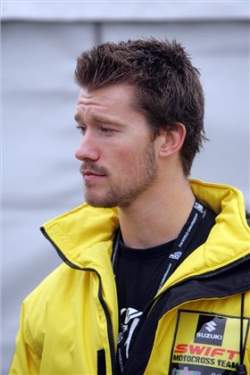 Mills is gone, but Mike Brown and Sean Hamblin (here) are staying in Europe)

photo: Steve Bruhn

SX Live! announcer Jason Weigandt just phoned in to give us the scoop on the press conference that was held this morning. James Stewart, Chad Reed, Tim Ferry, Ryan Villopoto and Ben Townley were all in attendance, but much of the focus was on the Ben Townley-Ryan Villopoto showdown this weekend. When asked if BT and RV hang out at all, Townley said, "I haven't seen Ryan since December. He lives in California and I'm in Florida, and we really don't hang out besides that."
Villopoto was asked if he thinks he could beat Stewart when he moves up, and he replied, "I don't know. I saw how much he [Stewart] struggled when he first moved up, so I can't really say right now."

Weege also said that all five riders put in some laps, and the whoops were gnarly. In fact, Stewart actually crashed in them, and the Dirt Wurx crew tamed them down afterward.
We also asked about the start, and he said that the starting gate is outside the stadium and the riders go 240 feet on grass, and then make a left turn and go 560 feet to the first turn, so it's not actually an 800-foot straightaway. But it's LOOOONG….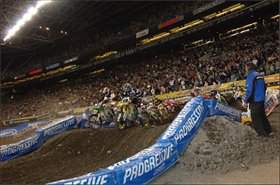 Gibson or Tedesco? It was almost too close to call!
photo: Carl Stone
Speaking of starts, the 450 holeshot last week almost saw the Progressive Direct Holeshot check get split in half.
Jeff Gibson
and
Ivan Tedesco
were so close to the line at the same time that Ivan asked
Carl Stone
to see his camera for a possible appeal, as the money went to Cernic's Racing's Gibson. If you look at this photo, the white line is just behind their tires.
With consideration to this weekend's listed 800-foot-long start stretch in the LVSX, these are some of the gnarliest starts in the history of the supercross we could think of:
At the L.A. Coliseum in '74 and '75, when promoter Mike Goodwin had a start stretch that ran the length of the stadium, first into a double ('74) and then into a whoops section ('75), only off the start the second year they dog-logged left and around the whoops, Marty Smith got confused and went straight into the banners and cartwheeled violently—one of the all-time spectacular start crashes!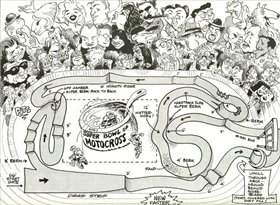 Here's an artist's rendering of the '74 Superbowl of MX track at the Coliseum
The old Loretta Lynn's was a fifth-gear affair that bent right, then swept left, and kids like
Ernesto Fonseca
,
Travis Pastrana
and
James Stewart
were wide-open for about 10 seconds before they got to the real first turn! But that since been changed and shortened, and now you have more of sweeping first turn before you go around the tree.
Andy Bowyer says the Las Vegas World Mini Grand Prix track that ran in the mid 1980s was fifth-gear pinned into a gigantic ski jump. The 30+ mph cross winds sent many a holeshot artist to the sand.
Mammoth Mountain has a fourth-gear wide-open uphill grinder that leads into a half-mile whooped-out ascent up the mountain. Most mortals have arm pump by the time the reach the top on lap 1!
And I remember talking to Bob Moore about the time he raced a 125cc Grand Prix in either Switzerland or Czech Republic maybe where he told me it took 18 SECONDS to get to the first turn on a works KTM 125.
But the worst start of all time, in my humble opinion, was Lake Sugar Tree. Straight downhill, 250 feet, off-camber right-hander. Pile-ups were EPIC.
Okay, here's Ping:
I received a butt-load of responses about the 350cc issue that we talked about in last week's Racerhead. Many people agreed with what the AMA is trying to do, others disagreed, and one jerk took the opportunity to express his dislike for me personally. Whatever. I also had one guy correct me about David Bailey. I thought that his crash at Huron was on a 500, but after speaking with DB, I got the scoop.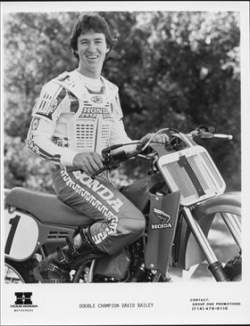 Ping talked to David Bailey about his crash in '87
"I was on a 250," said Bailey. "I was going out on the 500 after that practice to continue pre-500-season testing so they would have time to make the changes before the actual testing began, but I never made it. Just spent a shitload on a license for the Golden State series and entries for both classes with Sondra [Peters] and made it about three laps. Oh well."
David said that while the last year has been extremely difficult for him he is doing very well, spiritually. He is one tough SOB. We also got to talking about Supermoto and he sent me this picture of him in Italy.
"This is from my one and only Supermoto gig in Italy. I smoked Lawson, Malherbe, Geboers, RJ and Rinaldi on their trick bikes. That was actually my last race."
The Icon still has another surgery to go before we'll see him at the races again. Keep him in your prayers. His daughter gets behind the wheel of a car soon. Yikes.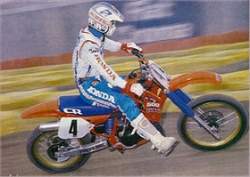 David Bailey racing "Supermotard" back in the days
photo: Bailey archives
Speaking of Supermoto, the Troy Lee Designs/Red Bull Honda team introduction was this week at TLD headquarters. I was there covering the event, which was really strange because I am also one of the team's riders. Have you ever tried taking a picture of yourself and then having a little Q&A with a tape recorder? I raised a few eyebrows as I sat in the corner and recorded a conversation with myself.
Anyhoo, Wardy and Cassidy Anderson (last year's Supermoto and Supermoto Lites champions) are returning and will compete on 450s while David Pingree and Troy Lee will race the Lites class…. Did I just refer to myself in the third person? Yes, I did. And David Pingree will undoubtedly get an earful from Steve Matthes who is intolerant of such behavior. TLD also unveiled their 2008 gear line which looks awesome.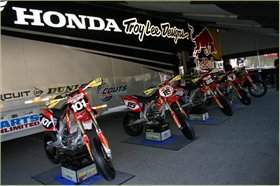 Ping's new home: Troy Lee Designs Honda
photo: Ping
For the first time in twenty years professional hillclimbing is back in Southern California. Round 2 of the NAHA/Suzuki/Racer X hillclimb Championship is being held this weekend at
Glen Helen
Raceway in San Bernardino. I met
Kurt Caselli
and
Robbie Peterson
at the hill early Thursday morning… I mean, really,
really
early…. to do a live news piece for KTLA channel five news in the greater Los Angeles area.
Red Bull KTM off-road star Caselli is having a go at hillclimbing this weekend with the help of the Peterson family. He's going to have a blast, and after watching him make a few passes up the hill, I can tell you that he is going to do well also. He did lose a bet that he could get up the course on a 250F. (Caselli, you owe David Pingree $20.… Wow, I did it again.) Qualifying in Saturday and all pro finals are Sunday. If you are still in the area and not in Las Vegas, check it out.
That's it from Ping…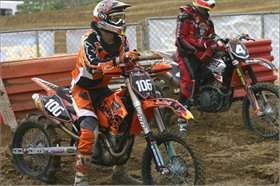 Kurt Caselli takes a look uphill

photo: Ping

Simon Cudby went down to Baja, Mexico, this week with the crew from MSR. They put in about 400 miles off-road in three days, and Simon said that Malcolm Smith is as fast and smooth as ever. Simon shot a Racer X Film of the trip, which can be viewed at www.racerxfilms.com with guest host Matt "Six-Nine" Eagleton. A big thanks to MSR's Dave Casella and Randy Valade for keeping our shooter upright and home safe for the Las Vegas SX this weekend.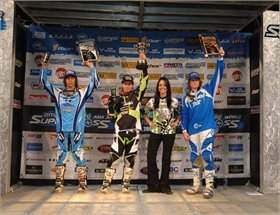 VJ-Law, Villo and Josh Hill at Seattle
photo: Carl Stone
Back to the "350cc" thing. I posted this on Mototalk when someone asked whose idea it was in the first place to make it 450, or 426, or whatever, as both
Steve Whitelock
and
Roger DeCoster
said they were initially against it:
When Yamaha presented the plan to race four-strokes, the pitch was that it had to be 400+ or the bike would not be competitive, and if it was not competitive, why make the bike in the first place?
Remember, this was "green sticker" time and the fear was that two-stroke engines (along with backyard barbecuing, Jet Skis, etc.) would be banned by 2006. Had any of the OEMs showed their cards -- that the four-stroke bikes would become that much faster that much quicker -- I don't think anyone would have voted for 400+. Also, I think everyone guessed that Henry's career was kind of over, and that he was just the guinea pig for four-strokes, and not the world-beater he would re-invent himself as on the thumper.
Also, Whitelock was not there; it was Duke Finch as SX/MX manager, Ed Youngblood as AMA president, and just a whole different set of people. (So) I don't think anyone is "lying," they just weren't in the same positions that they are now (DeCoster excluded) and hindsight is 20/20.
One person who warned that the four-strokes would be much, much faster than anyone knew was Eyvand Boyesen. I remember him telling me that there was so much further to go on four-strokes when the manufacturers went two-stroke at the end of 1960s. It wasn't really a warning, just a "careful what you wish for." I think it's safe to say Mr. Boyesen was right.
A note from Managing Editor
Bryan Stealey
: My buddy
Josh Williams
recently turned me on to a new book by his friend
Roscoe
called
Travels with Roscoe
. It's a self-published, unedited, Kinkos-type book, but it's a really funny, interesting read—especially if you have a twisted sense of humor. Here's a blurb from a little review I wrote for another site:
"Travels finally arrived today. I immediately read it cover to cover. It's fabulous. It's pure. It's about chimps and assplosions and fishing and belligerent Amish men and jail and Confucius and Steve McQueen and Tequila and Tang and so much more … but best of all it's about motorcycles. It's about Bob Hannah and Chuck Sun and, again, Steve McQueen. And Travels with Roscoe contains perhaps the most unique description of a motorcycle crash that I've ever read."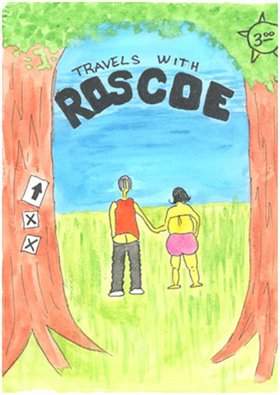 This is a very cool read
This is one of the most unexpected motocross-related items to come across my desk in a long time, so if you have an extra $5 (and that includes shipping), consider taking a chance on it. If it's just not for you, pass it on to a friend.
Order here
.
Matt Wozney has posted some cool Loretta Lynn's Area Qualifier action from Southwick's April 21-22. Check it out.
From Ryan Cropley: "I wanted to let ya know that I have given my notice with Sole Technology (etnies). My last day in the office is tomorrow, May 3. All is good and my experience here has been awesome! Thanks to everyone I've worked with and the best of luck to you all in your current and future endeavors."
Steve Matthes is at it again. Our over-the-border and almost-out-of-bonds friend from Canada continues to lay out some terrific insight into supercross while also wrestling with his man-crush on Tim Ferry. Check out his "Observations from the Space Needle" report on Seattle right here.
And don't miss Danny Brault's Frid'Eh report from Racer X Canadaland.
Finally, Willard wasn't the only fast orange two-stroker out there racing last weekend, as we found out in a note from P.J. Allan of MXRacePix.com: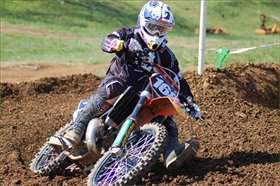 Zach Osbrone
photo: P.J. Allan
"Just thought I would send this photo of "
Lil Oz
" over to you. It was taken at Muddy Creek raceway this weekend at one of the many stops in the Victory-Sports Mega Series. Dude was on the gas needless to say but the somewhat surprising and now unusual sound of his Two-Stroke was even more exceptional than his riding ability. Word in the pits was that KTM is having their riders practice on the two strokes for awhile and i have to say it didn't seem to lack anything in the performance department. It was pretty interesting to me and i thought I would relay the message to you. Thanks for your time and thanks even more for your exceptional magazine and website."
Here's wishing Ping good luck in the MiniMoto SX tonight at the Orleans Arena, and we'll have much more on that event next week!

And Weege, you better start gambling if you're going to be able to afford this.
That's it for now. BIG news on the AMA Toyota Motocross Series next week—a new team is forming. Thanks for reading Racerhead, see you at the races.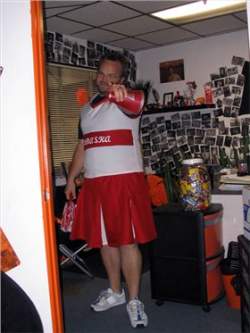 Yes, Spy's Bob Ketchum lost a bet.
photo: T.J. Parcells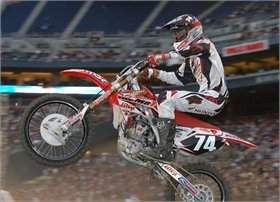 MB1's Kyle Partridge will be looking for redemption in Las Vegas
photo: Carl Stone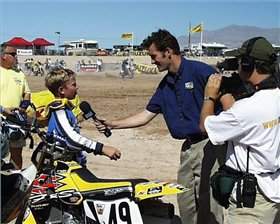 A young Mike Willard gets interviewed by DC back in '99 at the Suzuki RM Cup
photo: Jason Powers