Viva Las Vegas
photo: Steve Bruhn
Hello, everyone, and welcome to the Rev-Up. Time for Vegas, baby! Established in 1905, home of a thousand Elvis impersonators, and site of Tupac's last party, Sin City is a pretty cool place to hold the last supercross of the year. It's funny; I always ask people if they have been to Vegas, and they usually go on to tell me how crazy it is. My next question is typically, Have you ever been there while the supercross is in town? If you haven't, then you haven't really seen or experienced the town at its full potential: the city rolls harder than ever when the supercross circus comes to town. And we have quite the little dust-up on our hands as Saturday night draws near. With the longest Vegas track ever constructed, with a projected 1:15 lap time and an 800-foot start stretch, we should be in for quite a treat. As Mills Lane says, Let's get it on!
Dave Coombs Sr. East-West Shootout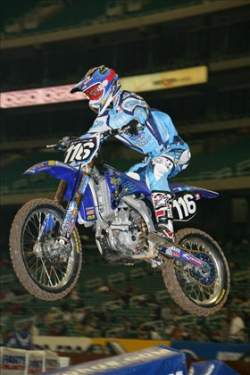 Out for revenge
photo: Simon Cudby
Let me give you a little history on this event. Dave Coombs Sr. came up with the idea for the regional 125 class in 1985. He did it as a way to get East Coast guys more of a chance, because back then it was almost all California when it came to getting rides and attention. This rule helped change that, as did Loretta Lynn's, of course. The great Rupert X Pellett put it best when describing Big Dave when he said that he "influenced the influential." Damn right.
Moving along, Mitch Payton has to be smiling big with RV Park and BT101 pushing to the starting line with 1W and 1E attached to their number plates. The possibility of those two cats finishing 1-2 isn't much of a stretch of the imagination. Ah, but there are some dogs that are barking to get a piece themselves. Let's talk about who has the best chance to make the podium.
For starters, it is going to be super-hard pan. I'm talking blue groove, baked adobe, asphalt. This gives the West Coast boys a little bit of an advantage, as they ride on this type of track surface at their supercross tracks all week. On the other hand, most of the fast guys in the East are either from California or do most of their supercross testing out West. That said, it will be the beasts from the East with silky-smooth throttle control that have the best chance. My predictions for the East brigade will be a gutsy performance from Ryan Morais (who always rides well at Vegas), a surprise ride from Mike Alessi, and a come-from-behind charge from Tommy Hahn. Townley and Dungey will either show up and blow up or have off nights. Also, Darcy Lange could be a major factor.
In the West, there will be no stopping RV Park. I am not quite sure where to place J-law, J-Grant, or Li'l Hanny. Either one of those guys could make the podium. When you think back to the McGrath Invitational, which was also really hard-packed and slick, Josh Grant was wicked fast. But, man, I just don't know. Long track and a long, long fifteen laps. With the most stacked class of tiddler pilots ever assembled, I think we may see some big surprises in this race. There is an obscene amount of energy surrounding these cats. It could get wild.

Supercross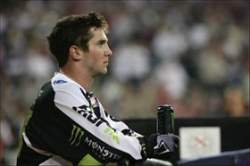 Dark horse pick for the win
photo: Simon Cudby
As much as I want to say that James will run away with this one, I have a funny feeling
Chad Reed
is going to give him a run for his money. Vegas hasn't been very good to James, and Chad always rides well here. The super-gnarly track will play into #7's favor, but with his eyes on the outdoor season and another championship, it will be interesting to see how much fight he has in him. On the other hand, the season is over for Reed. It will be his last chance to get a win in what has been a frustrating season for the 2004 supercross champion. The battle behind them between 'Saps, KW,
Red Dog
, and Ivan the Terrible should be off the chain as well.
This is going to be an awesome weekend, I can just feel it! We got an 800 ft. start stretch that promises to be a distributor of chaos, a track design from Dr. Seuss' worst nightmares, and what promises to be the most intense Dave Coombs Sr. East-West Shootout ever, all heading our way on LIVE TV! I'm all jacked up for this one. I haven't been to Vegas for three years, and I'm happy to say I'll be leaving for the airport as soon as I press save and send on this week's column. If you're there, hit me up at the MGM and let's do some bench racing.
Thanks for reading, see you next week.