Privateer Profile: Michael LaPaglia
Michael LaPaglia has always has always been consistent. During his amateur career with Suzuki, he used his consistency to win numerous amateur national titles. In 2006, his first year in professional racing, he had some struggles. But after signing with the PPG/Motoworldracing.com Yamaha team this year, he has gotten back to his usual ways, qualifying for every West Region Lites main. And he is coming off his best finish to date, a sixth in Seattle. We talked with him as he prepared for the Las Vegas finale.
Racer X: Good job last weekend! That was your best finish so far?
Michael LaPaglia: Yes, it was. The weekend started out the same as always. It seems like I am 12th or 13th fastest whether I push super hard or just cruise. Then I had the worst heat of my whole year. I tangled with Boniface in the heat and didn't qualify. I got second in the LCQ, so at least I made it in. Then in the final I started in 12th and just worked my way into sixth. I was pumped with the way I rode and the finish.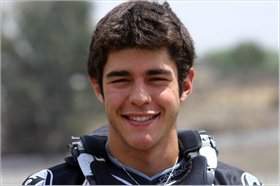 Michael LaPaglia was happy with his sixth-place finish in Seattle

photo: Ping

That track was really rutted and technical, and normally, California guys aren't that great in the ruts. What's up with that?
I've always heard that Seattle was rutted, so last week I practiced at my track, trying to hit the exact same line every time. I didn't push really hard, I just tried to be precise and consistent. I just worked on taking my time and kind of mentally preparing myself. And I think it worked out for me. The ruts weren't a big deal for me. I was looking ahead and just focusing on not rushing things. It worked out for me.
Has your season gone the way you hoped?
Yeah, for the most part it has. I wanted to be a top-ten guy all year because, in reality, this is the first full season I've raced. Last year I only raced five supercrosses. I felt like I had the speed in the finals to be a top-ten guy week after week. I had some bad luck and made a few rookie mistakes. As the season progressed I continued to improve and that's all I could really ask.
Are you excited to do the whole outdoor series?
Yeah, I'm really looking forward to that. I've only raced four of the national tracks, so it should be cool to see the rest of them this year. I've been working my butt off on the break, and the team is really ready. My family is excited, I'm excited, and my mechanic is excited. Motocross racing gets all of us back to our roots, you know? It should be good.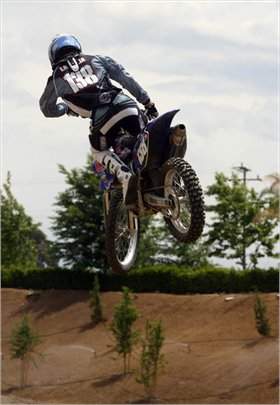 Michael is looking forward to the AMA Toyota Nationals

photo: Ping

Do you feel more comfortable racing motocross compared to supercross?
Oh yeah. Supercross is hard to get around the track consistently. You can't push that hard. On a motocross track you can hang it out and push the envelope a lot more. It's a very different type of riding. Motocross really lets you push it to the limit and not have such big consequences.
You've had plenty of time to test. Are the bikes ready?
Yeah, we've got things dialed in pretty well. I'm really happy with my bike. I have some personal goals I want to meet this year. It is my first season doing the series, so I want to be realistic, but I think it will be a good summer.
I keep hearing rumors that Motoworld is closing up at the end of the year. You know anything about that?
It's up in the air. I hear the same thing about Yamaha of Troy every year: they're done after this season. There has been some talk going around but I don't know if it's just rumors or what. Paul Lindsey runs a great team over here. He works harder than anyone on the team. It would be a shame for it to go away, because they've been around a long time. They've won super crosses, and they're well known and established as a good Lites team. It's tough when you can't run the team properly due to budget issues. Hopefully we can find an outside sponsor and keep the team going.
Do you feel like your size is a disadvantage on a 250F?
I've always thought I rode a 450 better. This year, however, our bikes are so good, I don't have any problems. I can jump everything easy, get good starts and I never have a horsepower issue. I am 6'1" and 175 pounds on a good day.…
And that's after your morning bathroom break, right?
Yeah, exactly! But Davi Millsaps made it work when he was riding them, and he was heavier than I am. If you're on a good bike it isn't that big of a deal.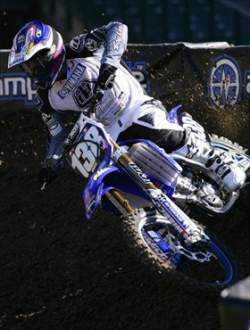 LaPaglia will be representing the West this weekend in Vegas

photo: Simon Cudby

Any goals for Vegas this weekend?
There is always the "who's better, the East or the West" thing. I just want to get in the main out of the heat and ride fifteen solid laps. I really just want to get out of there healthy because to throw away the outdoor series on a race that means nothing points-wise would be terrible.
Consistency plays a big role in Vegas because that tracks is so hard, dry, and slick. It might work out well for you.
That's what I've heard. Hopefully, I'll do well.
How did you finish the season this year in points?
I tied with Martin Davalos for eleventh, but I think he got the spot because he had fifth this year.
Any sponsors you want to thank?
Yamaha, Motoworldracing.com, PPG, Troy Lee Designs, Michelin, FMF, Polisport, Ready Filters, Wiseco, Hinson, Enzo, Kayaba, Ogio, Sunline, Factory Effex, Yamalube, Vortex, Carbone Loraine and RK Chain. Also, my mom and dad, and my mechanic, Shawn.
Michael LaPaglia's Sponsors:

www.yamaha-motor.com