Between the Motos: Jeremy McGrath
Jeremy McGrath has been busy lately. The seven-time supercross champion is a Honda test rider, a development driver for Dale Earnhardt Jr.'s NASCAR team, and a racer at heart. What's up next for the greatest stadium racer ever and future NASCAR driver? Riding kids bikes in the Orleans Arena this weekend at the MiniMoto SX.
Racer X: I see you're a BBR rider now. How did that come about? Through Monster?
Jeremy McGrath: I've known all those guys over the years for a long time. I've just always tried not to be the guy that calls and gets stuff just because I can. So, now that I actually race minibikes a little and I have such a good relationship with Monster, it was an easy fit.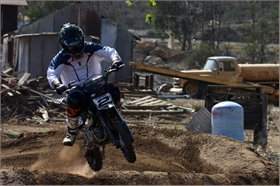 McGrath has joined the BBR minibike team

You look like you've been putting in some time getting ready for the MiniMoto race this year.
We've ridden five or six days, but they were really long days. The BBR guys came down and did a test with us and we went through all the bikes. I probably did more laps that day than I have on my big bike in a couple years! But yeah, I feel comfy. You never know at this race, though. It's a crazy place. Sometimes the fastest guy doesn't win if he doesn't get a little lucky.
You've been a big supporter of this race since the beginning. What is it that you like so much?
I like that you can go and talk to your friends. You and I are going to race each other this weekend. Okay, but it doesn't bother us. The supercross races are all business now, and for me it's back to that backyard feeling. We have fun on these bikes all the time, and this is the one "big" race of the year. I'm definitely not concerned with the purse or any of that, but it feels good to get the competitive blood boiling again, you know?
How is the car deal going?
I got twelfth. I screwed up in qualifying and had to start in the back. But I kept my nose clean and had a good drive. I ran 150 laps that night and learned a lot about relaying information to my crew and other things like that. In car racing it's all about getting seat time. Overall, I did as good or better as I wanted to. Now I have a gauge and we can build from there.
How do you get more seat time? Go down to Avis and rent a Chevy Lumina?
Ha! No, I'm hooking up with a team out here on the West Coast. Monster is helping me put it together where I can drive one of their cars out here to get some experience. Basically, I've only had three days out there testing, and I just need to drive more.
When is your next race?
May 19 is my next race. I'm going to try and race a lot this summer when I have more time.
Monster has been huge in this deal with you and RC, haven't they?
Oh, man, they are totally fast-tracking this for us. They have the cheddar to make it happen. They've been such a great sponsor. I'm stoked to be hooked up with them.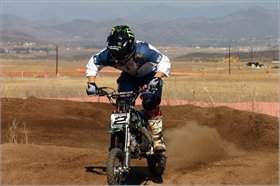 Testing is a huge part of success, even on the minibike level.

Are you still working with Honda?
Yeah, I just signed up for another two years with them. I hadn't ridden in a while because of my injury, but I feel pretty good now. I'll be helping with R&D and working with the team riders again, which I really enjoy doing. So I'm looking forward to that. It's been fun.
How's the McGrath family doing?
Everything is awesome. Rowan is 16 months now and it's a blast. Every day is something new. I always heard that when you have your own kids it changes your perspective on a lot of stuff. That's all ringing true now. It's a beautiful thing, and we're having a gas.
Any more on the way?
I'll keep you posted.