Bench Racing Ammo: Stronghold
It was a big night for Kawasaki, as James Stewart clinched the team's first AMA Supercross Championship since RC did it in 2001. Since then, Honda and Suzuki have each won two titles (both by RC) and Yamaha has one (Chad Reed '04).
But that doesn't mean Kawasaki has been asleep at the wheel. Check out their 125/Lites championships over the past four years:
2003 – James Stewart (West)
2004 – Ivan Tedesco (West)
James Stewart (East)
2005 – Grant Langston (East)
Ivan Tedesco (West)
2006 – Grant Langston (West)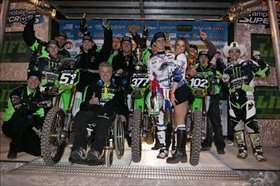 The Phoenix Lites podium was very green
And with James locked up for a while, and Monster Energy/Pro Circuit churning out Lites winners like a factory, the future looks green for supercross.
Moving on, where does
Ryan Villopoto
's amazing season so far stack up in the history of 125/Lites SX? He won 7 of 8 races, and was a close second in the other. Sounds like
Chad Reed
in 2002, where the Yamaha of Troy rider swept all but one race, losing the finale to Branden Jesseman in Pontiac, Michigan. Or maybe
James Stewart
in 2004, where he would have won them all if not for that ugly practice cartwheel in Indy. But the standard remains RC in '98, when he won every round of the Eastern Regional 125cc SX series.
On that Kawasaki thing, they have a rather short list of 250 AMA Supercross Champions: RC '01, Emig '97, Jeff Ward '87 and '85, and Jammin' Jimmy Weinert in 1976. But it wasn't for a lack of trying, but maybe timing.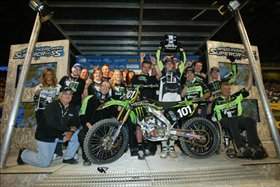 The Monster Energy/Pro Circuit teams looks right at home up there
Everyone knows what RC leaving Kawasaki would mean for the next five years. After Emig's '97 title he never won another AMA Supercross Series race, as he seemed to lose his mojo. And early '90s stars
Mike LaRocco
and Mike Kiedrowski just couldn't put it together through an entire SX series. Before that, Ron Lechien was not focused enough in the late 80's to make it happen, and the same could be said for Jeff "Chicken" Matiasevich in the early 1990s. But with James poised to stay, they will likely be getting more wins very soon.