Monday Conversation: James Stewart
All day long, James Stewart's crew confirmed everything was cool, just another day. Well, of course, it wasn't: Seattle was the night Stewart was to pick up the #1 plate he'd dreamed of since he "knew what a motorcycle was," the AMA Supercross Championship, one of the hardest things to get in motorsports. There is something very special in this one, and Stewart just officially joined the club.
Stewart just needed to stay out of trouble in the main, and he was still ready for a good race. It wasn't going to be anything other than a ride with lappers and himself after Reed tangled with Tedesco after Tedesco fell, and Reed had a throttle housing stick on the first lap. Stewart finished the main alone out front, even though with his dream on his mind, he "rode like crap" at the end.
The new Amp'd Mobile AMA Supercross Champion and Amp'd Mobile Supercross GP Champion stopped first to celebrate with the crowd, then he greeted his team. Before he went to the podium, he stopped for a quiet and emotional moment with his dad, and the two realized how far they have come and that they had made it to the top together. After that, it was podium time, then TV time, then a moment for us.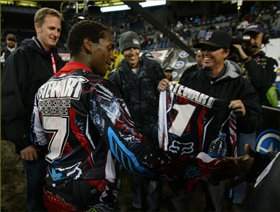 The #1 jerseys were ready to go!

Racer X: James, with all that is going on, how was your concentration during the main?
James Stewart: The easiest thing for me was just go out there and do the first few laps like I always do. I was able to get a gap. When Millsaps went down, I was able to just focus on the race from there. I rode good, but then in the last five laps I rode like crap. I was so tight. I was making so many mistakes. Now I'm stoked! It hasn't even sunk in yet. All I know is, I earned this all year. All the struggles I have been going through, as a team, and myself, I earned it.
What was the toughest part of the year?
Getting away from the all the distractions. When the season started, everyone expected me to win. It was easy to get overconfident. Every week, I did the same things. I put my laps in every week. Seattle is really good to me, the whole state of Washington. From Washougal to here, I've won every single one, so I look forward to here.
How many years has AMA Supercross Championship been your dream?
Since I knew what a motorcycle was, and from watching all my favorite guys, like Rick Johnson, Jeff Matiasivich, and McGrath coming up. Jeff Emig, Ricky … I always wanted to hold one of these things [plates] up, and to hold two of them up in one night is more special. I got the first one out of the way, so I feel much better. It's like Peyton Manning winning the Super Bowl: the monkey is off the back now. We can have some fun racing now.
So is this half of one of your top career goals right now?
No, this is one of the "one things" I wanted to win in my life. It was the top of the list. Now it's all about record books and having fun.
Was this a normal day for you, or were you a bit nervous?
Being around me, you probably couldn't tell, but I was really nervous. Not nervous about getting a top spot, just nervous about not doing anything stupid happen, not getting caught up with a lapper or have something go wrong with the bike, or throw it away myself. I wanted to go into Vegas with a clean mind.
Did this track throw you any curves? The deep ruts, the weird dirt?
Yeah! I think in practice, we all rode like squids out there. I know for sure myself. I wasn't able to get going but still was able to get the quickest lap time. I just still felt off. I felt the best in main event. That's what was surprising with me - well, until the last five laps, of course!
It looks like you had an emotional moment with your dad right after that main.
Just winning the championship, this is one of the things that is a lifelong goal for him too. From when he used to work all day long and come home and take me practicing, all the hard times, the injuries, the ups and downs, we kind of like know it, now we made it. Now it is one of those things that you can never take away, and I'm just so proud.
What are you going to do to celebrate?
Let's keep that out of the papers right now! I will just say I'm 21 now, so I'm good. Next weekend you can find me at a blackjack table. It's Vegas and I can do it legally now! With the team, tonight, we are going to go have fun tonight, but I think after the season is done, there is going to be a big party.