We're used to seeing the words history and records next to a certain redheaded Floridian almost every time he races now, but this weekend, it's another Floridian who is likely to set a record. James Stewart is poised to become the first African-American to win the AMA Supercross championship. The super-talented 21-year-old from Haines City just needs a ninth-place finish to get the job done and reach a lifelong goal for himself and his family. While James has never played up that storyline—when I did a story with him back in 1999 done in Florida, he told me, "We all look the same with our helmets on"—he should be very proud of this distinction. While it may not be as big a deal as Tony Dungey becoming the first African-American coach to win the Super Bowl, it will certainly count for something important.
Stewart would also become the first Kawasaki rider since RC back in 2001 to win the AMA Supercross title. During that same dry period for Team Green, they've won these 125/Lites SX titles:
2003 West Region (Stewart)
2004 East Region (Stewart)
2004 West Region (Tedesco)
2005 West Region (Tedesco)
2005 East Region (Langston)
2006 West Region (Langston)
2007 West Region (Villopoto)
2007 East Region (Townley)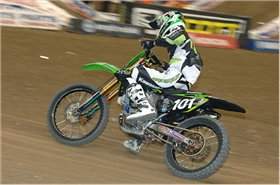 Ben Townley is having a big week
photo: Carl Stone
When it happens, it happens fast. It's been quite a week for
Ben Townley
: he's on the cover of the new
Dirt Rider
,
Motocross Illustrated
and
Cycle News
, and there's certainly more to come! Townley's rise from the ashes of last season has been an inspiration for everyone but his competition, and now he's looking like one of the main contenders to
Ryan Villopoto
's reign in the Lites outdoors. When we checked in with him Monday, he was already out in California, finally testing his outdoor bike.
"I'm way behind on this, but it will be all right," he said, no doubt referring to the amount of extra testing time Villopoto got because he clinched his title way, way earlier. Either way, with Townley healthy, Ryan Dungey riding extremely well, and Jason Lawrence maybe getting his act together (more on that below), the Lites could be the race to watch this summer.
Welcome back, RV51 and J-Law. The West Region returns to Amp'd Mobile Supercross for its last round this weekend, though Villopoto locked the title up in, like, January.
West Coast SX Lites resumes this weekend in Seattle. Here are the current points standings:
1. Ryan Villopoto (172)
2. Jason Lawrence (135)
3. Josh Hill (108)
4. Jake Weimer (102)
5. Chris Gosselaar (95)
6. Josh Grant (90)
7. Josh Hansen (87)
8. Matt Lemoine (85)
9. Troy Adams (70)
10. Kyle Cunningham (65)
11. Martin Davalos (64)
12. Steve Boniface (60)
13. Kyle Partridge (56)
14. Michael Lapaglia (49)
15. Christophe Pourcel (47)
16. Dusty Klatt (41)
17. Justin Keeney (31)
18. Dennis Jonon (22)
19. Michael Willard (22)
20. Chris Blose (21)
This is Josh Hill's first spot in the top three: he got his 20 points back from the Anaheim II "Fuelgate" during the break in the West, so he actually bumped up a spot in points since they last raced.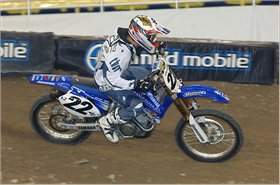 Speedy Reedy still has a shot, but he's going to need a lot of help
photo: Carl Stone
Weather in the Washington area is always marginal this time of year. Who is the genius that suggested building a stadium in that region without a roof anyway? He should be bitch-slapped repeatedly until he admits he was drunk when he turned in the plans. Luckily, it seems we might get a break this weekend. There are showers in the
forecast
for Friday and Saturday morning but clear skies predicted by the time qualifying begins and throughout the evening. Keep your fingers crossed.
Rain or shine, you can listen to this online tomorrow night with the Supercross Live webcast, which gets underway locally at 7 p.m., so that means 10 p.m. back east. The AMA will be keeping track of all the laps, as usual, all day long at www.amamotocross.com.
Also, don't forget that the Seattle Supercross from Qwest Field will air on CBS early Sunday—1 pm. EST. Check your local listings for times and stations. (And the East Region Lites finale from Ford Field in Detroit also airs Sunday April 29, at 4 p.m. on SPEED TV.)
And make sure you set your TiVo for tomorrow night's CBS News' show 48 Hours, which takes an in-depth look at the murder trial of supercross founder Mike Goodwin, who was given two life sentences when a jury found him guilty of orchestrating the murders of Mickey and Trudy Thompson back in 1988.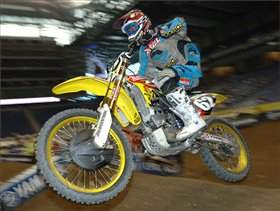 Ryan Dungey got his third win out of seven tries in Detroit
photo: Carl Stone
So is this the last Detroit SX? A lot of people were asking that due to the number of empty seats in the building. But the race had LOTS of competition for spectators last Saturday. In one of those strange twists of sporting coincidence, the Detroit Tigers baseball team were hosting their rivals the Chicago White Sox right next door, the NBA's Detroit Pistons were hosting the Orlando Magic in the first round of their playoffs at The Palace in Auburn Hills, and the Detroit Red Wings were hosting an NHL playoff game at Joe Louis Arena! With the SX taking place on the Detroit Lions' football field, the only thing missing from the all-Detroit all-stars was an
Eminem/Kid Rock
concert!
We heard just yesterday that Joaquim Rodrigues will start next Monday with Red Bull KTM to ride the Lites outdoors along with Zach Osborne and Martin Davalos (the Alessi brothers will be on 450s). J-Rod will race Seattle then skip Vegas so he can prepare. But that's not official.…
The MX-4-Children Charity made another huge splash at a local hospital in Seattle. Top riders Tim Ferry and Ryan Villopoto from Kawasaki, plus Team Honda's Davi Millsaps and Andrew Short, plus Miss Supercross Brittney George, all took time out on Thursday to visit the children and for their best to cheer them up. Paul Gross is the man behind the charity, and Rex Backman was kind enough to send us over a whole slew of photos, which we will spread out through the rest of Racerhead. Well done, everyone!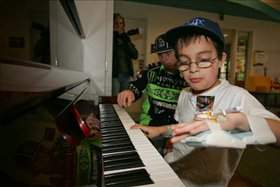 Ryan Villopoto helps a young new friend with a piano duet
photo: Rex Backman
By the way, on the redheaded Floridian breaking records every time he races, the next time he races—
Hangtown
—he will extend another record: It will mark his 122
nd
career AMA National start. RC has never missed an outdoor start since his first national back on September 1, 1996, at
Steel City
. He may have crashed out of
Glen Helen
last September, but he did start, so the record is still intact.
Simon Cudby was down in Florida to shoot various projects, including Carmichael's house. How is RC liking his retirement? "He told me that because he's not racing just now, he's riding more even before!" said Simon. How did #4 look? "Ready."
The following is from David Izer of DMXS fame, after talking to Kevin Cozadd, it looks like he has accepted that while his move back to Vet B/C class is not a popular one, he's sticking with it because turning back now would bring him even more grief.
"You can check out the entire DMXS interview on the archive or pod cast, but I had more than 50 emails about Cozadd this morning and thought I would just post an update. Kevin is planning on racing the Vet B/C class this in spite of the controversy of him riding A class in the past. The AMA first denied it, then overturned the decision on appeal so he is well within the rules as they stand to do so. Kevin disagrees with the rule, 'Once you turn A, there is no going back,' and he has convinced the AMA members that heard his case of the same.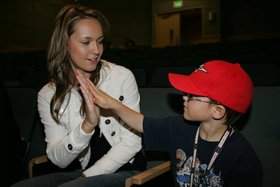 Miss SX Brittney George was on hand to cheer the kids up
photo: Rex Backman
"He was asked directly about this being perceived as cheating or sandbagging and whether he should reconsider for the well being of the sport and his ministry," explained Izer. "He is convinced that he is doing nothing wrong and if steps away now, it would confirm that he tried to get away with something. If he races, the same will be said, so he has chosen to race the amateur class. Kevin also said if he had known of the storm it would have caused, he never would have made the call…. yet still pushes on."
Twenty-seven years ago, Larry Wosick was a Team Kawasaki factory rider, with David Bailey as his teammate. In fact, he wore #27. This year, he's the promoter of Honey Lake MX Park in California, which is one of the best tracks in the country. He's also got a $100,000 sound problem: "Yes, the County has run up a huge sound bill, hasn't given me results for over one year, and never invoiced me… ever. The large amount of the bill was brought up at a supervisors meeting and one of the supes went bezerk."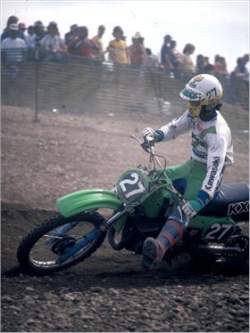 Larry Wosick as a racer, Hangtown 1980
photo: Dick Miller Archives
There is quite an inspirational film that
Matt Wozney
shot over the weekend of the comeback story of 2007,
Jo Jo Keller
. No, he's not riding the pro nationals or anything, but the 45-year-old Keller, a legend on the East Coast, from New England and Florida, has decided to go for the title at Loretta Lynn's this summer, which means he will be meeting up with his old rival
Tom Carson
in that class, plus
Matt Tedder
and more.
The thing is, Jo Jo has been out for a long time, shoeing horses, swordfishing in the North Atlantic, and just doing all kinds of odd jobs. He's put on a lot of weight, but with the help of old friends and supporters (including Ziggy of Factory Connection, Jeff Surwall from No Fear, and Bevo from Scott) he's working the weight off. He's also helping a young rider and really enjoying his comeback to the sport.
How much of a legend is he? "Faceplantfilms" joked on Mototalk,
"He is so talented! He road a wheelie on a mountain bike and the front wheel fell off and he caught up to it in the wheelie and set it back down on the axle! He also owns the world record of catching a grape in his mouth from 28 stories up!"
Okay, maybe not that talented, but close!
Got this letter today from Doug Brown Jr.:
"Are you going to post any schedule on your website as to which outdoor national events Carmichael is scheduled to ride?"
Well, we just talked to someone in #4's camp, and here's the plan: Ricky will compete in the first five rounds (Hangtown, High Point, Southwick, Budds Creek, and Red Bud) for sure. He will then race either Millville or Steel City, but that's it. His last motorcycle race will be the 2007 Motocross des Nations at Budds Creek in September.
Over in Europe, Josh Coppins lost his first Grand Prix overall of the season last Sunday, though he did get even points with Kevin Strijbos in Portugal. Coppins writes "The Contender" column in Racer X Illustrated, and he wrote this message to Townley: "Borat high-five, Benjamin! I'm pumped for you and the outdoors are going to be awesome."
As for the Americans struggling in Europe right now—Sean Hamblin and Ryan Mills, in particular—Coppins sent in this: "Ryan and Sean look to me to be struggling with the way of life over here, let alone the racing. I have spoken to them both briefly and I know just how they are feeling. Here's a prime example: In Spain, practice and training on Saturday was cancelled due to rain, so Sunday morning we had just one training and, then straight to the race, so that's 40 minutes timed qualifying practice—and most the guys set their best lap on lap one! The track was flat no ruts the bikes were clean and light and so were the riders. However, that didn't help your boys as they had never ridden this track before, so a hot lap on lap one just wasn't possible! But it's not only at the races; its things like food, the traveling and the different languages and all—it's all an eye opener and can be really tough. It's not all bad though, and just as soon as your boys get used to things, I think we'll see the results come.…"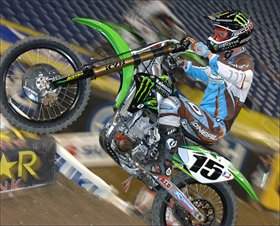 Tim Ferry has emerged as a regular podium contender in SX, and he did it again in Detroit.
photo: Carl Stone
Want to see how
Tim Ferry
rolls over? He's the latest supercross star featured at
holeshotheaven.com
. It's good stuff!
Okay, time to turn the floor over to Mr. David Pingree…
After our sport made a fairly seamless transition from two-strokes to four-strokes over the past five years, it appears we are in for another change. The FIM and the AMA are lobbying to drop the engine size of the premier class to 350cc. It sounds like a great idea because, honestly, not many people can ride a 450 to its potential, and very few need that much horsepower underneath them. I like the idea, but how realistic is it to think that the manufacturers will meet the AMA's proposed 2009 deadline for this rule?
Terry Beal, who has been at Yamaha Motor Corporation for about the last 135 years or so, says that it just won't happen. "I can't believe Whitelock, who has such a history with Honda and professional racing, would suggest a 2009 implementation of something like this," says Beal, who is now the VP of Marketing at Dubach Racing. "All of the manufacturers are already working on 2010 products right now—most are done with their '09 development! I don't know who will show up to race in 2009 if they make that rule stick, because none of the manufacturers are going to race something that they aren't selling."
That's a good point. And how many people are going to be stoked on a 350 after riding a 450 for nearly a decade? I don't have the answer to that. Maybe the lighter weight would offset the power loss?
Beal did explain that every piece of tooling equipment would need to be changed at a manufacturing level to produce a 350cc motorcycle. It isn't as easy as just fitting a new motor into the current 450 chassis. Weight in the frame, cases, clutch, cylinder and just about every part of the bike would be reduced because it's currently made to withstand the weight and horsepower of a 450. And guess who gets to pick up the tab for the additional cost of retooling? That's right, Mr. Consumer, grab your ankles. We're already due for a price increase when we get fuel injection in the next year or two.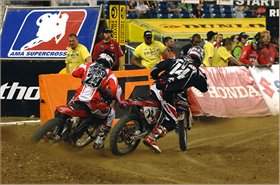 Are the 450s becoming too much to handle for most?
photo: Carl Stone
But then
TFS
talked to
James Stewart
about the proposed change, and he said this: "If anything, if you drop a motorcycle down to a 350, the racing will be faster. The motorcycle will be lighter and not too much slower than a 450, and not too much different. Everyone is trying to make the racing better and I totally agree. But you have other steps to do first before changing the motorcycle and trying to force it on people. If we had a 350, it would probably suit me better because you would ride the motorcycle a little harder, kind of like my 125 days [against 250Fs]. It would be dropping down for me, but either way, I think we would all adjust to it and things would be the same. There are a lot of guys coming up and I just have to keep my game tight."
Here's some food for thought. Think about of many of the major spinal injuries our sport has seen on a professional level. David Bailey, Jimmy Button, Ernesto Fonseca, James Marshall, Doug Henry and even local Ohio racer Ron Boyas were all on big bikes (450cc or 500cc) when they were injured. I realize that there are riders getting hurt on all sizes of bikes, but doesn't that seem like a large percentage? And I'm sure I'm leaving some pro riders out of this list and the number of local and amateur racers is significant as well—these are just guys that I know personally. All of these riders went over the bars and were hit from behind by the motorcycle. Maybe if the bike was lighter they would've been able to correct the mistake and prevent the crash, or at least suffered less injury when the bike hit them. Neck braces are all the rage right now, but I can't help but think that neck braces are a Band Aid for a bigger problem.
Are the bikes too powerful and too heavy? My opinion is this: Bring back the 125.
That's it from Ping (send your letters directly to him: ping@racerxill.com.)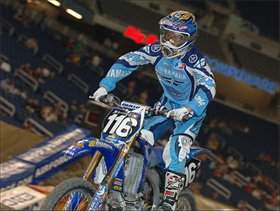 Hats off to Ryan Morais for putting in a champion's effort
photo: Carl Stone
In a classy move, Answer Racing has signed
Ernesto Fonseca
to a spokesperson job at the company. The companies driving force,
Big E
, made it very clear early on that they were going to stand by their guy and that is exactly what they are doing.
"Jimmy Button told me that one of the hardest things about his injury was the fact that people wouldn't even call him back about a job when he got out of the hospital," said Big E. "I didn't want Ernie to go through that or think we didn't care about him as a person, so we just created a position for him and made it happen." No word on when exactly Ernie will start or what his job entails, but knowing Fonseca, he sure will make a lot of folks smile.
David Vuillemin can wrap up the Top Privateer U.S. Tobacco Challenge, which means $25K and a Weekend Warrior trailer, but David posted on the MT board that he's not counting his trailer before it's hatched (or something like that): "French Saying: Don't sell the skin of the bear before you kill it… Not done yet. Could happen in Seattle…" (From Ping: "I thought the appropriate French saying was: 'Don't smoke your cigarette until your super-thick espresso shows up.' Non?"
Finally, what the hell happened with Jason Lawrence and whoever getting into a scrap (and getting manhandled by) with a guy named Rhyan Marshall and his buddy Anthony? If J-Law doesn't stick to staying out of trouble, he's going to get a bad reputation for himself. (Ask Pacman Jones and Chris Henry, two proud former Mountaineers, about staying out of trouble—as soon their suspensions end.) I'm not sure what happened, but the reports and letters we've gotten don't paint a pretty picture for a kid who seemed to be pulling it all together.
And if you're not going to the Vegas Supercross Finals next weekend, here's a note from Ken Faught about something else to attend that should be quite a spectacle:
"It's been almost two decades since the sport of professional hillclimbing held a national event in southern California at historic Saddleback Park or DeAnza Raceway, but that will change next weekend. Round 2 of the Racer X / Suzuki N.A.H.A. Pro Hillclimb Series will make its debut at Glen Helen Raceway in San Bernardino on May 5-6. The idea for this event actually began last year after an impressive half-time exhibition at the AMA National MX.
"The fans really went nuts," said Robie Peterson, one of the top hillclimbers in the nation. "They couldn't believe the power or the sound of a 200-horsepower Harley running on nitro. These things put out 100 feet of roost, and they definately don't look like your average dirt bike."
The world's best hillclimbers will be in attendance at Glen Helen, including national champ Harold Waddell, Jason Smith, Jeff Thomas, Travis Whitlock, Dusty Beer, Robie and Bret Peterson, and special guest Kurt Caselli. For more information check out www.glenhelenhc.com.
That's it for Racerhead. Thanks for reading, and see you at the races!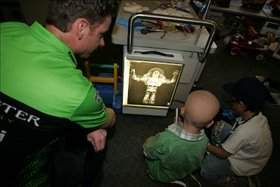 photo: Rex Backman