Privateer Profile: Michael Sleeter
It may have been a rough six months for Michael Sleeter, but slowly the longtime KTM rider is picking up the pieces. In spite of a severe crash, and the death of his younger brother Cole, the 26 year old is still charging forward. Employed by KTM as a development rider allows Michael lots of opportunity to ride; but not necessarily train. While attempting to make mains in the Supercross class, the Murrieta, California native also gained notoriety for becoming the first pro to wear the Leatt Brace in AMA Supercross. Inspired by his brother Scott, who broke his neck on a BMX bike years ago, Sleeter has now also inspired many of his fellow pros to follow suit.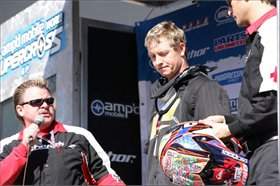 Michael Sleeter was the first rider to commit to wearing the Leatt Brace

photo: Simon Cudby

Racer X: Michael, explain your relationship with KTM; when did it begin?
Michael Sleeter: My relationship with KTM started in 2005 when I got a call from a friend of mine Ryan Ragland, who is the head of the R&D department in KTM North America. They asked if I wanted to do some production testing on the 250SX-F that wasn't out yet. Since then, so many great things have happened for me because of the opportunity to work at KTM. This year I signed a deal to do all the 450SX-F supercross race development. But shortly after that I got really hurt at the McGrath Invitational, which was a real bummer because I was riding so good at the time. Right now I'm on somewhat of factory bike and they pay for my expenses to and from the races. Outdoors it's my own deal to get to and from the races, and transport the bike; but KTM will help me out the best they can with parts.
Let's go back to the McGrath Invitational; that crash was gnarly.
It was a last minute decision to ride; I talked KTM into letting me race it. I had been testing all summer on the 450 but they did not want to unveil the bike at that race so I raced a 250f that I had. The crash was so bad for such a small jump I still can't believe it. They decided to water the track during the practice session and I just spun off the lip. I ended up breaking the humerus in my right arm, my left collarbone, and I punctured a lung.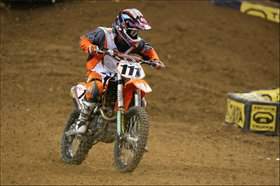 Michael is a KTM test rider

photo: Paul Buckley

Some may feel that with your job as a development rider that it could make it easier for you to race and do well; is that the case?
No, that is not the case at all! What it does do though is give me the chance to build the best bike a guy could ever want, and that in itself is great. As far as getting faster, it's really hard to separate testing and training. When your testing you can't structure your day around yourself because you are there working with a team to better the bike - not your speed. I can't tell my boss that I have to leave at noon to meet my trainer to go on a road bike ride; he would just laugh. I'm there until they are done testing what they want to. Then I can do motos if I'm not to beat from being in my gear all day. I'm not complaining at all because I love what I do; it's just more work than people think.
What is your typical week like in your job as a test rider?
Pretty busy. This is my schedule this week: Monday I went to Elsinore and got to ride for fun with my friends - I love that because it's pretty rare. After riding I went and swam some laps. Tuesday I went to the supercross track and helped Michael Willard get his 125 ready for Seattle - and I tested the 450SX-F. Wednesday I went to Perris and did some outdoor testing for the Alessis, before coming home and road biking. Thursday I go to Glen Helen to test outdoor again - before coming home and road biking again. Friday fly out to Seattle; that's been a typical week since I came back from my injuries. Got to love it!
Your "official" results may not really be indicative of your riding skills and work ethic. What's keeping you from making SX mains?
Thanks, Jim. No, my results have been nothing what I would like them to be. Honestly, I came back to racing way too soon from my injuries - due to personal reasons. KTM has been so patient with me that I just can't say enough about them. A little bit of luck has to go my way, but really to be honest, not until Dallas were my times even good enough to put me into the mains. I need to ride practice at the intensity that I finish the night with and I would be good. This just bums me out because my bike is so good and it belongs in the main every weekend.
Those personal reasons must be related to your younger brother Cole.
Yeah, Cole lost his battle with cancer on January 1, 2007. It was the hardest thing I have ever dealt with in my life - he is my hero! He was so strong throughout his ten-month battle that I look at life in a completely different way because of him. I miss him so much, but if I don't charge life as he did, he would be very disappointed in me. Cole was a special person too many, and he will be missed.
Now your older brother Scott is helping you at the races. Has he always been involved in your racing?
It's really great having Scott there with me. He has been involved in my racing every step of the way. I wouldn't be where I'm at today with out his help. He sacrificed so much for me when it was just a family thing. It's great that he works for KTM because he is very passionate about racing and I can see him helping a future rider win championships.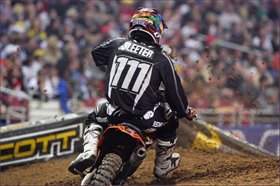 2008 testing is right around the corner

photo: Paul Buckley

With SX winding down, what's next for you as far as racing?
I will race Hangtown, and then take a break from the Nationals and begin 2008 supercross testing. Then I will probably race Mammoth, Washougal, Texas, Colorado, Millville, Steel City, and Glen Helen – and possibly some Canadian Nationals. I think I could be on the podium at the Canadian races that I decide to go to. The Canadian KTM team is awesome; Andy White runs a great team--I wish I was able to race the entire series but I'm to busy testing to commit to all the races.
What else is in Michael Sleeter's future?
My contract with KTM is up at the end of the year and I hope to re-sign with them doing something similar to what I'm doing now. I'm still improving on the bike and I would love to race supercross again next year, but I won't do it unless I can do it the right way. I just want to thank all my sponsors who have been behind me. I truly have the best sponsors a rider could ask for. This has been a rough year so far so I hope to turn it around ASAP!
Michael Sleeter's Sponsors: