RC's Second Stock Car Race
RC competed in his second-ever Super Late Model race on Saturday night at New Smyrna Speedway. Ricky's main objective was to make sure that he finished the event. Mark Martin's plan for the Ginn Racing development driver was to get him some valuable seat time in Lake City, Florida at Columbia Motorsports Park before throwing him to the wolves in New Smyrna.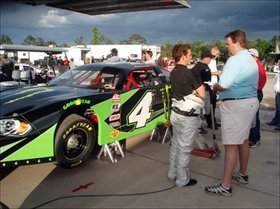 Lots of media attention again this week in the Ginn Racing / Monster Energy pits.
New Smyrna Speedway is an extremely competitive environment with top level drivers in the Super Late Model class. This past weekend at the Brighthouse Challenge Super Late Model 50-lap feature, all of the big boys were on hand to get valuable series points and to get one last race in before the Sunbelt 100-lapper next weekend.
Ricky and crew chief Mike Fritts talked about the importance of getting a good qualifying run in and to show patience in the 50-lap feature. Mike commented "There will be a lot of top cars out of this race before the half way point…we can't be one of those cars".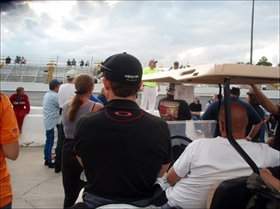 The driver's meetings at these local events are pretty funny.
The qualifying format was totally new for Ricky. Each driver is on the track alone and drives two laps as fast as possible with the best time ranked among the field to determine the starting spot on the grid for the feature race. Ricky qualified 7th out of the 16 car field and felt very comfortable that he could run that same speed all night.
Ricky also felt comfortable to be starting next to a familiar face in Dustin Skinner. (NASCAR driver Mike Skinner's son). Ricky said, "It's nice to have someone that I know next to me on the start. I've gotten to know Dustin a little bit while working at Mark's shop and feel comfortable racing closely with him." (Mike Skinner's race shop is located about 100 yards away from Mark Martin's shop in Florida).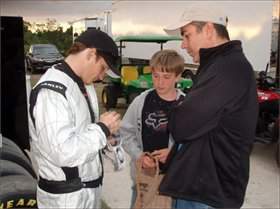 I was really surprised at the amount of motorcycle fans that have driven so far to attend these first two events.
Ricky drove a very consistent race and learned a lot. Mark Martin's team did a great job spotting for Ricky and keeping him aware of all of the madness that was going on around him. Ricky commented, "I just want to keep the car in one piece and finish the race. These guys work too hard for me to go out and tear things up." He continued, saying, "I'm going to be very careful on the re-starts for sure. I don't want to repeat my last deal from Lake City and get into the back of anyone."
Ricky was very consistent and very fast during the 50-lap feature. The top seven drivers' lap-times were all very close during the middle of the race and Ricky learned a lot. "I'm happy that we accomplished our goal of finishing and 7th place is something to build on. I can't wait to get back in the car. I'm ready to get racing again, that was fun!"
Ricky will be competing again next week at New Smyrna Speedway in the Sunoco Sunbelt 100 lap Super Late Model feature.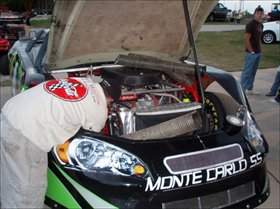 Keeping the brakes cool was a priority for RC's crew.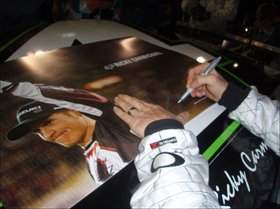 We went through a bunch of Fox posters at New Smyrna!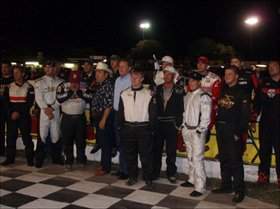 The Super Late Model drivers during driver introductions.(The man in the middle owns the track)