Monday Conversation 2: Ben Townley
The world was literally on the edge of it's seat for the last east coast Lites supercross final, with Ben Townley just three points behind the model of consistency, Ryan Morais. The "world" part is for real: Townley is from New Zealand, and he's made his name in the sport in the FIM World MX Championships before coming to America to ride for Monster Energy/Pro Circuit Kawasaki. All eyes and internet connections were on this last main event.
Ben could win the title by winning the last main, but neither he nor Morais got the holeshot, and Ryan Dungey seemed to have that under control. That means Morais could win the title finishing just behind Townley, unless Darcy Lange, Townley's teammate, could get between them. That wasn't going to happen, because in a strange first turn incident, Mike Alessi fell without falling and ran right in front of Lange's front wheel!
Townley was on his own. Good for him, Morais stalled in the early laps, setting him back just enough that Townley would stay out of reach. Dungey won, Townley was second and Mitch Payton is looking for more room on the door of his semi for another #1 plate.

Racer X: Ben, you got what you wanted tonight!
Ben Townley: Yeah, it was very, very gratifying for me, a dream come true. It's really hard to put it to words right now, so many emotions. There has been a lot of blood, sweat and tears from the day I dreamed of coming over here to race, from my whole family and crew – everyone that puts in the effort like I do.
Who is here tonight? It looks like a big celebration.
My mom and dad are here, and my friend from Germany, and (Dutch photographer) Plons, my sister, Rubin, Lucy, Craig my mechanic that has been with me for a long time, Glen Dempsey, all the people that have been with me and supported for a long time.
At what point tonight did you have it, when Morais made that mistake?
I didn't really know it was him to begin with. I didn't know it was him or [Matt] Goerke, I was so focused on those first few laps on making sure I was putting down good laps. About lap 5, I looked up at the leader board as I came over the finish. I looked on the board and didn't see his number so I just had to ride a smart race from there.
The racing was pretty close and not that spread out. I just wanted to make sure those first few laps were smooth. After that I sort of settled in. I made a couple of mistakes. I really wanted to pass Billy (Laninovich) right away but I didn't want to be in the same situation as Orlando. I did that. I think I rode a good race. It wasn't the best one of the season. I just rode a steady race and got what I wanted in the end.
It been less than a week ago, I was interviewing your friend Josh Coppins about leading the MX1 series, this sure is a great time for New Zealand isn't it?
Yeah! Josh sent me a text message, and an email, he said "Bring it home." He is going to be pumped, and I am pumped to see how well he is doing. He told me how he felt when he won those two motos in the GP. I remember that feeling, when you go out and really put a hurting on the field like he did last weekend. It feels awesome. I hope he goes on to win that championship. It would be awesome for New Zealand if we could take home a couple of championships this year.
This isn't a question really, but I lost track of how many people at Bellpuig last weekend asked about you!
Europe is like my home after New Zealand. I was there for six years. I have built up so many relationships. They are like family to me. I went through a lot of stages of growing up over there, from a boy into a GP racer, then winning a race, then a championship, and then to the MX1 class. People saw me evolve there as a racer. A lot of people there are close to me and are special to me.
Since you have been staying at RCs, I guess I don't even need to ask was that a good influence since you have been here. Is there anything that helped you that you did not expect?
No…. Well, the heat! It's been great to be around that whole crew and get a lot of great advice and see a lot of great things. It's been great for me and I have to say thanks to the whole Carmichael family for that.
The East/West shootout is coming up in a couple of weeks, with Ryan Villopoto. What is your prediction?
My prediction is we are going to go at it in the nationals. There is a long summer ahead and that is where my next goals and ambitions are right now.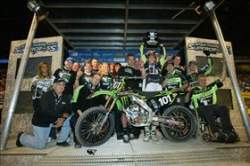 The Monster Energy/Pro Circuit Kawasaki team is 2-for-2 so far in 2007

Next year, do you want to run a #1 or a #101?
I haven't thought about that. I love that number 101 but I haven't really thought about it.
What are you going to do to celebrate?
I'm going to take the whole crew that I just talked about to Denny's. (For you people reading in Europe they stay open all night, you should try it – TFS)
I will spend some time with my family. It's very hard, you know. I haven't seen my mom since November. I saw her when we arrived yesterday, but it was like I am here to do a job and focus on my racing, so I got to see her and say hello and give her a hug, but we haven't been able to sit down and shoot the shit about what is happening. It is so hard to live away from New Zealand.
I want to spend some time with my parents tonight. I don't need to get to bed early. I am going to have something to eat and just enjoy it, savor it. These are moments you really need to soak up.