Where Are They Now: Willy Simons
Willy Simons was yet another of the fast crop of talent to come out of Southern California in the 1980s. He grabbed plenty of wins through the Golden State during its golden era in the 1980s, including a Trans-Cal title in 1985 to go with his 1974 and 1975 Minicycle World Championships. But he grabbed most of his attention from something different from the racetrack: Simons was a test rider for Dirt Rider magazine from its inception back in 1982 through 1988.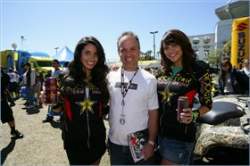 Willy Simons today
photo: Simon Cudby
"I think only McGrath has been on more covers of
Dirt Rider
than me," says Simons now, who just built a new home in the same town, Simi Valley, where he has always lived.
Simons found ways to make money in the sport during a time before satellite teams and outside sponsorships. Besides the
Dirt Rider
testing, he also worked as a test rider for Honda, Suzuki and Kawasaki, rode some for Yamaha, and found plenty of loot racing overseas. Willy has raced in Belgium, Italy, France, Australia, New Zealand, and he even won a championship in a six-race Marlboro-backed series in Central America, riding in Guatemala, the Dominican Republic and Costa Rica.
But in '88, Simons broke his back while testing, and the pretty much ended his professional racing career. Luckily, he had a neighbor who was big into the roofing business. When Willy needed work, he would pick up some by helping his neighbor. He eventually learned the trade so well that when his neighbor retired, he sold the business to Willy, and now the company thrives. Simons has 30 employees working under him at his business today.
He has been married to his wife, Tina, for 12 years. Ironically, he met her through an old riding buddy. Once he hooked up with Tina, he started hanging out with her family, which is big into riding in the desert. Soon Willy was back on a bike, and eventually racing again. "I started doing the D36 Big Six GP Series," says Simons. "I've won like 12 championships there: vet, senior, four-stroke, stuff like that."
He has a son, Will Jr., 10, and a daughter, Brooke, 6. The best part is that even with the bumps and bruises he took as a racer, Willy, now 47, still feels good enough to ride and race, especially with his son, who just got a KX65.
"When I broke my back, it was a compression fracture of six vertebra," he says. "I got lucky because it doesn't really bother me today. I also want to thank companies like Arai, Scott Goggles and Gaerne boots. They haven't forgotten about me and help me out whenever I need it."
Simons still comes to the races every now and then with his old running buddy, Jim "Hollywood" Holley. If you see him, say hey, because they don't come much nicer than Willy Simons.