Monday Conversation: Josh Coppins
2007 is a turning out to be a great year for the country of New Zealand. New Zealand's Josh Coppins is in control of the MX1 World Motocross Championship after only two rounds, and his friend and fellow Kiwi Ben Townley is hoping to be a East Region Supercross Lites Champion next weekend in Detroit (though Ryan Morais certainly has other plans). Now go find New Zealand on a map.
With a 1-2 at round one in sand and a very strong showing in mud Sunday in Spain, Coppins already is19 points in the lead ahead of Belgian Kevin Srijbos. Coppins was the only rider to upset Everts last year and ruin his perfect-season chances, and he's got it together so much right now, one has to wonder already can he win every round himself? It's way too early for that, but if you saw him check out in moto 2 ay Bellpuig, you would have said that looks like RC at a national when Stewart isn't there. He led every lap of moto 2, and checked out so fast and so far, it was as if he were in a different race. In moto 1, the only laps he didn't lead were the first three when he was trying to get around Mike Brown.
We asked Josh for a few minutes as he was rushing back to the paddock at Bellpuig to see what this was all about.
Racer X: Josh, that second moto was unreal, were you bored?
Josh Coppins: A little bit. I just kept watching the pit board and watching the guys behind me and just trying to focus on what was going on behind me and not making any dumb mistakes.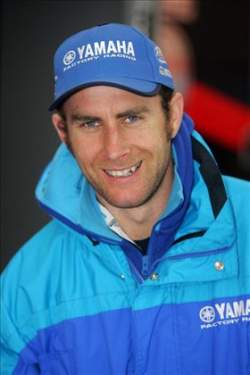 New Zealand's Josh Coppins

You mentioned in the press conference that you feel pretty good in all conditions—mud, hardpack, sand, whatever. Have you always been that way?
Yeah, I'm not really a specialist. It took me a while to get used to the sand. I ride it OK. Because I am from New Zealand, we have no sand, but I ride it OK.
How was the race with Mike Brown in those first few laps?
It was tough because he was holding me up a little but because he is hard to pass. Mike is a tough competitor and the track was a little US-style with long ruts and rough corners. He was alright and when I stuck a move on him I was like, "Alright, keep those other guys behind you for a little bit like you did to me," but they came straight through after that!
Do you think you wore him down?
Yeah, a little bit. Maybe he is not quite used to that pace just yet. He is riding pretty good.
What is cooler, you winning this race today, or your friend Ben Townley winning once of those supercrosses?
[Laughs] Ben winning supercross!
Really? Do you want to come and watch him race one?
I can't really. I would go this weekend to Detroit, but I can't. I have to race the next GP. I would love to go watch him. Maybe if he goes west coast next year I will go watch.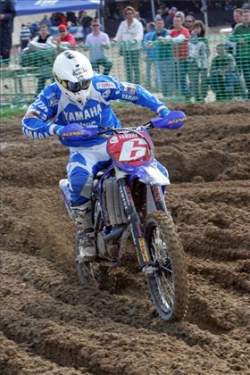 Coppins now has a 19-point lead in the MX1 class

Are you in control of this series right now, after just two rounds?
I don't want to sound overconfident, but yeah, but there is a long way to go. There are plenty of other good riders, but I just feel like I have a really good program and I have a good feeling at the moment. I just have to keep it going.
Where do you spend your weeks?
Belgium.
Do you have a factory track?
No, we just have test tracks that we ride at, and some private tracks. Yamaha has a private track there and a private track in Italy. I am usually riding in Belgium or Italy, but I prefer Italy.
Do you think ahead much about Budds Creek, and what you would like to do there?
Yeah, of course. I would love to try to go there and race with Bubba and those guys. I don't know if I can but that would be a dream come true. Just to be there, I know Parts Unlimited is bringing a big crew there, and I am really looking forward to it.
I better let you get on your way to the airport, thanks.
Cheers.