Monday Conversation 2: Antonio Cairoli
"Mama Mia! Coma Esta!"
That was the announcer's enthusiastic reaction to Antonio Cairoli's charge at the end of the second MX2 moto in the mud at Bellpuig to take the lead and overall win from Christophe Pourcel, the defending MX2 champion. Tony charged hard enough to close an 11-second gap in moto 2, something that looked impossible in mud against the very fast and talented Pourcel.
His moto scores are 1-1 at round one, and 2-1 at round 2, putting him 15 points ahead of Pourcel, and just one point behind Pourcel is Tyla Rattray. This is shaping up to be a great series!
American fans might not know much about Cairoli, or they didn't until last year when he won the second moto at the Motocross of Nations in Matterley on a production YZ250F. The last one to do that was Steve Lamson, back in Jerez, Spain, in 1996. When Cairoli digs deep, look out. He's part of one of the best MX2 series in years.
With some help from Racer X contributor Mario Marini, we sat for a few minutes with Cairoli to ask him about his come-from behind win in mud.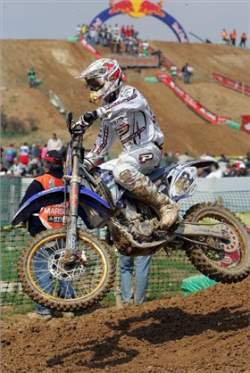 Cairoli won the MX2 overall to give Yamaha a sweep in Spain

Racer X: Antonio, I want to know about your whole race day, but first, in that second moto, where did you come from?
Antonio Cairoli: In the second moto I felt very good. In the first moto I had a little bit of trouble with my arms, a little bit of arm pump. I passed Christophe but he had a good line, on the outside and in the first moto it was very one-lined. He found a new line and he passed me back.
In the first moto, what happened to your start?
I have been practicing starts a lot, but now, today, I have a little problem. I practiced my starts in the sand for the first round. Now here we have a lot of traction behind the gate. (Sand was added to dry the gate area.) I had a little bit of trouble with my holeshot device.
You still had strong a moto and caught Christophe who had a good lead. Do you always ride that aggressive in the mud?
Yeah I feel very good myself, and good with the bike. I saw Christophe in front of me and I worked hard because I want to win this race. I never won in Spain.
When he had about a 10-second lead, you were gaining a second a lap, did you know you were gaining like that?
Yeah, from the pit board.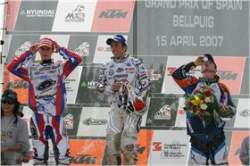 MX2 podium

Then in one lap you were right on him, how did you catch him so fast?
I just opened the gas. Before I was careful and didn't want to make a mistake. I want to earn the points. After I saw that I could pass him, I just opened the gas.
Is the MX2 series going to be a rivalry between the two of you, or is anyone else going to be there?
I think also Rattray will be stronger, but otherwise I think it will be myself and Christophe.
Thinking ahead to Budds Creek, and back at Matterley last year, do you want to win a moto or more?
Oh yeah, I want to win MX2 and that is what I am going for.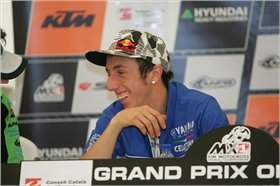 Cairoli was 2005 MX2 champion, and he wants it back.

You haven't been known as a sand rider. How did you do so well in the first race in the sand?
Normally I am not very fast in the sand, but I trained a lot for the first round. I really like the sand. I expected to win because I was training and practicing there.
Do you feel you are the strongest now?
I think yes.
Thanks, see you at Budds Creek!