Kawasaki/Racer X Race Report
The results of Round 2 of the 2007 FIM World Championships may look like Round 1 on paper with winners the same each time, but they couldn't be more different. Valkenswaard was a sand track, and Spain was mud. And Josh Coppins only battle at muddy Bellpuig, Spain, was a few laps with Mike Brown, but after that, he pretty much had a slam-dunk win Sunday with a 1-1 moto sweep. Antonio Cairoli had to work for his 2-1 win due to bad starts and the speed of Christophe Pourcel.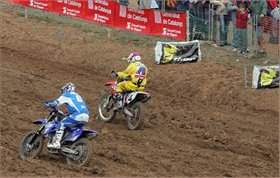 Mike Brown (4) battled with Coppins early in moto 1
Both Coppins in MX1 and Cairoli in MX2 are taking control of their respective series, each with three moto wins and a second so far. Coppins is a seasoned MX1 front-runner and the only guy to upset Everts last year in his hopes for a perfect season. Coppins is all-around ready for anything – sand, dry, hard-packed, or mud; Cairoli said he wasn't a sand rider, but he spent his time before the season getting ready for it.

In just two weekends, Coppins has a 19-point lead, and his last moto win was nothing short of an RC-type runaway (at least one with no James Stewart around). His rivals are going to need to make something happen fast.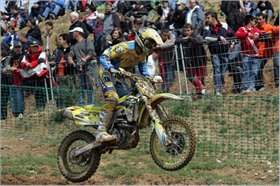 Kevin Strijbos rode well for second overall in MX1
Cairoli's situation is different, but he's so far the strongest. MX2 is likely to be where the excitement is, with Christophe Pourcel and Cairoli finding each other on the track a lot, like Ricky and James, and Tyla Rattray right there with them in points so far.

The track was lose-your-shoe muddy, thanks to days of rain, and Saturday's qualifying was cancelled, moving everything to a modified program Sunday. The skies were clear Sunday, but the ground was soaked and muddy, and here they don't scrape the mud off the track, they push it to the side, making it one-lined with mud traps waiting for you. All that took its toll on 2/3 of the Americans in the GPs. Ryan Mills and Sean Hamblin, both MX2, didn't qualify after struggling in the muddy qualifiers early Sundday. Mike Brown (MX1) did better and made it in, and at least he had some laps of glory waiting for him.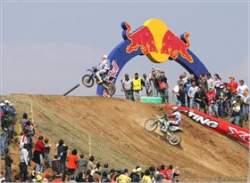 Cairoli takes control of moto 2 after making up 11 seconds.
In both MX2 motos, Cairoli charged through mud to challenge Pourcel. Pourcel had moto 1 under control, but Cairoli, 5th on lap one, battled his way past Nicolas Aubin, Erik Eggens, and Pascal Leuret and closed the gap on Pourcel, who had the advantage of a clear track. By the end of the moto, they got into a heated battle, prompting the crowd to pull the air horns out and make some noise! When Pourcel and Cairoli hook up, it's like RC vs. Stewart. Both are phenomenal riders, and they can check out pretty quick. As the first moto closed, Cairoli was all over Pourcel. Just past the mechanic's area he had a line that got him close enough to try a pass on the start straight, and once he had it, but slid out. Pourcel regrouped and got a few bike lengths away. Cairoli came back, but it wasn't enough to take the win. They both pinned it to the checkered flag, with Pourcel taking his first moto win of the season. The shook hands and got ready for the next one.

Moto 2 was classic. Pourcel had the lead almost right way on the first lap, and opened up a comfortable lead with a clear track. Cairoli again had his work cut out for him. He had to battle in mud past Xavier Boog, Matteo Bonini, Tommy Searle, and Aubin. By the time he was in second on lap 7, there were 12 laps to go, Pourcel had an 11 second lead, but Cairoli was shaving off one second a lap, consistently.

With about two laps to go it didn't look like Cairoli would make it, but as he put it, "I opened the gas." Pourcel's lead evaporated, and the last two laps were a battle. Cairoli won it, prompting the Spanish speaking announcer to yell "MOMA MIA! COM ESTA!"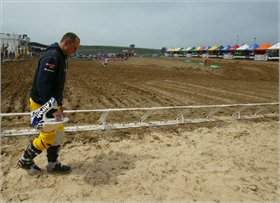 Mike Brown looks for where he wants to start moto 1, which he will holeshot. Notice the sand behind the gate. A lot of riders talked about how they miscalculated when to shift their weight for traction from dry sand to mud.
MX1 was not as close or exciting, except for Mike Brown's moto 1 holeshot and first three laps. After that, the rest was all Coppins. Brown battled Coppins hard, and held off countless pass attempts. Coppins was worried the battle with Brown would give the next closest riders like Belgians Kevin Strijbos, and Steve Ramon. The fastest qualifier, Tanel Leok, fell by the mechanics area and made it back to 5th.

After three laps of Coppins vs Brown, Coppins made a pass that stuck and he got away. He was hoping Brown would hold up the others the same way, but once he lost the lead, he fell off the pace, eventually to a disappointing 9th.
Coppins didn't need the help anyway, he checked out.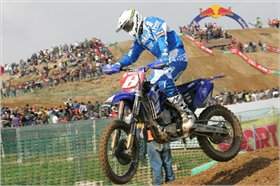 Coppins runs a red front plate as series leader. It's going to be hard to take that away.
Then in moto 2, Coppins really checked out. He led every lap, and pulled off the track with a pretty clean bike. Second went to hard-charging Max Nagl on a KTM, making the podium for the first time in a Grand Prix, and Strijbos was third. Brown's finish was 8th, but to get it he had to charge up from nearly last.
(So Brown gets a holeshot and gets 12th, then he starts last and gets 13th. Figure that one out.)

Coppins goes into the next round as the clear favorite. Round three is in Portugal next weekend, and his rivals better start making something happen.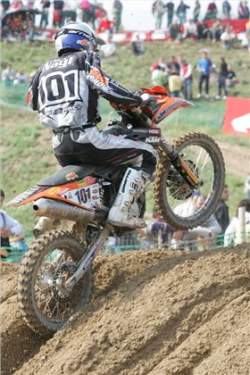 One of the more impressive riders was Maximilian Nagl. He was aggressive in the mud.