Hello, everyone, and welcome to the Rev-Up. This week's column comes to you from the passenger seat of Racer X's new Toyota Tundra. I'm sorry it's late, but I have some excuses. With no racing this weekend (save for the GP going on over in Spain) and nothing mushy to write about, I just decided I would do a little storytelling and talk to you folks about some of the cool things we have been able to see and do. Life is very strange sometimes. At least for me it is. I am always looking for the next place to see and the next thing to do. And holy crap, I have seen and done a lot in the past 72 hours. Here's what's been going down.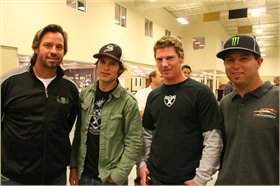 The boys in North Carolina
My journey began on a mission to report on Jeremy McGrath's new car deal that I was really stoked on. For starters, Mooresville, North Carolina, owns the moniker "Race City USA" for a very good reason. With over 43 NASCAR teams within its city limits, the entire population is pretty much enamored with stock car racing. To put it in perspective, even the cop cars have checkered-flag designs on the sides of them. And not to name-drop, but when you roll into Mooresville hanging out with Jeremy McGrath and Dale Junior, you feel like you're, well, I guess Will Ferrell said it best: "kind of a big deal."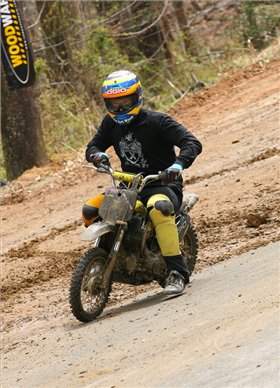 Peer pressure got the best of Andy
photo: Matt Ware
But you're really not. After attending and reporting on MC's car venture, Matt and I received news of our evening to come. Jeremy walked over to us and pulled a piece of paper out of his pocket with directions. He says, "You know where this is? This is the direction to Western Town." Western Town is where Dale Jr. lives and it is, in fact, a real western town. Complete with a saloon, a jail, old-west-style hotel, fake horses, and mannequin cowboys, the place is quite strange. But when you think about it, his reasons for building such a hideout are very much justified. Someone like Dale Jr. simply cannot go out in public. So he built his own town where all his pals can hang out. So we went there and drank with McGrath and Dale Junior. Name-dropping? You bet. Pretty awesome stuff for a hick kid from Kansas like me, but that's all I can talk about for that part of the trip.
From there it was a grueling eight-hour drive to Travis Pastrana's house. This part of the journey had me a little nervous. You see, I am one of those types of people that you can talk into doing almost anything, and I am well versed in TP's peer-pressure skills. Well, it didn't take much coaxing before I found myself in the middle of a pit-bike race in his driveway. Which isn't that peculiar, unless you take into account that there were about 30 kids armed with a fistful of Roman candles. That was just the beginning; apparently, the Nitro Circus still wasn't happy with the danger meter, because they took dishwashing soap and lathered up the corners. I don't want to spoil the video, but let's just say that my throttle stuck during the race and I was nailed at least 20 times with fireworks, the most severe of which was a mortar shell that was large enough to smash a hole in the back of my chest protector. It was pure, unadulterated chaos.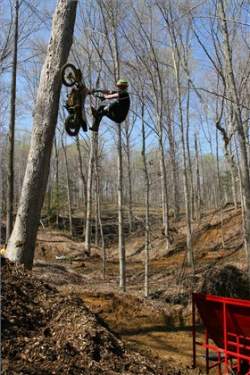 Rule #1: Don't turn right!
photo: Matt Ware
An hour later I was grabbing gears down a creek embankment, hurtling toward a kicker ramp. The results of this catapulted me very, very, high in the air, which was cool and all, but I ran into trouble in the trajectory category. You see, I must have closed my eyes when I took off, because I broke cardinal rule #1 at Travis's house: "Don't turn right." Welp, I turned right and left case marks on a tree 40 feet up its trunk. I escaped with minor injuries and received the not-so-coveted Crash of the Day Award. The fruits of my effort padded my pocket with $500 and a Nitro Circus medal. From there we had to load up and drive four hours back to Morgantown for Weege's b-day party at the Fishbowl. Happy 29th, Weege!
This morning we were back on the road at 5:00 a.m. Remember that article I wrote last week about being older and more mature? Well, print that out and put it in your vehicle for the next time you have to stop on the interstate and go to the bathroom. As I glance over and see that it is Friday the 13th, my fear quickens. For some reason, I am driving back to Travis' house today to participate in the "Beer Olympics," and I have no idea what horrors await me.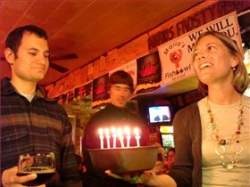 Happy Birthday, Weege
photo: Dave Brozik
But whatever they are, I will be ready. The next challenge has arrived. The next story in its wake. People always ask me what I want to do and where I want to end up. This is what I want to do. I want to do whatever comes next and try to take you guys with me. Just keep it pinned and keep going. I am typing this as I am entering Annapolis, Maryland, for the second time in 24 hours. I am armed with my pals David Brozik and Matt Ware, and I have to admit, I am a little scared. But hey, buy the ticket, take the ride. Thank goodness the races are starting next week, because this on-the-road reporting is gnarly.
Thanks for reading, see you next week.