Between the Motos: Jeremy McGrath
Yesterday afternoon, Junior Motorsports announced that Jeremy McGrath would be the newest member to their team as a Late Model driver. While there are a lot of parallels to Ricky Carmichael's recent NASCAR aspirations, McGrath's ride and future plans have some unique aspects. Just five months removed from his scary neck injury at the McGrath Invitational, Jeremy is back riding, training, and having fun. But no rest for the weary, because a new challenge has emerged that has his direct attention. Even though there are no nac-nacs involved in this deal, Showtime's NASCAR contract has him smiling as big as ever. We sat down with him in Mooresville, North Carolina, to talk to him a little about how it came to be and what the deal entails.
Racer X: So, Jeremy, you seem to be pretty pumped about this opportunity. How excited are you?
Jeremy McGrath: I'm very excited about it. It's kind of taken a while for me to transition into retirement from supercross, and it's taken me a while to wrap my head around my car deal, but I'm excited about it and I'm ready to commit to it.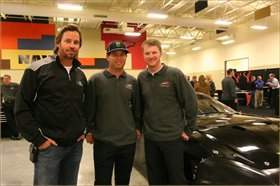 Scott Sepkovic, Jeremy McGrath and Dale Earnhardt Jr.

photo: Matt Ware

How and when did this deal come together?
Basically, I've known Junior for a while. The thought has always crossed my mind to race NASCAR. I'm a fan of car racing in general, but especially NASCAR. It was kind of connecting the dots. I was talking to my dad, Jack, about it and he was actually the one that got the ball rolling. He is an auto mechanic and a huge NASCAR fan, and he actually called Steve Crisp from Junior Motorsports. Then after a couple phone calls I had a test lined up to run a Late Model.
What kind of car experience have you had in your life up to that point?
I've always had shifter carts, and I raced some spec truck races at Irwindale Speedway. I won that Toyota celebrity race in Long Beach, and then I kind of realized I had some skill in that category.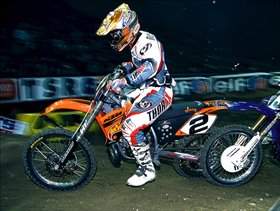 MC back in the Bud Light KTM days

photo: Courtesy of Moto Verte

Did this past experience help you at your test?
Yeah, it did. I felt comfortable and smooth in the car right off the bat, and I guess I just got a good feeling that I can do this. I mean, I know I can drive, and drive well.
How did Ricky Carmichael's recent NASCAR involvement play into your opportunity?
Well, I think I opened some doors for Ricky when he came into supercross, and he has certainly opened some doors for me in NASCAR. Guys like myself or anyone in our sport wasn't on the NASCAR radar till Ricky did his deal with Ginn Racing. I mean, obviously, that helped. Being able to come into the sport with Monster with some backing right away played a big part too.
What is Monster Energy drink and Scott Sepkovic's role in your deal?
Basically, I have full support from Monster for the car venture. The relationship just carried over from their support with my racing. Scott and Crown Athlete Management are totally guiding me though this whole deal and have been awesome. And like I said earlier, a big piece to this puzzle is having that sponsor money. I mean, my driving ability is big, but having that sponsor in my back pocket is key, man.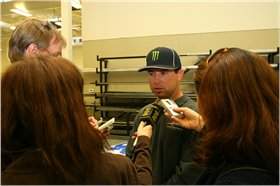 McGrath is no stranger to media attention

photo: Matt Ware

What's next?
I have two more tests before I go racing on the 21st, which will be cool and I'm looking forward to, but what I'm really excited about is what they have worked out for me back in California. JMS has connections back home [in California] that will be able to put me in a car when I'm in between races in North Carolina. So it's cool, it's kind of like when I raced supercross when I'd do a race, then fly back home and ride and drive during the week.
Where do you see this deal going?
Hey, man, I'm just going to try really hard to dial in this Late Model. It's what I'm under contract to accomplish, and I'm not looking at anything else till I get it dialed. It feels good to have, like, a goal to try to reach. I've always been super into taking on new challenges, whether it's doing a crazy race in Austria, or doing X Games stuff or hillclimbing or whatever. But I'm really stoked on this opportunity because it's something that could lead to another career. Plus, cars are pretty safe, dude.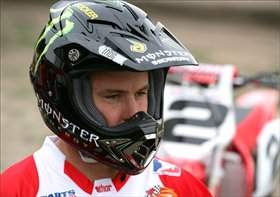 MC still plans on working with Team Honda

photo: Courtesy of Vreeke & Associates

Not much chance of having to step over the bars when you have a five-point harness and a HANS device, huh?
Exactly. But hey, man, I've been riding again, and I've been having a great time. I'm still performing my obligations for Honda, testing and working with the riders, and I'm having a lot of fun on the bike. I'm wearing the Leatt-Brace too.