Privateer Profile: James Povolny
Longtime privateer James Povolny was supposed to be in Africa by now with his wife Donita on some big construction projects, but a funny thing happened on the way to the Dark Continent and now he's working on some new projects here, including a practice facility in the Carolinas, as well as his own professional career, as we found out.
Racer X: James, I thought by now that you might be in Africa. What exactly happened with that deal?
James Povolny: Well, we thought it was all set in stone with my dad's company to go over there and run some projects in north
Africa, but it didn't quite work out the way we thought they were. So we pulled the plug on them, and I'm here to stay.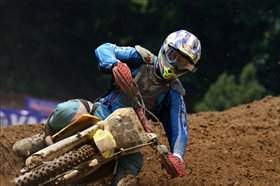 James Povolny has held a national number for 12 years now

photo: Simon Cudby

Africa is not the most tranquil or stable place in the world right now.
[Laughs] No, not really. Actually, I was looking at the map and it's really not that far from everything that's happening in Iraq. I'm actually kind of relieved to be staying home.
So will we be seeing you racing the nationals this year?
Well, yeah, that's the plan. I'm working to try and put something together and find bikes and sponsors to do as many as the outdoor nationals that I can. I'm probably just going to do the east coast rounds. I've also been working on a project that I started a couple years ago with my friends Robert and Stacy Richie, just south of Charlotte. We bought some property and we're getting ready to open a racetrack training facility.
Nice! The Carolinas are blowing up with kids like the Trettels, Austin Stroupe, P.J. Larsen… It seems like what Florida became a half-dozen years ago, North Carolina is on its way.
That's what I hear. More west coast guys are wanting to get out of that mess over there and go someplace a little more laid back. I see that happening a lot, and I want to produce a place where everyone can go. We want to build a facility where teams can have an east coast base out of our facility, and give these up-and-coming riders a place to stay and train. I know there is already the Millsaps and Georgia practice facilities, but I think there's definitely room for another one.
And I know that Chad Watts already made the move back to North Carolina, as well as Shawn Norfolk, with a No Fear branch there. David Evans of MX Edge… So, you're from Minnesota originally, so are you living in North Carolina right now?
I'm still in Minneapolis right now, but we're tentatively planning on making the move to South Carolina the beginning of June. I have some construction projects that I'm trying to wrap up right now, but after that I have a few riding schools scheduled in May, and then I'm going to pack my bags.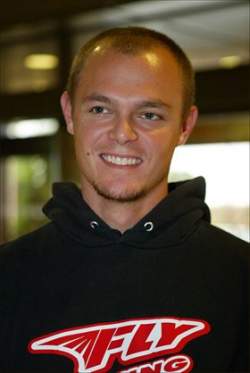 James Povolny is looking for a ride for the 2007 AMA Toyota Nationals

photo: Steve Bruhn

I saw you real briefly in Indy a couple weeks ago, but the last time you were there, didn't you have to bail because your wife was getting ready to deliver your first child?
Yeah, it was. It was the anniversary of the birth of our child, and that was actually where I met my wife years ago, so that race means a lot!
You had a national number for what, like 12 years?
Yeah, 12 years.
Sitting back and watching now and seeing where we're at, what do you think of how the series is going and how the tracks and riders are going?
I don't know. I'm hoping guys like Villopoto and Grant can come up someday and give Stewart a run, because it's a lot more fun to see battles like Ricky and Bubba—and when Chad is having a good day. I don't know, I just want to see more guys come up and be able to ride at that level. And I guess that's kind of the underlying goal of what we're trying to do in South Carolina, along with Doc Medsker and Jim Delger. We want to get riders to that level.
Well, one kid that you probably worked with in a distant way is Ryan Dungey, another Minnesota-area rider. Are you impressed by your fellow Viking?
Yes, I am. Ryan and I, we're not really close friends, but we've gone riding a number of times together. But I got to talk to him at Indy, and I was thoroughly impressed when I watched him in practice. We've had some small supercross-style tracks in Minnesota that had Friday night races, and I've seen guys come up and beat him at those races before. But to see him live in Indy, I was quite impressed.
Yeah, he's been a very pleasant surprise. I think a lot of people were scratching their heads when Makita Suzuki and Roger DeCoster brought him in, but now, Roger looks like a genius.
Yeah he does!
Well, when does the facility open?
April 14th we are opening the doors to the public as far as a practice facility. We still don't have all of our buildings built yet, for the schools and that kind of stuff. But as soon as I get down there in June we're going to start construction on that stuff, along with motorhome hookups, etc.
What kind of tracks will be in place for next weekend?
We just have an outdoor track in place right now. My friend Lonnie Taylor came over and built the track. He's actually giving me a hard time because he said he wished that place was his. He said he could almost model it after Budds Creek because there's not a flat piece of ground on it. The hills aren't as big, but it's all rolling, natural terrain. I've only seen pictures, I haven't been down to see the track yet, but I will see it on Tuesday.
Right on. You're making me want to load up the bike and head down there! As far as the outdoor nationals go, do you have any idea what kind of bike you're riding, or are you just waiting to see what develops?
Well, I'm kind of waiting to see. I've been riding Suzukis the last two years, and I'm trying to get something worked out with a dealership up here in Minnesota. But I actually put in a call to Pat Alexander yesterday to let him know about the facility and what I want to do with racing, and to see if Suzuki could maybe help me out in some way. So as far as bikes, I'm still kind of on the hunt.
Well, if anything comes through, we'll have people email us and I'll put them in touch with you.
That'd be great. Thanks a lot, Davey.
In the meantime, what is the name of the facility and is there a website?
It's called Revolution Park MX, and the website is www.revolutionparkmx.com. There are some photos on there and we keep that site up to date as things progress.